It's getting increasingly chic to explore the borders between art and other creative disciplines: design, architecture, craft, etc. One of the exhibitions currently running at the Museum Boijmans Van Beuningen in Rotterdam investigates the intimacy that arises when art meets fashion.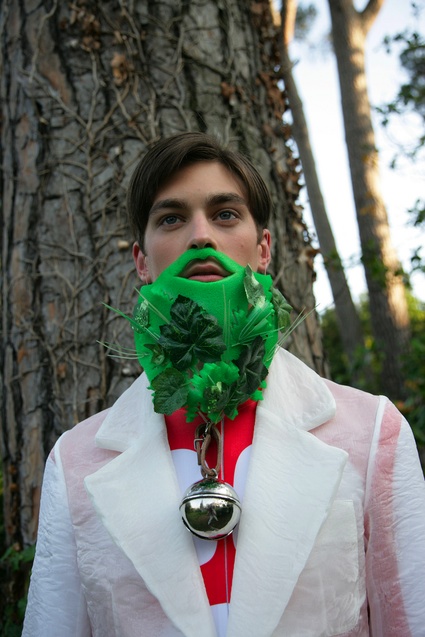 Walter Van Beirendonck, from the 'eXplicit' collection. Photo: Ronald Stoops
I used to associate the Boijmans with Paul McCarthy's giant Santa Claus brandishing a Buttplug. It had been acquired by the municipality of Rotterdam to be installed in a public space but citizens were not enchanted by the idea of having a six metres tall gnome flaunting a sex toy on one of their town squares. A debate ensued and the sculpture was put in semi-quarantine, in the courtyard of the museum. Last year, sexy Santa was finally moved to the Eendrachtsplein, right in the middle of the city.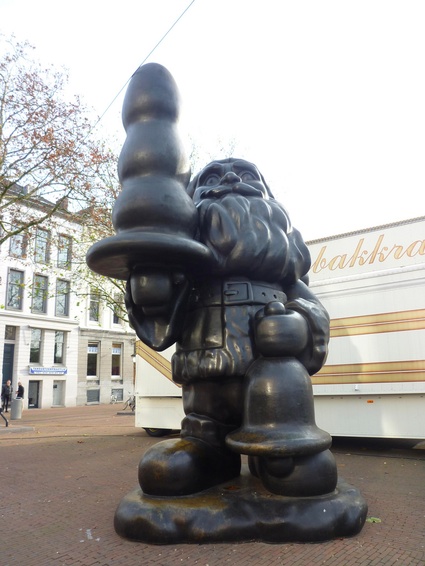 Paul McCarthy, Santa with Butt Plug
No more Santa in the courtyard of the Boijmans then but an object that looks as exotic as McCarthy's sculpture: a phone booth!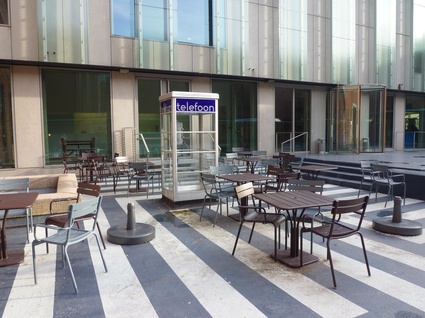 Things get even better inside the museum. Look at this Merry-go-round coatrack designed by Studio Wieki Somers to let visitors hang their jacket and bag securely: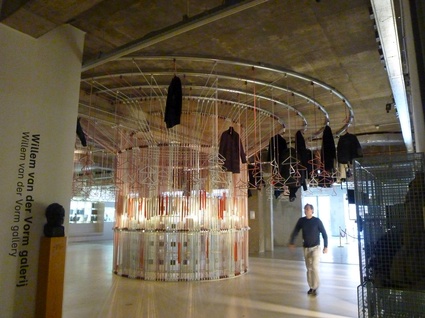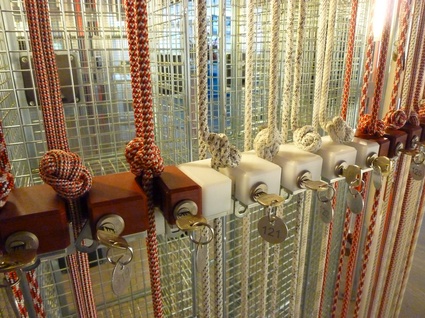 Quite the befitting piece of design to introduce the exhibition The Art of Fashion: Installing Allusions. The Art of Fashion doesn't deal with Cattelan taking pictures as if he were a fashion photographers or with fashion designers snapping pictures as if they were artists. It goes deeper than that. Nowadays, fashion designers know how to put on a show: they use installations and performances as part of their practice, and their avant-garde designs can sometimes bear more similarities to sculpture than to garments people would actually (want to) wear.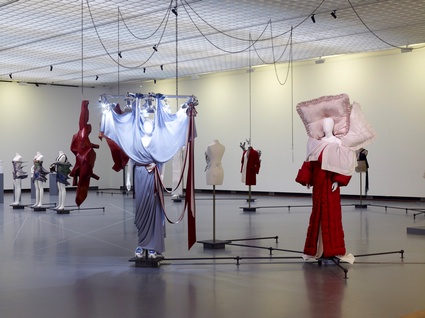 Exhibition view. Photo Hans Wilschut
Some art critics have argued that fashion designers might be creative but that doesn't mean they are artists. I'm not so sure that the boundaries between both disciplines should always remain hermetically sealed. Like art, fashion is a forum for personal expression, it has the power to evoke imaginary world, it refers constantly to the world we live in. Like fashion, some forms of contemporary art (only some of them, thank god!) are more about looking edgy and interesting, wowing the masses and finding a market than arousing your educational and intellectual background or challenging your beliefs.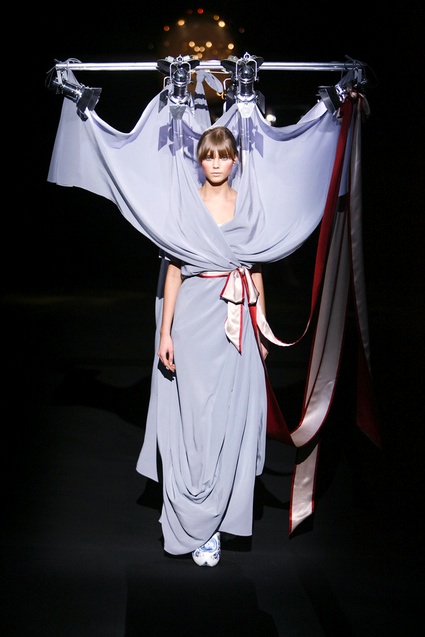 Viktor & Rolf, Dress from The Fashion Show, Fall/Winter 2007/8, Centraal Museum,
on loan from H+F Collection. Photo: Peter Stigter, model: Maryna Linchuk
I'll have to admit that some pieces in the exhibition made me cringe (oh! that bottle of perfume hidden in a dark room for extra drama!) and that the design of the exhibition was depressing and inadequate but there were enough talent and vision in the show to make me more than happy to be there.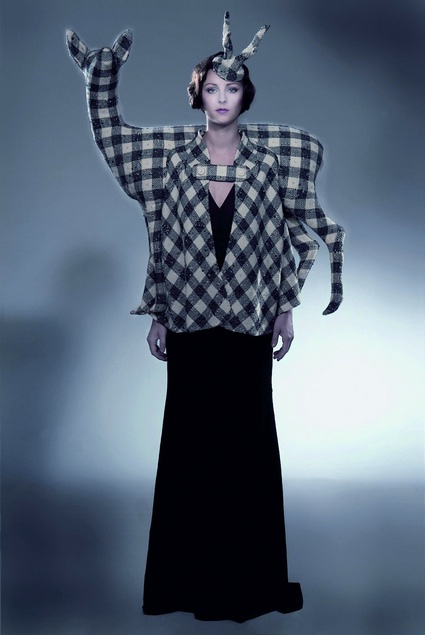 Christophe Coppens, Deer Cape, collection Dream Your Dream, Winter 2005. Photo Marc Tops
The Art of Fashion presents works by twenty-five international artists and fashion designers. Besides, the H+F Fashion on the Edge Foundation invited designers Viktor&Rolf, Naomi Filmer, Hussein Chalayan, Anna-Nicole Ziesche and Walter Van Beirendonck to create brand new pieces for the exhibition. I can see i'm getting long today so i'm going to paste below a few amusing images from projects i saw at the exhibition and keep the commissions for tomorrow.
Charlie Le Mindu is a hairdresser but he sure knows how to transform hair into fashion and fabric.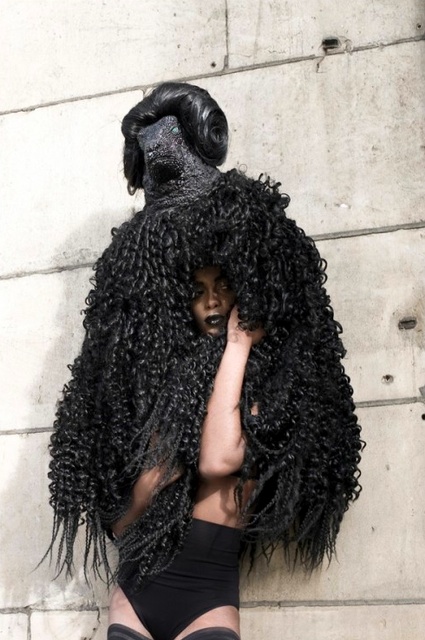 Charlie Le Mindu, Rams Head Lux, 2009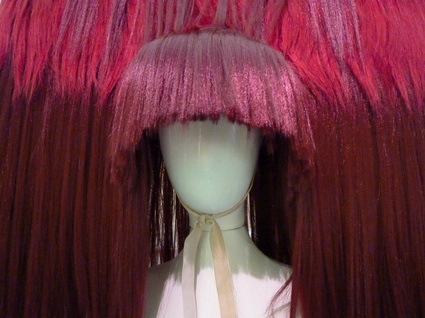 Charlie Le Mindu, The Red Wall, F/W 2009-2010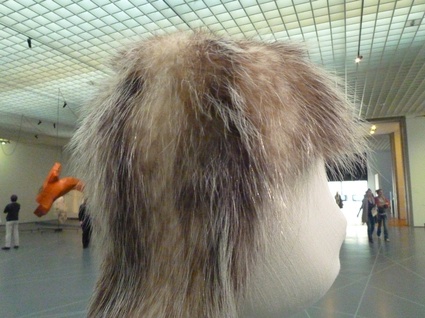 BLESS, Fur Wig, 1996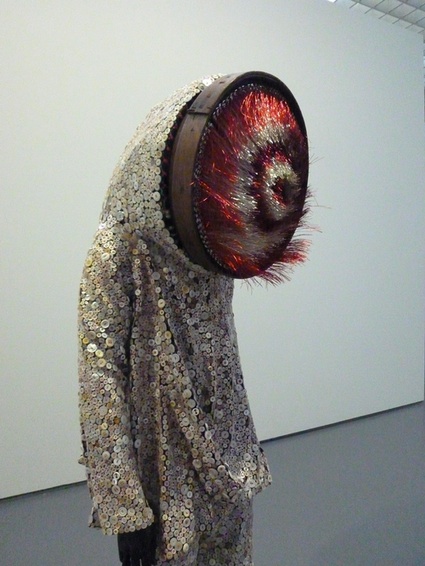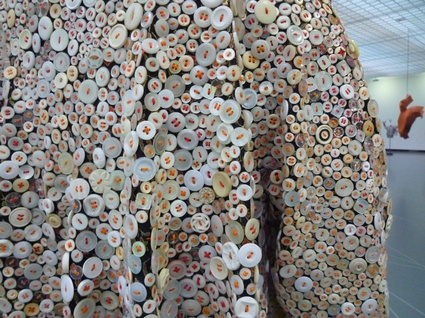 Nick Cave, Soundsuit, 2009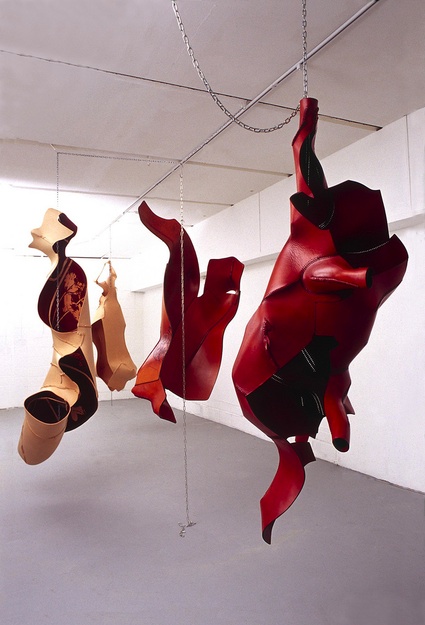 Dai Rees, Carapace 2,3,4, 2006. Photo Gavin Fernandes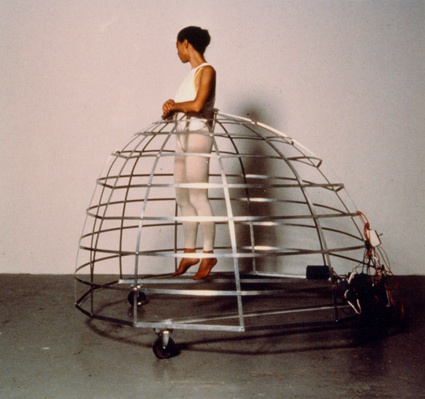 Jana Sterbak, Remote Control I, 1989. Photo Freddy Le Saux
The Art of Fashion: Installing Allusions runs until 10 January 2010 at the Museum Boijmans Van Beuningen in Rotterdam.
Related: RRRIPP!! Paper Fashion.