The Ambient Experience suite uses Philips' electronics to create a patient-friendly environment for children undergoing medical scans.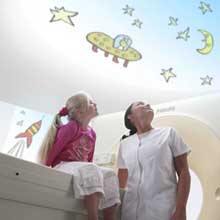 Featuring a computed tomography scanner in a room with curved walls, it lets young patients choose a theme for the room by waving a radio frequency card over a reader to project cartoons and animation themes onto the walls and ceiling using Philips technology. They can also use the Kitten Scanner which will let them "scan" a stuffed elephant or their own toys at the touch of a button. Animation appears on a screen that shows children what doctors are looking for inside the toy and tells them a story about each one. The aim is to show them how the machine works and help ease any anxiety they may be feeling.
Ambient Experience recently won a gold medal in the annual Industrial Design Excellence Award.
Via PhysOrg.