The design of the seven "Mr Jones Watches" by London-based artist and designer Crispin Jones (in collaboration with Anton Schubert, Ross Cooper and Graham Pullin), was inspired by investigation into the cultural messages that the watch expresses.
The watch is a fundamental communicator of personality, but what if the watch could express some of the negative aspects of the wearer's personality? And how can the watch represent time in a different way?
– The Fallax watch projects the wearer's status to other people. Not her/his wealth and style, but her/his honesty. The watch contains a lie-detector which is attached via a pair of finger straps. If the watch detects a lie then the display flashes up the word "LIES".
– Adsiduus makes either positive suggestions, "You are an amazing person | Twelve-fifty-two", or negative "All your friends hate you | Nine-fifty-five". Over time these bring about a change in the wearer's personality.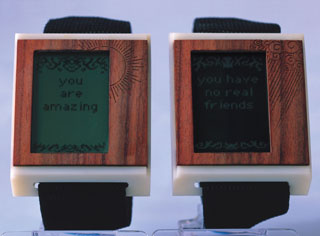 – Inveteratus references the fact that many of us structure our time around the television. Inveteratus scrolls through a television listing over the course of a day.
– just go on the website and have a look at the others!
The watches were produced as one-off working timepieces, but a possible commercial production is under study.
Cross-posted on Core77.