More notes taken during the DLD Conference, this time while listening to the Archives and memory panel, moderated by Hans Ulrich Obrist.
Taryn Simon is a young photographer whose images and writing have been exhibited internationally, and featured in numerous publications and broadcasts including The New York Times Magazine, The New Yorker, CNN, BBC, Frontline, and NPR.
In her latest photo series An American Index of the Hidden and Unfamiliar, Simon documents spaces that are intrinsic to the country's identity and daily functioning, yet inaccessible or unknown to average citizens. She brings into broad day light rarely seen sites from domains including: science, government, medicine, entertainment, nature, security and religion. The project was started at a time when the US were actively seeking to uncover secrets beyond its borders.
Her 70 color plates transform that which is off-limits or under-the-radar into a visible and intelligible form. These images, however, rarely reveal their secret until you read the text that accompanies them.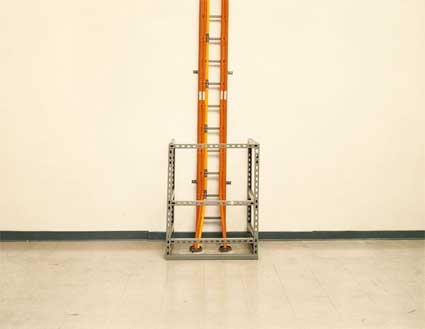 Transatlantic Submarine Cables Reaching Land. VSNL International, Avon, NJ
My favourite is the Transatlantic Submarine Cables Reaching Land (VSNL International, Avon, NJ). It is really scary to realize that something that looks so fragile and mundane as those orange cables holds the key to all the virtuality that has come to almost constitute the essence of my life.
The submarine telecommunications cables extend across the Atlantic Ocean. Capable of transmitting over 60 million simultaneous voice conversations, these underwater fiber-optic cables stretch from Saunton Sands in the UK to the coast of New Jersey, emerging directly into the VSNL International headquarters, where signals are amplified and split into distinctive wavelengths enabling transatlantic phone calls and internet transmissions.
Underwater fiber-optic cables are laid along the ocean's floor by specially designed ships. Cables are buried as they approach shore and armored to protect against undersea landslides, marine life (sharks, in particular), and fishing equipment. Fishermen are advised of cable locations as hooking one can interfere with international communication services as well as sink a boat.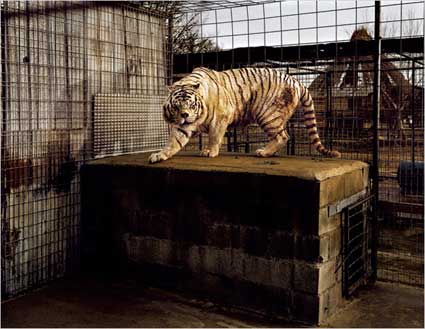 White Tiger (Kenny), Selective Inbreeding. Turpentine Creek Wildlife Refuge and Foundation. Eureka Springs, Arkansas
At the risk of sounding ridiculous and naive, the photo of White Tiger (Kenny) almost broke my heart as much as it angered me.
In the United States, all living white tigers are the result of selective inbreeding to artificially create the genetic conditions that lead to white fur, ice-blue eyes and a pink nose. As a result of inbreeding, Kenny is mentally retarded and has significant physical limitations. Due to his deep-set nose, he has difficulty breathing and closing his jaw, his teeth are severely malformed and he limps from abnormal bone structure in his forearms. The three other tigers in Kenny's litter are not considered to be quality white tigers as they are yellow coated, cross-eyed, and knock-kneed.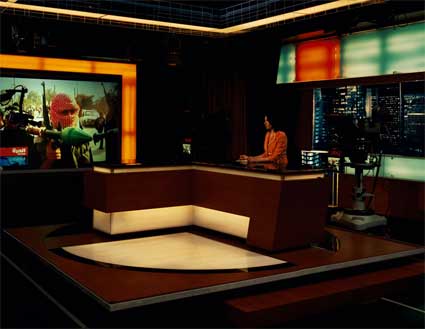 Alhurra TV, Broadcast Studio. Springfield, Va.
Anchor Mona Atari at the Alhurra news desk in Springfield, Va. Alhurra is a US government-sponsored, Arabic-language television network devoted primarily to news and information. Established in Feb. 2004, the network broadcasts 24-hour, commercial-free satellite programming to an audience of 21 million weekly viewers in 22 Arab countries. In April 2004, a second, Iraq-focused channel, Alhurra Iraq, was launched.
The US government is authorized to disseminate information abroad about the US and its policies but it is prohibited to broadcast the same information domestically. Alhurra is Arabic for "the free one."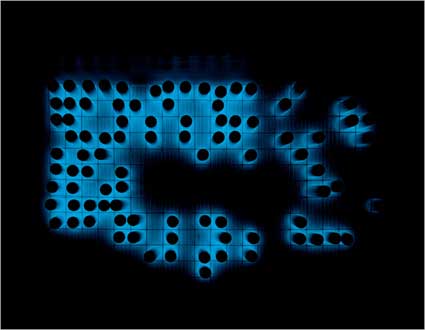 Nuclear Waste Encapsulation and Storage Facility Cherenkov Radiation. Hanford Site, U.S. Department of Energy
Submerged in a pool of water at Hanford Site are 1,936 stainless-steel nuclear-waste capsules containing cesium and strontium. Combined, they contain over 120 million curies of radioactivity. It is estimated to be the most curies under one roof in the United States. The blue glow is created by the Cherenkov Effect which describes the electromagnetic radiation emitted when a charged particle, giving off energy, moves faster than light through a transparent medium. The temperatures of the capsules are as high as 330 degrees Fahrenheit. The pool of water serves as a shield against radiation; a human standing one foot from an unshielded capsule would receive a lethal dose of radiation in less than 10 seconds. Hanford is among the most contaminated sites in the United States.
Visits to some sites were preceded by long correspondence. However, some never accepted Simon's requests. Disney, for example, denied her access to their underground facility. Their fax answer read:
"After giving your request serious consideration, even though it is against company policy to consider such a request, it is with regret that I inform you that we are not willing to grant the permission you seek…As you are aware, our Disney characters, parks and other valuable properties have become beloved by young and old alike, and with this comes a tremendous responsibility to protect their use and the protection we currently enjoy. Should we lapse in our vigilance, we run the risk of losing this protection and the Disney characters as we know and love them….Especially during these violent times, I personally believe that the magical spell cast on guests who visit our theme parks is particularly important to protect and helps to provide them with an important fantasy they can escape to." (Excerpted from a faxed response from Disney Publishing Worldwide, July 7, 2005.)
More in those picture galleries: The Morning News, Wired and pbase.
The second body of works Simon showed are part of The Innocents, a series of portraits of people who were cases of wrongful conviction in the United States and investigates photography's role in the in the criminal justice system by its ability to influence memory.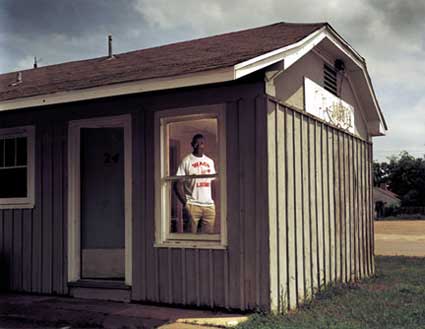 Calvin Washington- C&E Motel, Room No. 24, Waco, Texas. Where an informant claimed to have heard Washington confess. Wrongfully accused- Served 13 years of a Life sentence for Murder. 2002
The artist traveled across the country talking to and photographing men and women convicted of crimes they did not commit. After having spent sometimes decades in prison, these men and women were cleared by DNA test results. In their cases, the primary cause of wrongful conviction was photography as it had lead to mistaken identification. The criminal justice system had failed to recognize the limitations of relying on photographic images.
This project stresses the cost of ignoring the limitations of photography and minimizing the context in which photographic images are presented. Nowhere are the material effects of ignoring a photograph's context as profound as in the misidentification that leads to the imprisonment or execution of an innocent person.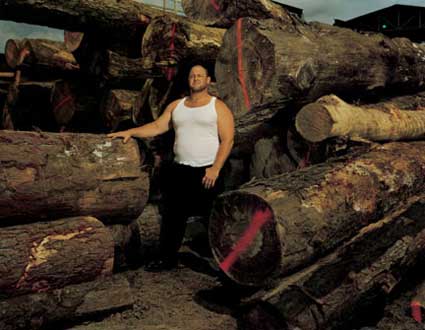 Roy Criner – Alibi location, Houston, Texas. Wrongfully accused- Served 10 years of a 99-year sentence for Aggravated Sexual Assault. 2002
Simon photographed each person at a site that came to assume particular significance following his wrongful conviction: the scene of misidentification, the scene of arrest, the alibi location, or the scene of the crime.
The wrongfully convicted in these photographs were exonerated through the use of DNA evidence. However, for the majority of the wrongfully convicted, there is no DNA evidence. And when there is, as Simon writes, DNA evidence must be handled and stored and is therefore prey to human error and corruption. Evidence does not exist in a closed system. Like photography, it cannot exist apart from its context, or outside of the modes by which it circulates.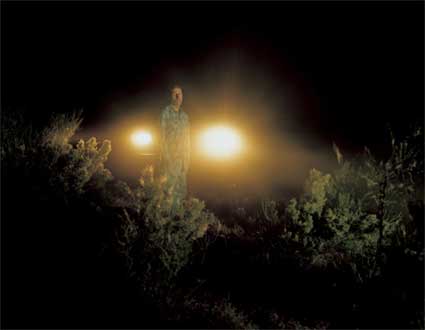 Charles Irvin fain. Scene of the crime, the Snake River, Melba, Idaho. Served 18 ears of a Death sentence for Murder, Rape, and Kidnapping. 2002
Photography is not the flawless medium of the eyes, it is a bit of a prostitute. Photography can be used by almost anyone, even with questionable agenda.