SVEN – Surveillance Video Entertainment Network, aka "AI to the People," is a real-time video performance system that takes a humorous but critical look at artificial intelligence surveillance algorithms by developing techniques that detect when people look like rock stars instead of criminals, terrorists, or other "undesirable passersby".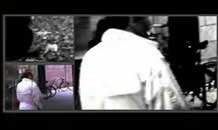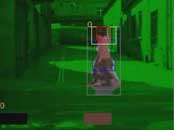 The system consists of a camera, monitor, and two computers that can be set up wherever a CCTV monitor might be expected.
A custom computer vision application tracks pedestrians and detects their characteristics and a real-time video processing application uses this information to generate music-video like visuals from the camera feed. Once a pedestrian who looks like a rock star is detected, music video effects are triggered so the surveillance stars get a glamor treatment worthy of Cecil B himself. The resulting video and audio are displayed on a monitor in the public space, interrupting the standard security camera type display each time a likely rockstar is detected.
SVEN is a work in progress but the basic elements are working.
Videos on the project website.
A work by Amy Alexander, together with Jesse Gilbert, Wojciech Kosma, Vincent Rabaud and Nikhil Rasiwasia.
Can't resist the urge to mention The Surveillance Camera Players (SCP).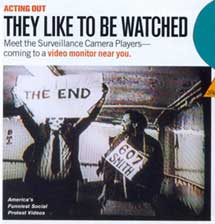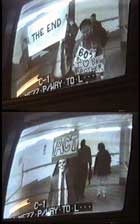 Formed in 1996, the New York-based group manifest their opposition to surveillance cameras in public places by performing silent, specially adapted plays directly in front of surveillance cameras. Their fist performace was Alfred Jarry's Ubu Roi. Later performances include Orwell's 1984 and Beckett's Waiting for Godot. There are affiliate SCP groups in Tempe, Arizona and San Francisco (USA), Bologna (I), Stockholm (S) and in Lithuania (LT).
On 19-20 March 2006, the SCP will live an international day(s?) against video surveillance.