Over the next six months, Singapore Airlines, All Nippon Airways and Japan Airlines plan to offer high-speed wireless connectivity on long-haul flights. China Airlines and Korean Air are expected to follow.
Such a service, made possible by Connexion by Boing via a network of satellites, ground stations and antennas fitted to the aircraft, was inaugurated on a Lufthansa Airbus flying from Munich to Los Angeles on May 17.
Airline companies could also use the system to monitor constantly throughout the aircraft via security cameras and cabin crew can also consult doctors in case of a medical problem.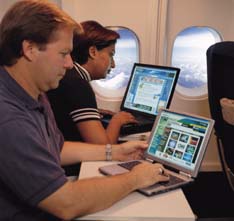 From Channel News Asia.
Related entries: Mobile phones while flying, Enjoy your surfing fly.