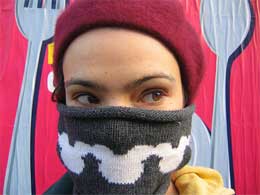 Call it new media art, interactive art, call it any way you like, just go, spend money and support the art we like. Here's my mini-list:
– Turbulence because they've been consistently commissioning net.art for ten consecutive years and because they have a great blog called networked_performance that documents better (much better) than me the calls, essays and events that interest the whole new media art community. Net artists, activists and digital artists have been contributing books, DVDs, CDs, archival prints, T-Shirts and the kind of fancy little mask i'm proudly donning on the left of this post (because that's what matters to me today, really. Not net.art but something to cover up the spot on the chin i woke up with.)
– Materials & Applications, a non-profit research center dedicated to pushing new and underused ideas for landscape and architecture into view. I visited them in March and i must say that they do exactly what's written on the tin, with loads of enthusiasm and the help of volunteers. Coming January 2007, they will launch a journal, M&A Climate. It will be one part almanac and one part show catalog. A $25 subscription will get you or the person of your choice two issues each year but i'll post something when the first issue is out. In the meantime, donate (select Materials & Applications as recipient).
– machineproject, an LA-based nonprofit educational institution and gallery that organises kick-ass workshops, events, installations and performances. Spread the cash!
– rhizome: only two weeks left until their campaign comes to an end. You know we love 'em!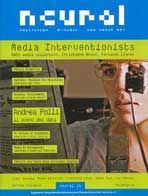 Only US-based organizations? This is so unlike me, right? It's just that they are the only ones whose support campaign i heard of. If i'm forgetting anyone, in or out of the States, just drop me a line or a comment.
For good measure, i'll add a few lines about my favourite mags.
– Neural. The website is a wonderful source of information if you're into hacktivism, new media art and e-music but it's also a paper magazine. By subscribing to it you'll get to read the essays and interviews before anyone else.
– aminima, a magazine in spanish and english on art and biology, transgenic art, robotics, software-art, nanotechnology, net.art, network research and social aspects related to new technologies. The name of the publication comes from the fact that its editors take a "minimal" part to its redaction. The content is written by the artists and researchers themselves. You can order the bi-monthly magazine by contacting aminima at aminima dot net.