One of the things i liked most so far at the Milan Design Delirium was Perished, designed by Job Smeets and Nynke Tynagel from Studio Job: the furniture ensemble is composed of a bench, a table, a lamps, a screen and a cabinet in wood decorated with inlays depicting animal skeletons. There's also a grey wallpaper that reproduces a similar pattern.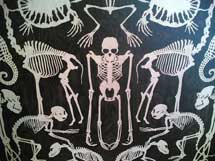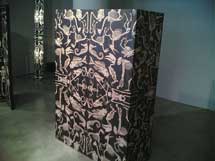 The designers wrote: "the direct graphic forms [of the skeletons] depict our times which are extravagant and violent. Ours is a story uniting past and future, combining fiction and reality."
More about Studio Job in Icon and Vivid.
My flickr pics.