I just read in a press release that i was one of the 20.000 visitors of the sixth edition of STRP in Eindhoven. The yearly festival is now a biennial but the formula hasn't changed much: 10 days of science&tech-infused art and of electronic music.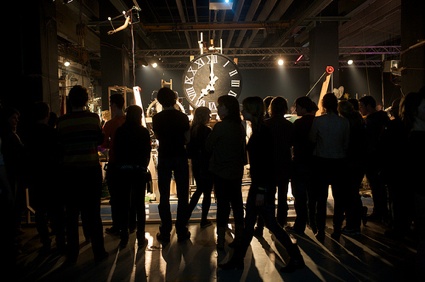 The New Machine Era, by Boudewijn Bollmann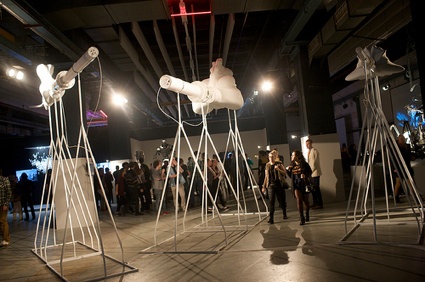 Marguerite Humeau, Back, Here Below, Formidable – The Rebirth of Prehistoric Creatures, 2011. Photo by Boudewijn Bollmann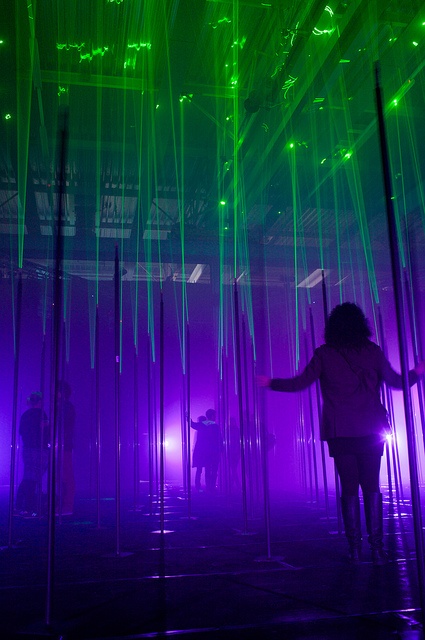 Marshmallow Laser Feast, Forest, 2013. Photo Boudewijn Bollmann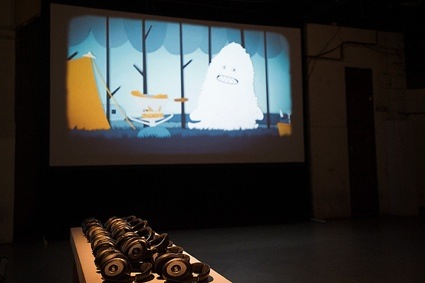 Silent Cinema. Photo by Saskia Schilten
The theme of this year's exhibition is City of Cyborgs. Not the city of androids, clunky clones and man/machines contraptions but the city we are already walking through, smartphones in our pockets, implants in our bodies for some and ready to get our hands on Google glasses. City of Cyborgs in STRP speak means animatronics, opera for prehistoric creatures, a forest of interactive lasers, tapas made from edible solar cells, absurd mega machines and lots of dance. The high tech, the low tech, the digital, the organic and everything in between and beyond.
This year, STRP provided me this with a good excuse to catch up with and reflect on today's cyborg scenery and with the opportunity to discover artists and works i had never encountered so far.
I might be late to the party but i've just added the name of Ief Spincemaille to my list of young artists t follow. Sadly, I didn't manage to get my hands on his Reverse Blinking goggles. All i can say is that people kept telling me "Have you tried it? Have you?! it's brilliant! Brilliant!' Since i've missed the fun, i'll just copy/paste the description:
Imagine being caught with your head inside a photo camera. It's completely dark. Only when the shutter opens for a very brief moment, you perceive a flash of the world. You see people as static figures, entire street scenes as moments frozen in time. Everything you lay your eyes on seems to acquire the characteristics of a photograph. The shutter moves so fast that it leaves no space for movement. The plates move up and down causing your eyes to make a reverse blinking movement: the plates are generally shut off, and only open and close quickly and briefly. The spectators can open and close the shutter themselves with a button, allowing them to determine the frequency, but not the speed (shutter time).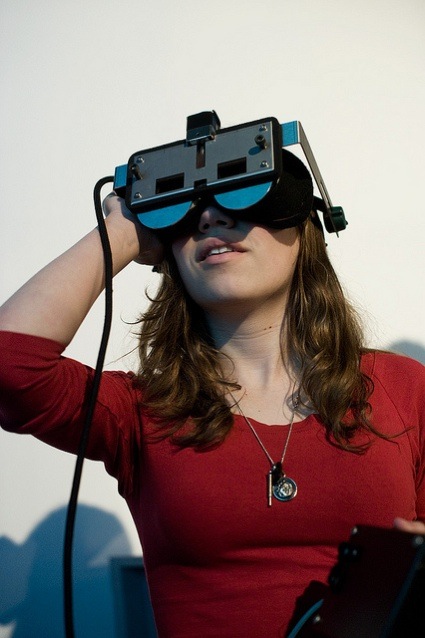 Ief Spincemaille, Reverse Blinking. Photo by Saskia Schilten
I did however, have a go at the other work that the artist was showing: the Chain driven 3D mirror which makes it possible to walk around your own head and view it as if it belonged to somebody else. The most remarkable aspect of the work is that it doesn't involves any digital technology but relies entirely on mechanical components: a chain, sprocket and motor.
I actually found it more interesting to watch visitors trying on the apparatus. They seemed to hover between the fascination to watch their own head under every possible angle and the self-conscious feeling that people around them are watching them. I wish i had a better photo of the installation but i stupidly deleted mine and the ones provided by the festival focus more on the near-orgasmic expressions of the visitors than on the artworks themselves.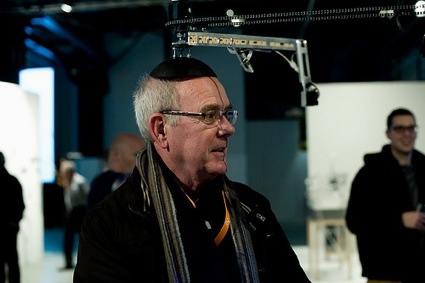 Ief Spincemaille, Chain Driven 3D Mirror. Photo by Saskia Schilten
Paul Granjon's modified Robotic Perception Kits were available for a test-run in the exhibition space but they were so much in demand that yet again, i didn't manage to get them on. The goggles and ear sets allow users to experience the world as is if you were a robot.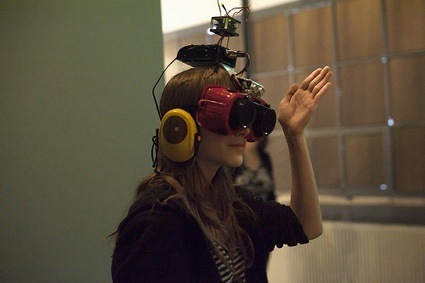 Paul Granjon, Robot Perception Kit, 2006. Photo by Saskia Schilten
I'm going to hop right into the performances programme. Because you cannot curate a cyborg-themed festival without including Stelarc, one of the opening night performances saw him manipulating his now legendary Exoskeleton. The beastly machine has been touring festivals and exhibition for several years and it still has the power to knock out and turn us into a collectively gasping crowd. I for one was very impressed.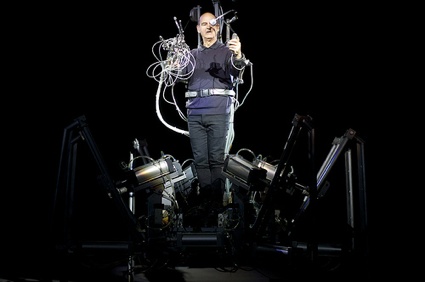 Stelarc Exoskeleton. Photo by Boudewijn Bollmann
That same night saw a performance by Daito Manabe. The artist has gained fame over the past few years by sitting solemnly in front of a table while the muscles of his face are controlling the tones and rhythms of his musical performances.
Daito Manabe. Photo by Boudewijn Bollmann
Daito Manabe, Electric Stimulus to Face -test 4 (Daito Manabe 's friends)
Back to the exhibition and to contraptions i wouldn't be seen dead wearing: Guo Cheng's The Mouth Factory is made of drills and lathes designed to be operated with the user's jaw and mouth.
A couple more works you might or might not have heard about already:
Valerie, My Crystal Sister is a crystal chandelier that hides a moving story: the attempt by designer Lucas Maassen to create an object that would be, genetically speaking, the sister that he never had. The chandelier is not only a visualization of the basic code of life, it also asks whether it is possible to use the biological process that created Maassen as a design process to create an object. The designer first crystallized synthetic DNA fragments taken from his parents and then produced a magnified version of this crystal also out of crystal. Finally, Maassen assembled one thousand such pieces to form the chandelier exhibited at STRP.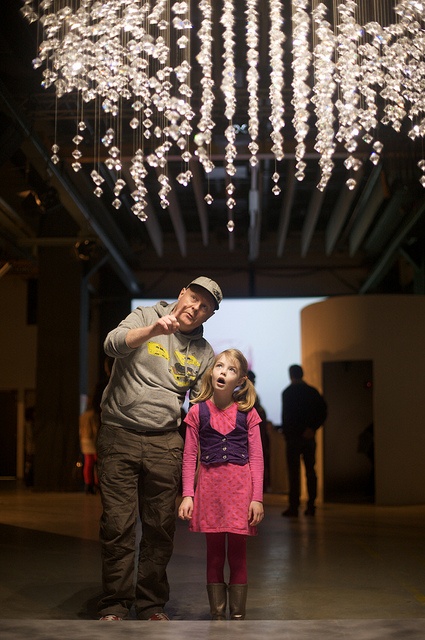 Lucas Maassen, Valerie, My Crystal Sister. Photo by Boudewijn Bollmann
Jordi Puig's A-ME is an 'emotional memory recall device.' The installation allows visitors to upload memories to an artificial brain. They can also navigate the brain and listen to the memories that other people have stored in A-ME.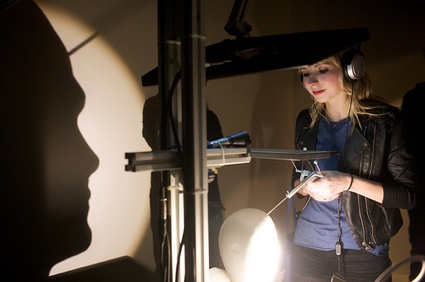 Jordi Puig, A-ME. Photo by Boudewijn Bollmann
A-me : Augmented memories from WASAWI on Vimeo.
Waterfall Swing. The name says it all.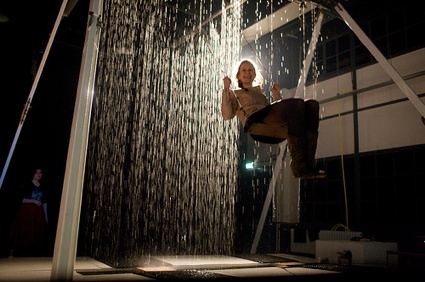 Dash7Design, Waterfall Swing. Photo by Boudewijn Bollmann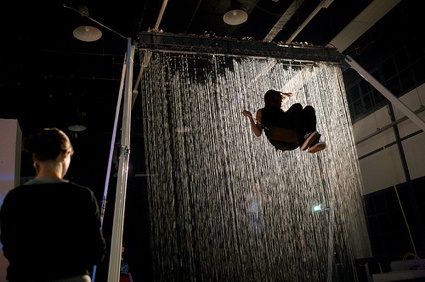 Waterfall Swing. Photo by Boudewijn Bollmann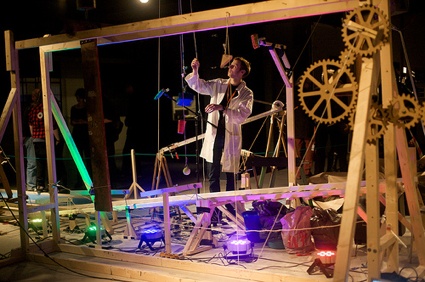 The New Machine Era, by Boudewijn Bollmann
More images on STRP's flickr set.