Strangely Familiar. Unusual Objects for Everyday Life. Part IV.
(I, II, III)
Hayat Benchenaa (with Garikoitz Iruretagoiena) designed a hanging radio alarm clock that reminds me of my mother: lovely but merciless.
In the evening, after you've set the alarm, the glowing Sfera gradually dims and the music fades as you drift off to sleep. When the alarm chimes in the morning, you must reach up and tap the Sfera to silence it. Which triggers the snooze function and makes the alarm rise higher. As it slowly rises away from your reach, you must stretch higher each time to gain another ten minutes of snooze.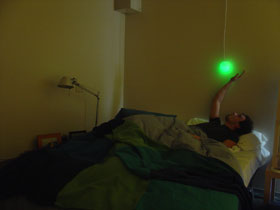 When Sfera finally reaches the ceiling, you have no option but to get up and drag it back down to your bed – an action which switches off the alarm.
Thanks for the pictures, Hayat.
(cross-posted on Core77)