Data mining, the ultimate tool to make emerge patterns and information from a shapeless mass of data, is increasingly used in a wide range of fields, including marketing, surveillance, fraud detection, scientific discovery and even human resources (in this case to help companies assess the value of each employee.)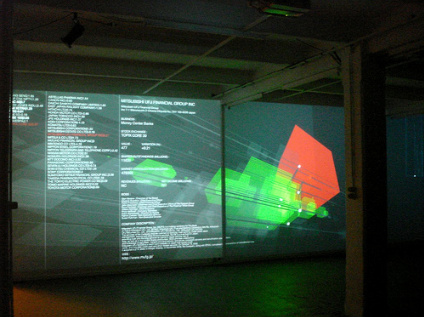 Stock Overflow, Image credit: iMAL Brussels
What would happen if the system could be hijacked and geared towards what could be called Antidatamining? Stock Overflow, an exhibition and series of conferences, proposed by French collective RYBN at Imal in Brussels, takes data mining on a ride to lay bare various socio-economic phenomena.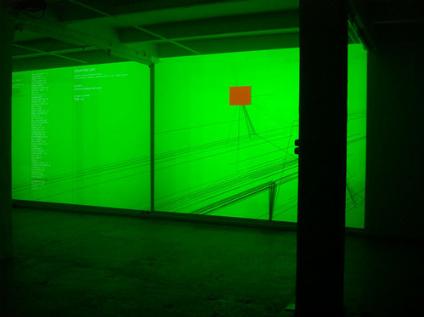 Stock Overflow, Image credit: iMAL Brussels
The main agents of economy (companies, groups and holdings, stock exchanges, banks and investment funds) as well as their interactions (capital relationships, geographic deployments, structuralization on market places) are digested by data mining softwares and given a simple, elegant, yet uncompromising face with the help of a series of visualizations.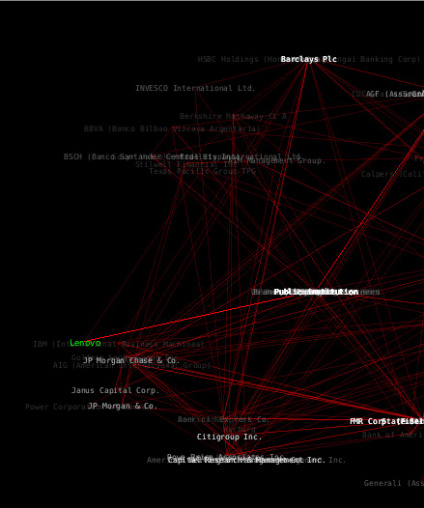 The Capital Network Map based on the transnationale.org database
As the press material explains: The work is based exclusively on Internet recoverable data. Internet is then compared to a gigantic database, a "datawarehouse". The type of recovered data are : geographical, ecological, social, economic, financial and geopolitical. Data are stored in a large database, then processed using DM genetic algorithms. This method allows to establish several « meaningful » – or particularly important – cross correlations.
The wide range of used datas, defines the project's multiple investigation fields, including sociological, geopolitical and economic fields. The multiple extent of this project requires various multifolded skills from external contributors : artists, programmers, economists, journalists, cartographers… Meetings, exchanges and collective work, feed the project – confronting it to many several thinking systems – and allow to engage a transverse analysis, going beyond specialized fields.
The exhibition is surprisingly accessible. Not only did the artists make sure that the visualizations are comprehensible without having to resort to any additional caption or leaflet, they are also hanging around the exhibition space should you have any question. Apart from the projections of the visualizations, a series of screens display the online chats that experts of finance from around the world are having right here right now. The live chatrooms give the whole project a surprisingly human and almost tangible dimension.
The best moment to visit the exhibition is probably during one of the series of lectures that have been scheduled throughout the exhibition.
Upcoming lectures – which you can follow online:
RYBN & Horacio Late Lawson – Financial Information systems / Friday 20 march – 20h
Brian Holmes – Ecological domination of financial capitalism / Wednesday 25 march – 19h
Societe Realiste & Bertrand Charles – Economics subversion / Friday 27 march – 20h
The exhibition runs through March 29 at iMAL in Brussels.
More images of the exhibition, the talks and the opening night: Stock Overflow RyBN iMAL KRN and Stock Overflow.