From August 17 through November 13, 2004, an enormous red megaphone will provide a platform for people to speak their minds during the upcoming election season.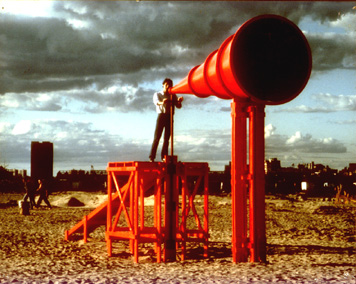 Freedom of Expression National Monument, a public artwork by Laurie Hawkinson, John Malpede, and Erika Rothenberg, entices passersby to voice their thoughts, poetry, grievances, and hopes. Freedom evokes the struggle involved in making change, while reflecting the public's desire to break through mass media and partisan politics where individual voices tend to diminish.
Freedom was originally installed in 1984 for Art on the Beach. During that summer, thousands seized the megaphone to vent, sing, rage, and recite poetry. Freedom brought contemporary issues to the fore — the AIDS pandemic, homelessness, human rights, economic disparity, the environment — and asserted the importance of standing by our right to express ourselves.
Although much has changed since then, the range of issues for the public to weigh in on — from globalization to widening wealth inequality to the War on Terrorism — has never been as vast. As presidential campaigning got underway last year, Creative Time recognized Freedom of Expression National Monument's continued relevance.
Via Creative Time.