SCOTTeVEST (SeV) and Global Solar Energy announced that the solar-powered jacket designed to carry, connect and charge portable devices will be available in time for the holidays.
The solar panels are attached to the jacket, which boasts removable sleeves, over 30 hidden pockets and the "Personal Area Network (PAN)", which conceals wires associated with power sources and earbuds.
The solar panels are flexible thin-film photovoltaic material made from copper indium gallium diselenide sun-absorbing material placed onto a thin stainless steel substrate. The panels convert sunlight into electricity that charges a hidden battery pack, which in turn can charge any device compatible with USB chargers, including mobile phones, PDAs, Game Boys, MP3 players and other mobile devices.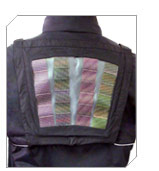 The solar panels are removable and can be used separately from the jackets.
You can preorder one for $425.
From The Raw Feed (eMediawire) and Engadget.