While one of Helen Evans and Heiko Hansen (aka Hehe)'s previous work Pink Noise induced a reflection on the notion of sound pollution (a public light advertisement panel was used to visualise the ambient street noise), Smoker's lamp, now installed in a Paris art gallery, humourously interrogates the contamination of our everyday environment by nicotine.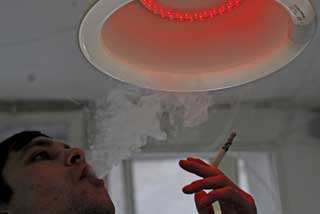 In a clear example of reverse engineering, the smoke detection sensors in the lamp continue to play their role, but translate into colour and sound the gradual saturation of the room by the exhalations of contemporary art-loving smokers (who might not be aware of the crucial role they play in the work.)
A more spectacular version of the Smoker's lamp is Nuage vert (Green Cloud), a system that draws the contour of the cloud of smoke emited a public waste incinerator, from red to green, depending on the statistics collected in real time by the factory (quality of recycling, levels of household waste to be treated).
Smoker's lamp and Nuage Vert are part of a series of projects that tries to involve the audience in a process of monitoring localised pollution at the very same time that they produce it. Another project in response to the Smoker's Lamp proposes to visualise CO2 pollution, produced by a group (of non-smokers) in an enclosed space: What does it mean when we 'pollute' by simply existing?

Related art projects: Neighbourhood satellites, Public Air Quality Indicator, Grass-drawing robot and Reverse Engineers.
Intoxication is exhibited until April 29, at Galerie Quang, Paris.
If you're curious to hear how Heiko Hansen (one half of the duo HeHe) goes into issues relating to ubiqitous computing and physical interfaces, join the next workshop on RFID & the Internet of Things on 9 | 10 | 11 May at Mediamatic, in Amsterdam.
Participants of the workshop will be guided through the technical, social and cultural issues relating to RFID, and the development of (small) RFID related prototypes and user-scenarios. Reader for the workshop.
This way to register.