Since May 6, visitors to the oldest maze in the world, Hampton Court Palace Maze can hear cymbals, a dog barking, a child laughing, the rustle of silk skirts, a tune from a music box, and the murmurs and sighs of three centuries of chatter at the palace. The sounds float around the maze so subtly that it is hard to distinguish them from real-life ones. Besides, quotes from staff discussing the facts and figures behind the attraction are interspersed in the sound effects.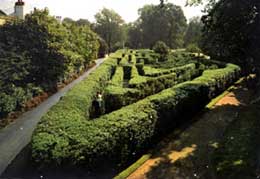 The maze has been filled with sensors that trigger hidden speakers, which emit a variety of strange sounds and voices, waiting to be triggered by a footfall.
The sounds are part of Greyworld's last installation, Trace.
The centre has been replanted with hornbeam and features touch-sensitive benches that create subtle sounds as visitors sit to relax.
There are thousands of permutations of the sounds triggered from 20 speakers, so no visitors will ever hear exactly the same.
See also: Greyworld at Art Futura, The Source.