Seoul plans to deploy robots with combat capability along the fortified inter-Korean border as part of revamped security measures to deter North Korean infiltration.
Other measures include installing electronic warning systems and computerized surveillance cameras, including remotely monitored battlefield sensor systems and closed circuit televisions, along the 253-kilometer border in stages by 2011.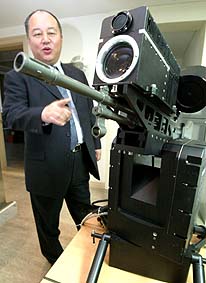 Robots with weapons mounted on their frames would observe the border, record voices and take pictures in a 180-degree circle.
"The ministry is considering robots which could detect, trace and hit targets automatically or be controlled remotely by operators," said a ministry of public affairs spokeperson.
One option is to upgrade the Aegis Robot (picture above) that was deployed to Iraq last October. The robot is equipped with a temperature and image sensor to track a suspected target and has an auto-firing capability.
Via The Korea Herald. Picture.