See Yourself Sensing: Redefining Human Perception by architect, artist, film director and Professor at Columbia University and Parsons Madeline Schwartzman (available on amazon UK and USA)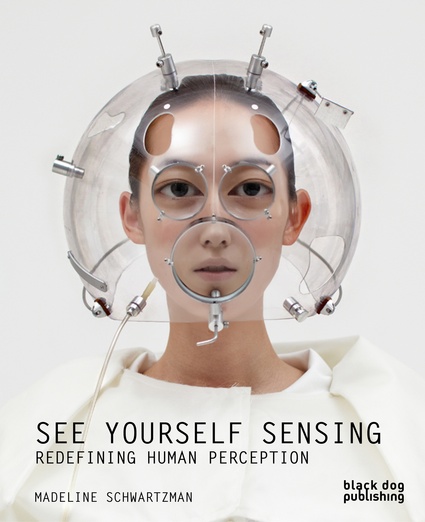 Black Dog Publishing writes: See Yourself Sensing: Redefining Human Perception is the first book to survey the fascinating relationship between design, the body, science and the senses. Over the last 50 years, artists, architects and designers have been experimenting with the boundaries of our senses, altering the way we experience the world.
Did you know it has been revealed that we can hear our skin, can see through our tongue, and can plug our nervous system directly into a computer? With prosthetics, robotics, cybernetics, virtual reality, transplants, and neuroscience altering the way we perceive and experience space, the body has re-emerged as an important architectural site. See Yourself Sensing reports the experiments of artists and designers on the intimate scale of the body, and explores the influence of such experimentation on architecture, installation and new media.
Exploring this concept through the last 50 years of contemporary art and design, See Yourself Sensing examines the work of key practitioners in this field, from Rebecca Horn's object based installations and Stelarc's robotic body extensions, to Carsten Höllers' physically interactive sculptures. The works and artists illustrated throw into consideration how we see and sense the world around us through artistic interpretation. The book includes projects such as solar-powered contact lenses that augment reality, LED eyelashes and an implanted tooth receiver that transmits the Internet directly into the wearer's inner ear, all created with the purpose of transforming and provoking the wearer's sensory experience.
Madeline Schwartzman brings together this unique collection of images that reflect the sensory design in architecture, art and installation, chartering the breadth of this sensory theme through the work of many renowned artists. Analysing the importance and influence of body-scaled sensory experiments, Schwartzman reveals the fascinating relationship between senses, body, art and perception.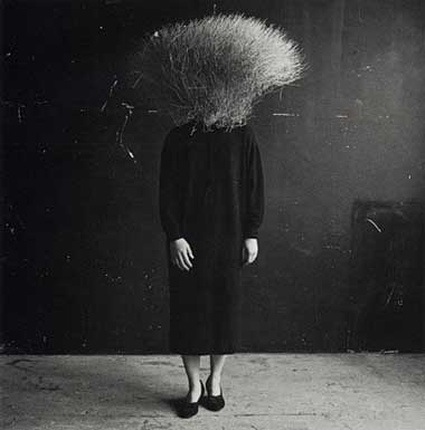 Ann Hamilton, Untitled (Body Object series) #5-bushhead, 1984/1993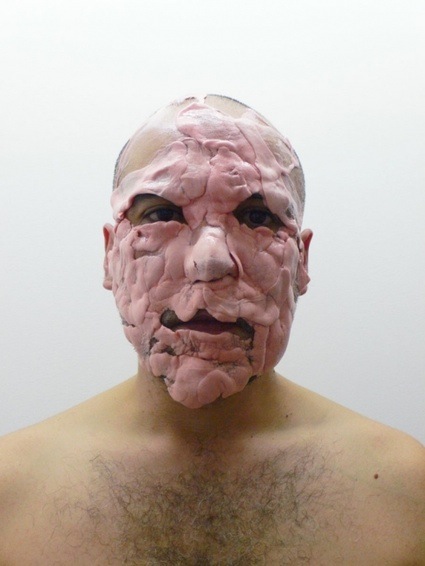 Didier Faustino, (G)host in the (S)hell, 2008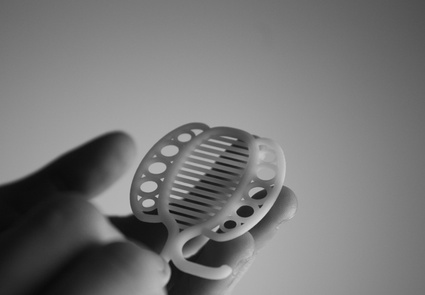 Susana Soares and Mikael Metthey, Skin Collector from the Pathogen Hunters, Rapid Form SLA, 2010
Books on similar topics tend to look either like catalogs listing and illustrating relevant projects or lengthy essays that you might or might not have the strength and desire to read from the first to the last page. See Yourself Sensing manages to keep the balance between the two. There are plenty of works to illustrate each chapter, many of which i had never heard about and was therefore enthusiastic to encounter. But it is also a well-paced, well-researched essay about the impact technologies are having on the architecture of our senses.
Instead of dividing the book into chapters that would each focus on one of our human senses, the author chose to adopt more conceptual approach. The first chapter, Reframers takes a look at the mind-bending in function, utility or outlook. Environments negociates the space between bodies and containers. Tools deals with utility, performance and enhancement. Mediators are the agents that intervene between people, spaces and objects. The final chapter, Speculations is the boldest of all with its set of ideas and projects that spark even more inspiration and conjectures. The introduction to each chapter focuses on a few artists, researchers or designers. They can be as diverse as R&Sie and Kevin Warwick. Then the book adopts a faster rhythm with the presentation of dozens of project that illustrate the theme of the chapter.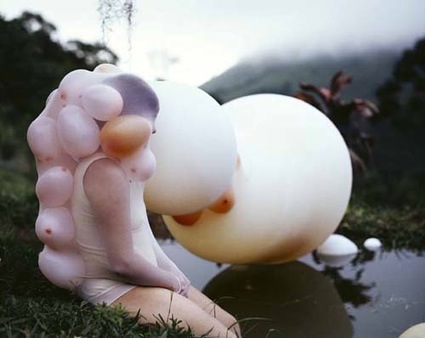 Janaina Tschäpe, Juju I, 2004
The sections are not hermetically closed, they keep referencing each other and there is a sense of narration, a flow that keeps your mind alert and your interest alert. I think this book is going to be one i'll be referencing again and again. And there aren't many books i can see myself getting back to regularly.
Here's a few projects i discovered or re-discovered in the book. I wish i could add more but some of the ones i found most fascinating don't seem to be well documented online: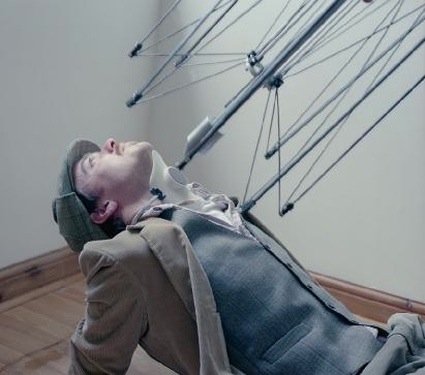 Sitraka Rakotoniaina and Andrew Friend, Impactor and Neck Clamp, 2010. Photo by Sarah Mei Herman & Hitomi Kai Yoda
Sitraka Rakotoniaina and Andrew Friend, Impactor and Neck Clamp from the Shocking series that explores and exposes the boundaries between thrill, fear and science lye. The devices they have designed would allow individuals the chance to test these limits for themselves, capitalising on new, fantastic material qualities promised by the advances of technology and in particular the development of new shock absorbing nano composites.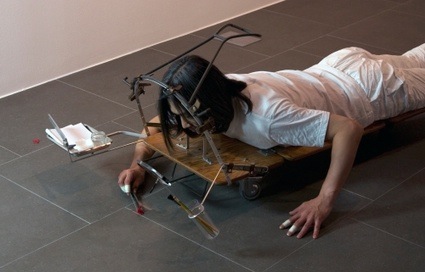 Hyungkoo Lee, Creeper,
Creeper is one of Hyungkoo Lee's movable machines that allow humans to alter their sensations and be closer to insects.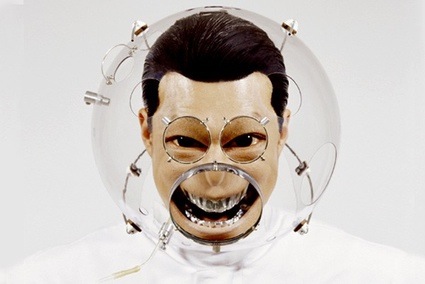 Hyungkoo Lee, from The Objectuals series, 2007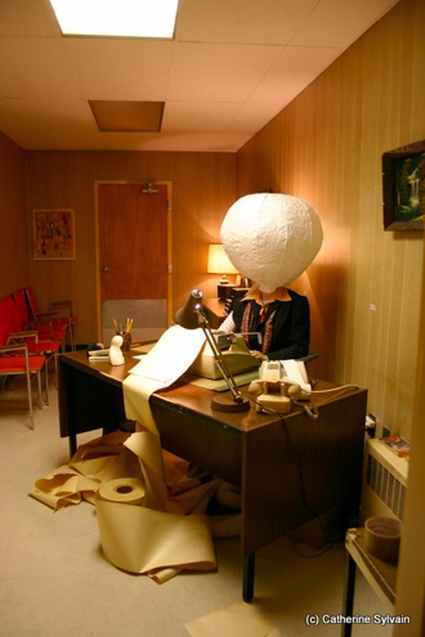 Catherine Sylvain, Petites détresses humaines et autres maux, 2004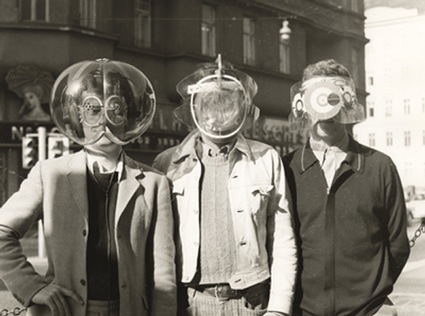 Haus-Rucker-Co, Have a "psy-year", 1968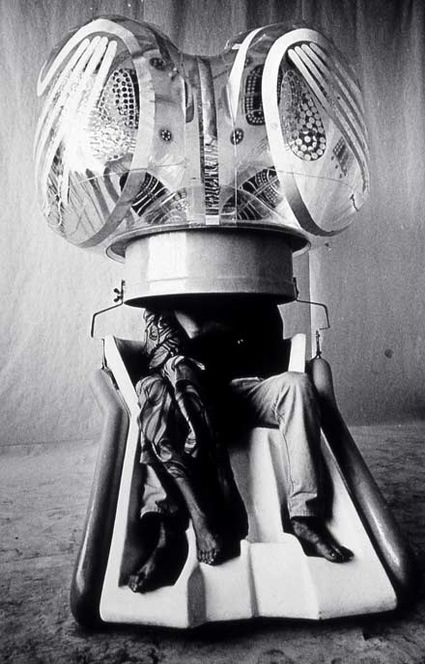 Haus- Rucker-Co, Mind Expander, 1967
Haus- Rucker-Co's experiment brought new perspectives on the fusion/separation between the body and the space.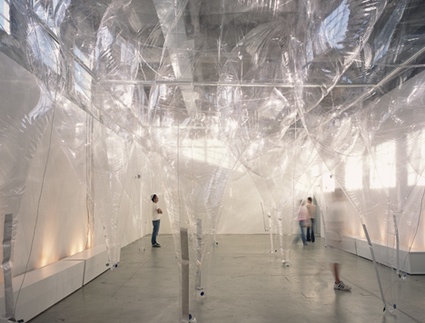 George Yu, Blow-up, 2004
Blow-Up, by George Yu Architects, is a group of inflatable touch-sensitive surfaces that enable visitors to modulate sound, touch, and light.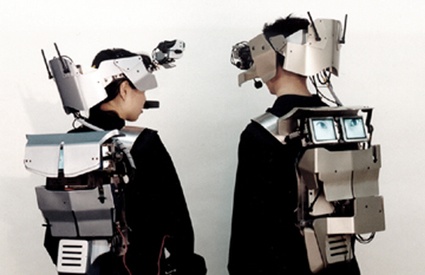 Krzysztof Wodiczko, Dis-Armor, 1999-2000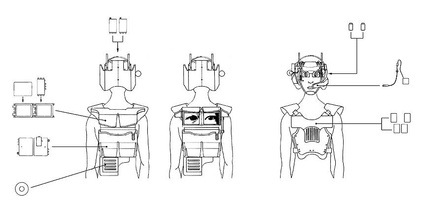 Krzysztof Wodiczko, Dis-Armor, 1999-2000
Krzysztof Wodiczko's now iconic Dis-Armor is a prosthetic equipment designed to meet the communicative need of the alienated, traumatized, and silenced residents of today's cities, offering them the opportunity offers to communicate indirectly with another person by speaking through their backs.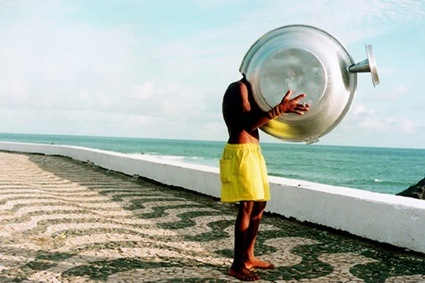 Marepe, Cabeça Acústica (Acoustic Head), 1995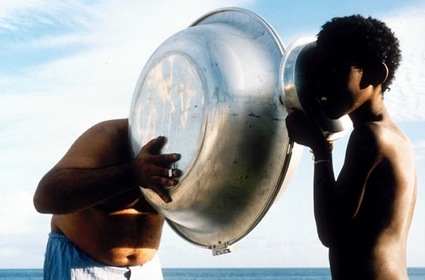 Marepe, Cabeça Acústica (Acoustic Head), 1995
Marepe's Cabeça Acústica (Acoustic Head) are two aluminum wash basins connected with hinges and a cooking pan to create a meditative isolation chamber for amplifying singing.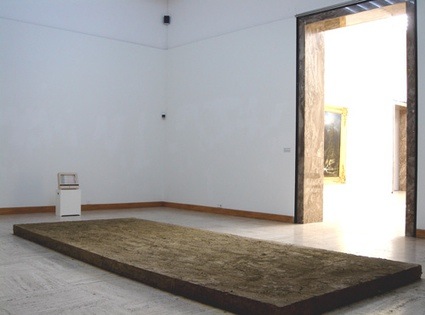 Jean-Gilles Décosterd, Climats n 3
Jean-Gilles Décosterd's Climats imports the time atmospheric conditions of the Alps into a closed museum space.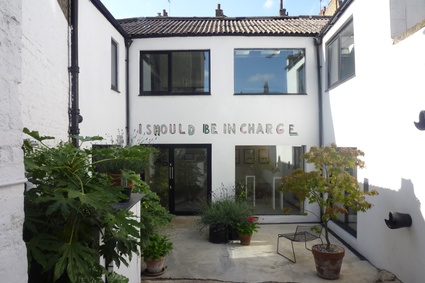 Entrance of the WORK gallery
See Yourself Sensing: Redefining Human Perception is also an exhibition open at WORK in London through 24 September 2011.