More notes from my latest visit to the Museum of Photography in Antwerp. Theatres of the Real – Contemporary British Photography, one of the exhibitions currently hosted by the art space, presents recent work by eight photographers working in Britain. I was expecting grim images and socially-engaged topics. I got that, mostly as the photos definitely belong to the British documentary photo genre. However, something has changed in the brit doc world. The curators of the exhibition describe this new breed of photo works as belonging to the category of 'post documentary'. The prints had indeed a sense of 'artificial reality', an authenticity but staged for the camera, constructed.
Through a blurring the real and the imaginary they offer us a vision of contemporary Britain that is both profound and comical; a black comedy in which bankers throw themselves to their solitary deaths off city buildings, where the police prepare for social insurgency in artificial urban environments, and where mundane kitchen sink scenarios compete the strange plasticized interiors of offices and shopping malls.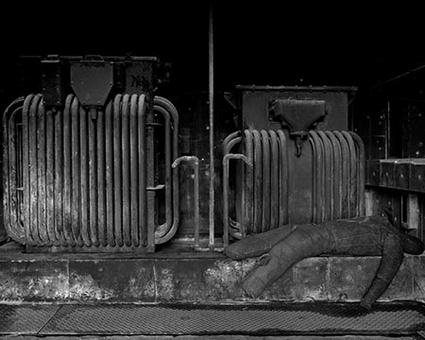 Transformer House, 2008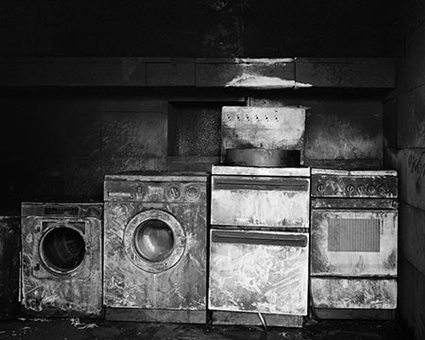 White Goods, 2008
I was particularly drawn to the work of Sarah Pickering. She developed the series Incident while she was Artist in Residence at the UK Fire Service College from 2006-8.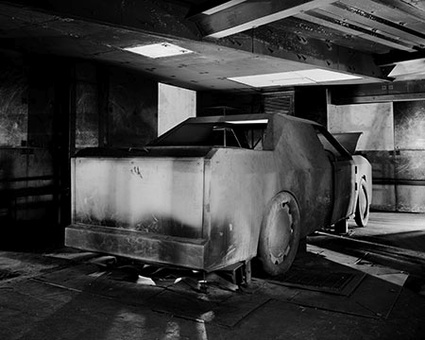 Garage, 2008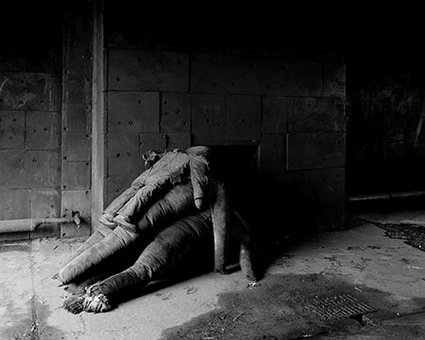 Fireplace, 2008
The b&w photographs document the interiors of purposely-designed buildings that have been repeatedly set on fire then extinguished, for training exercises that simulate emergency incidents. The matt finish of the prints echoes the carbon-covered surface in the spaces.
The blackened scenes look nothing like what we'd imagine. Rather than then being cluttered by debris and ruins, these locations are eerily tidy. They are burnt, yet almost immaculate. Objects are schematic as they are designed to be charred again and again while maintaining an identifiable shape.
Photo on the homepage: Escalator, 2008.
Museum of Photography in Antwerp. Theatres of the Real – Contemporary British Photography is open until September 13 at the FotoMuseum in Antwerp (Belgium.)