Each night of the RNC, Screensavers and the Thing will present the RNC Redux Open Doc Tour, a real time performance created by pulling a broad selection of the day's blog text, photos, audio, and video to mix it into a narrative of the day's events. This live, collective documentary will be generated through a gestalt remix of rich 'personal is public' content.
There are going to be thousands of people textblogging, audioblogging, videoblogging, photoblogging the RNC, most with RSS feeds and most with open content licensing.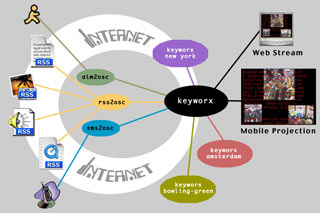 Screensavers will use keyworx, a multi-user cross media synthesizer, to generate, synthesize and process images, sounds and text within a shared realtime environment. Then, this RNC Remix Open Doc will be projected on the streets each night from August 29 till September 2 at various locations.
The audience will be encouraged to add their stories to the mix using SMS, AOL instant messenger, webcams, etc. At the same time, the "tour feed" will be streamed to the web. Screensavers also plans to extend the collaboration with simultaneous keyworx sessions in other locations in the US and abroad including Bowling Green Ohio and Amsterdam.
From Eyebeam < del.icio.us/tag/art