The number of industrial robots is rapidly increasing yet, people do not meet them neither in public nor in private spaces. Robotlab , an artistic group created by Matthias Gommel, Martina Haitz and Han Zappe, studies possible interactions and relationships between men and industrial robots by means of experimental labs, performances and installations.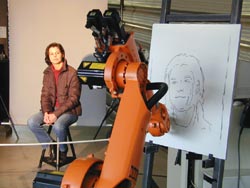 Among their projects is "Autoportrait"where robot are given a pen to draw a human portrait.
With both technical ability and the capability to recognize the characteristics of a human face, the robot hand forms his own style.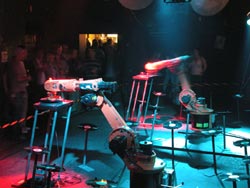 The "juke_bots" installation stars two robot arms acting like DJs. Each machine is surrounded by records which they can select, pick up, play and scratch, creating new sounds with their own characteristics.
The audience can request certain records or scratch-styles from the machine-artist or throw money in a slot to let the robots play their own compositions.