It is estimated that some 98,000 people die in the U.S. each year because of medical errors.
Many of those errors could be avoided by using information technology. Only 3% of hospitals have an integrated Hospital Information System (HIS) to manage patients' records and care and 60% of them rely on bar codes to ensure patients receive the right treatment.
But bar code is not error-proof as some staff members sometimes either bypass the bar code scan or verify a patient by sight and scan a copy of the patient's bar code on their clipboard instead.
Exavera's eShepherd combines RFID with Wi-Fi and voice over IP to deliver a single system to track patients, staff and hospital assets.
The core of the system is their VeraFi Wi-Fi network router connected to the hospital's LAN via an Ethernet port. To make phone calls over the Wi-Fi network, the VeraFi unit has two RJ11 ports to connect regular analog telephones and converts the analog calls into VoIP. The unit also includes an RFID transceiver to read RFID tags placed on patient bracelets, staff ID badges and hospital equipment.
Nurses and doctors wearing RFID-tagged badges carry Wi-Fi-enabled PDA's or tablet PCs. Whenever the RFID transceiver detects the proximity of a hospital staff member to a patient, the Wi-Fi network delivers the patient's records on the caretaker's device.
In addition to reducing medical errors, the eShepherd system claims to improve efficiency. By carrying Wi-Fi-enabled computers, nurses and doctors will be able to view any patient's complete record whenever they need to, rather than having to walk to a central filing area to retrieve records.
The system's tracking capabilities can also be used to locate equipment, as well as staff and patients. For example, the PDA or tablet PC could notify doctors of each patient's location, so they can structure their schedules to suit.
Currently, Exavera's eShepherd system is being tested in two New England hospitals.
The company estimates that for an hospital with, say, 250 beds, deploying eShepherd would cost $400,000 (the equipment + its installation) but could save some $4 million a year.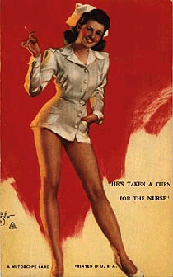 The illustration has nothing to do with the article but I read that "sexing up" a website drives traffic.
More in RFID Journal.