R*Emote Mirror is a pair of networked interactive lighting installations that creates communication between isolated people in urban cities and their loved ones who live far away.
The telepresence installation re-creates feelings of togetherness and physically connected interaction between distances and spaces, allowing each person to interact through the expression of his or her movement.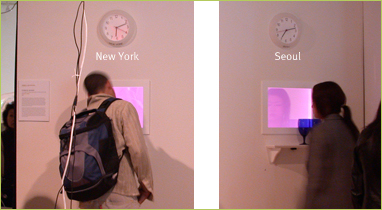 r*Emote Mirror has two functions: one is a mirror, and the other is interactive color lighting. Each r*Emote Mirror will have an initialized color representing the user, and trigger the movement of the person with different colors. When two persons stand at the same position in front of their installations, r*Emote mirror makes them see color changing and blending of their individual colors.
If you are living in Seoul and are close to the mirror, you can see your own shape on the panel in red light. At the same time, your friend living in new york can see your red color on his or her panel at home. if your friend is close to the panel, s/he can see his or her own body shape as blue light. If you are both in front of each mirror, the overlapping of color will hopefully evoke feeling of togetherness. For instance, if red overlaps with blue, it makes purple.
A project by Yeonju Shim.