REACTIVATE!! is a two-fold exhibition which runs until late August, at the Espai d' Art Contemporani de Castelló, near Valencia in Spain. The first part, which i covered earlier this week (see REACTIVATE!! Part 1, Urban reanimations and the minimal intervention and Retired priests have all the fun) engages with recent architecture projects which makes the most of disused, outworn or inadequate urban spaces and buildings to create striking new edifices. On the cheap and with jaw-dropping results.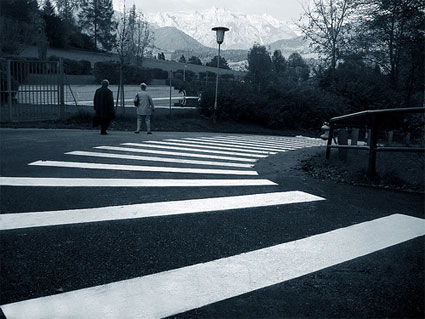 Heri & Salli, Real Landscape-Real Mistake. Photo : Heri & Salli
The other half of the exhibition is dedicated to contemporary urban interventions that appear to put into practice that which the Situationist International developed as radical urban critique and theory.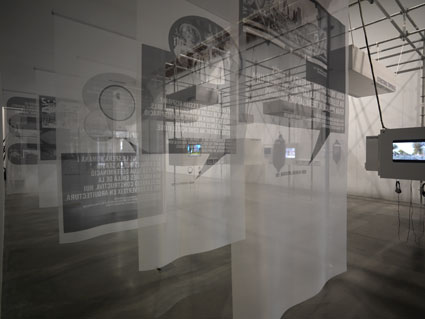 Views of the exhibition. Images courtesy of the Espai d' Art Contemporani de Castelló
Borrowing from Situationist strategy of détournement, the temporary and modular architecture projects presented in this section of the exhibition use existing structures and buildings to generate new scenarios and redefine the city as a site for play and appropriation. Interestingly, the way they regain control over space is totally at odds with the current 'no loitering' trend.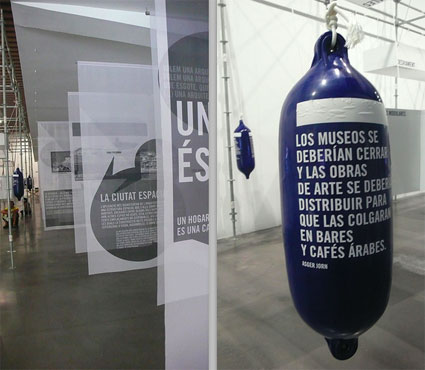 Views of the exhibition space
Dozens of projects were selected for the exhibitions and the first one i'd like to mention is 'parasiting' one of the walls of the Espai d' Art Contemporani de Castelló itself since 2005.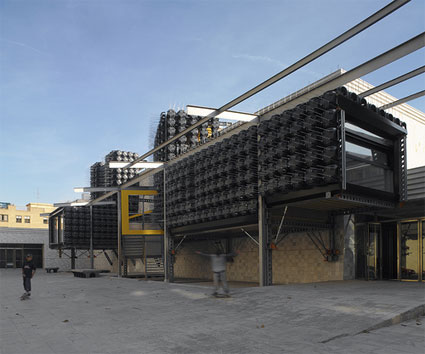 Santiago Cirugeda, Prótesis Institucional. Photo: Pascual Mercè
Called Institutional Prosthesis, Santiago Cirugeda extension of the contemporary art center represents an attempt by both the architect and the EACC to foster a reflection on the construction of public space, citizen participation, organization strategies and new urban scenarios emerging from artistic practices.
Two cells of approx. 50 m2 each sprout above the square in front of the art center. Access to it is independent from the rest of the museum and anyone in the city can rent the space for free to organize discussions, workshops, meeting, conferences, etc.
A quick selection of other projects that visitors can discover at EACC: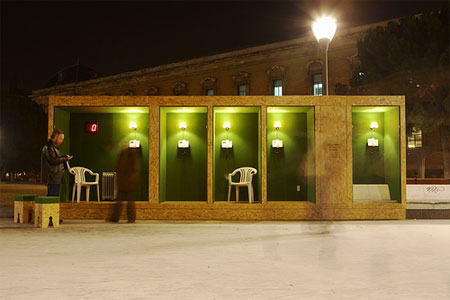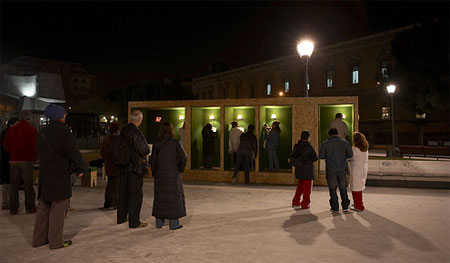 Kawamura-Ganjavian, Locutorio Colón. Photo: Alfonso Herranz
The installation by Ali Ganjavian, Key and Maki Portilla-Kawamura, with the collaboration of artist Tadanori Yamaguchi, consisted of a free call centre to Latin America located in Plaza de Colón in central Madrid during February 2006. The idea was to encourage this square to live up to its name (Colón refers to Cristóbal Colón, the Spanish name for Christopher Columbus) and be characterized by transatlantic communication made possible by Colombus five centuries ago.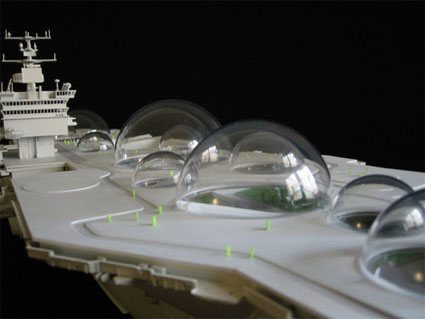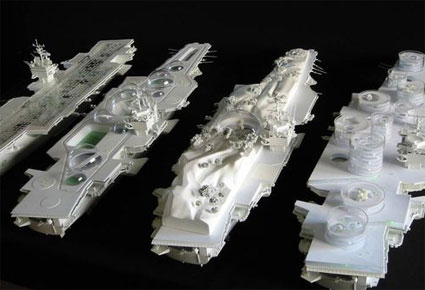 Microutopias.Images europaconcorsi
Microutopias, by IaN+ with Marco Galofaro, proposes the recycling of architecture and aircraft carriers to create moving landscape. The idea evokes Hans Hollein's 1964 Aircraft Carrier City in Landscape, the concept of an aircraft carrier dragged in the middle of the fields to create a new city. But instead of remaining anchored in the landscape, the war machines of Microutopias are moving fleets that host humanitarian and cultural activities.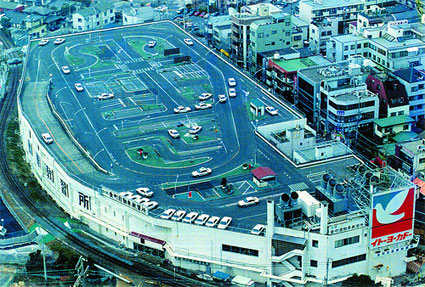 Atelier Bow Bow, Super Driving School 'Made in Tokyo'. Photo: Atelier Bow Bow
Atelier Bow-Wow also studied the possibility to re-purpose existing structures. Their Made in Tokyo project suggests a greater understanding and respect of authentic local development. Rather than demolish areas of the Japanese capital to construct new skyscraper districts, the architects propose to be inspired by the resourcefulness found in the city and add new functions to existing buildings. A map details the examples of the concept they found around the city: tennis court, lake and Japanese garden on the rooftop of a plant, a shrine on top of rented commercial spaces, an apartment house with the role to hold up billboards one can see from airplanes landing or taking off, etc.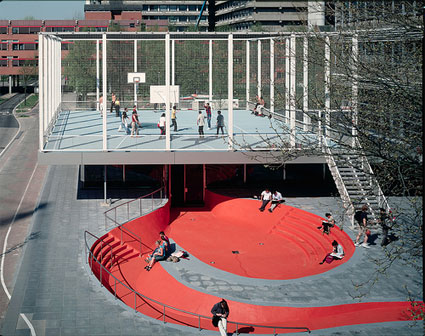 NL Architects, Basket Bar. Photo: Luuk Kramer
NL Architects's dazzling Basket Bar on the campus of the University of Utrecht is a basket ground over a grand café.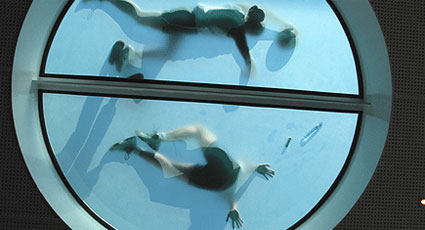 The Bar has been sunk 1.2 metres into the ground. Outside, an 'orange pool' links a sunken terrace, a mini-amphitheatre and an entrance to the café with wheelchair access. The roof provides an unusual setting for a basketball court which features a middle circle made out of glass.
More images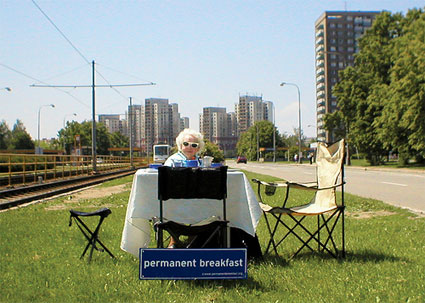 Permanent Breakfast, The ongoing breakfast in public places. Photo: Friedeman Derschmidt
Conceived in 1996 by Austrian artist Friedemann Derschmidt, Permanent Breakfast is part game, part reality show and part gastronomical event. Its rules are very: one person invites other persons to breakfast in a public space. The guests commit themselves to organize another public breakfast with different persons in a different place as soon as possible, and so on and so forth. Following the snowball principle, there would be 1.6 mio. people publicly breakfasting no later than on the tenth day.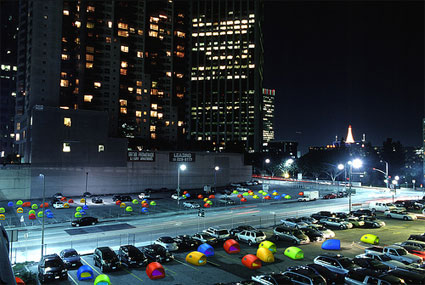 Urban Nomad Shelter by Electroland, Los Angeles 2005. Photo: Electroland
Urban Nomad Shelter, by Los Angeles based Electroland, is designed to 're-brand' a category of city dwellers in need of visibility: the homeless>. Electroland's shelters have therefore all the characteristics susceptible to appeal to the cool crowd and stop anyone willing to brush them away from the streets, they are stylish and come in a bright range of colours. The homeless will find them easy to move around, inexpensive, light and transparent (apparently when you are out of view of the police and other people, anything could happen to you).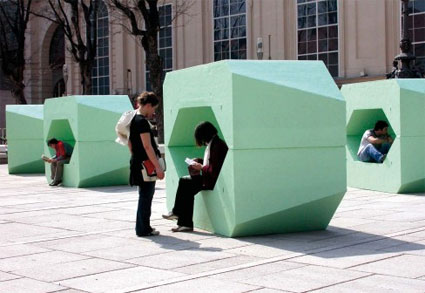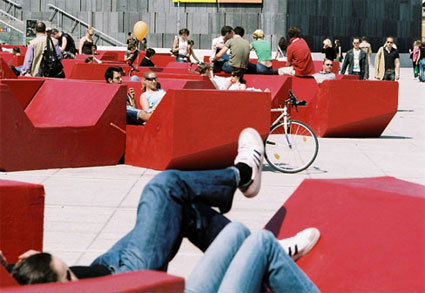 The inner courtyards of the Museumsquartier in Vienna host several cultural organisations, museums and cafes. By designing and installing all over the place 116 over-sized furniture elements, Popelka Poduschka architekten turned it into a playground. In summer they wander in herds through the yards, every year in different colours and formations. Come Winter they are piled up and transformed into building-like structures, inside one can enjoy punch and DJ-music.
REACTIVATE!! is on view at the Contemporary Art Centre of Castellón, ESPAI, until August 31, 2008.