Design Products' Platform 8 had invaded the +Arch offices with some really nice projects. My favourite is by far the Office Collars designed by Simone Brewster.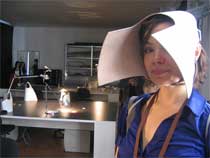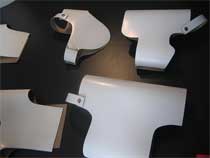 Having observed that people working in open office space are constantly distracted by visual stimuli, she suggested they wear one of her collars. They exist in different shapes, there's one open at the bottom to let you drink your coffee, another is open at the top for people who watch upwards when they need to concentrate and think. I wouldn't mind wearing one of them, they have a very charming Little House on the Prairie look.
Henny van Nistelrooy For today I'm a bird uses wireless CCTV observation systems and LCD tv screens to allow him to both fly a kite and see what the kite "sees" from the sky. A camera elevated on a kite is pointed at the person in control. The images are sent to the screen that is placed in front of the controller's eyes.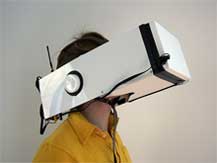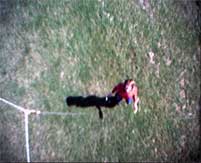 Henny is developing the project for RCA Summer show (15th till the 28th of June.) His plan is to have the project working for visitors so they can experience this themselves outside the exhibition tent in Hyde Park.
Video of the project. Images courtesy of Henny van Nistelrooy.
Platform 8 is headed by Gabriel Klasmer and Hannes Koch. The later was showing some of the latest projects he developed together with rAndom international at Spazio Krizia, a space they shared for the second time with Ingo Maurer. One of rAndom's exhibited pieces was the Morse Light.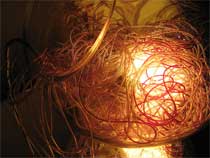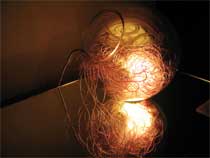 Morse is a first of a series of rAndom International Water Light Installations, which will ultimately result in the display of digital images and text with coloured water and air. Controlled with one pump only,Morse continously sends out a neverending stream of tangible morse code in the form of coloured water impulses. These travel through 300 ft of tube, giving the impression of a state of ants within the light. Visitors looked at it with obvious fascination, yet they mentioned words such as "hospital, creepy, blood," etc.
Wasn't very impressed by Ingo Maurer's gimmicky toothpaste and rat-inhabited lamps. The rolls of LED wallpapers were quite fun to look at though (but wouldn't want them anywhere in my flat, thank you.)