This year, the Radiator exhibition, part of the festival which just ended in Nottingham, put the emphasis on the theme of the urban networked environment and its effect on our day to day lives and commissioned artists to develop projects that investigate and challenge the dominant forces at work in an increasingly hybrid and ever-changing urban environment.
The result where displayed until January 24 at Surface Gallery in Nottingham where an exhibition titled Exploits in the Wireless City displayed the work of the commissioned artists along with others whose work engage with similar issues.
I already mentioned The Office of Community Sousveillance so let's move to a couple more projects:
As it has been often written, British people are the most surveilled citizens on the planet. Folke Köbberling & Martin Kaltwasser carefully measured and mapped the spaces throughout Nottingham city that escape the gaze of CCTV cameras. The surveillance-free areas, much smaller than what the artists expected, were marked as 'blind spots'. Each of these spots became the floor plan of a small wooden structure available 24/7 to anyone as a room for "un-determined acts".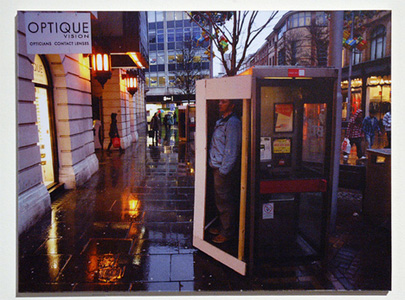 Photo: Copyright Karen Fraser 2009 – courtesy of Radiator Festival
The structures were built from materials thrown away and found in the direct environment of the CCTV-free zones.
The work is an act of resistance to reclaim a space and change its meaning, encouraging people everywhere to resist the powers that create the surveillance state.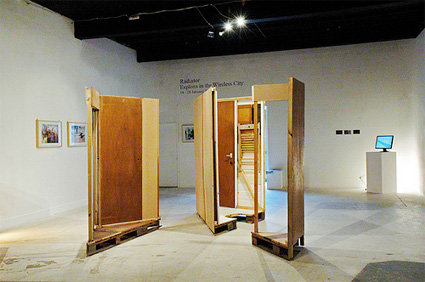 Interior gallery space. Photo: Copyright Karen Fraser 2009 – courtesy of Radiator Festival
At the same time, the work mirrors the socio-economic aspect of the city – the city as a resource, the materiality of the city, the free material of a city.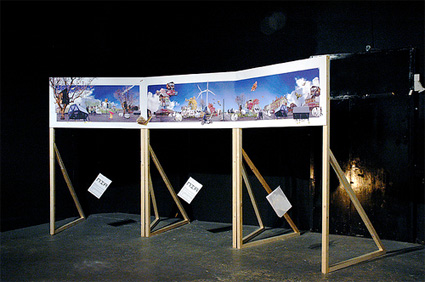 Photo: Copyright Karen Fraser 2009 – courtesy of Radiator Festival
Danish art collective N55 are working as the N55 INTELLIGENCE AGENCY [NIA], an entity dedicated to gathering information about concentrations of power with the ultimate purpose of uncovering the plans, strategies and tactics of such organizations (urban planning offices, building industries, banks, etc). Once they have spotted the organization, they try to infiltrate it and make suggestions that promote alternative ways of dealing with real estate, finance, etc.
During their Radiator operation, the NIA have focused their activities on the Meadows Gateway, an urban regeneration project on the south side of the city. NIA has been told the development will offer 70,000 sq m of swanky flooring space housing offices, a hotel, leisure facilities, shops, student accommodation, car parking and, most controversially, a twelve storey tower for luxury apartments. Included in this scheme is a budget to improve facilities and smarten up the Meadows estate. The result will be the kind of glass and steel development that looks impressive on paper but that lacks soul. It is very unlikely that the local community which has had no say at all in the development so far will feel at home and take responsibility for the area.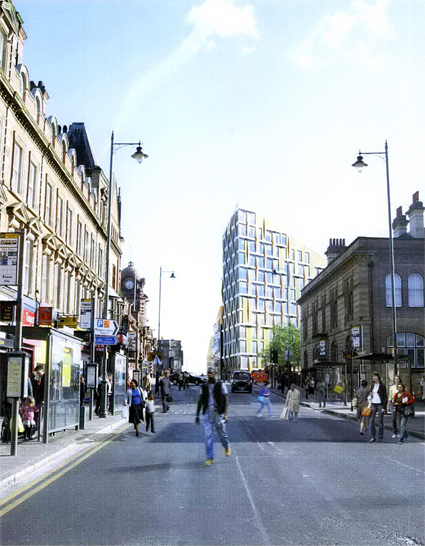 Meadows Gateway Building A. Copyright Holder – MAKE Architects. Rendering of the apartment tower
Taking their cue from the famous Christiania, a partially self-governing neighbourhood of about 850 residents located in the borough of Christianshavn in Copenhagen, NIA suggests another kind of revamping for the Meadows.
When the military moved out of the Christiania area in the early '70s, hippies and anarchists settled in and created a society with its won rules and laws. Christiania has established semi-legal status as an independent community, but has been a source of controversy since its creation. Free as they were of any kind of regulations, inhabitants had free reign to build the houses they wanted to live in. This freedom has given rise to some unusual and highly creative dwellings.
NIA proposes to build with a similar spirit. Inhabitants of Nottingham should be able to rent the area and build whichever house they would be happy in. They would get the help of architects and city planners to realize their dream.
Along with these DYOH (design your own house) schemes, N55 also suggest the use of what they call MICRO architectures – architecture deriving from pre-existing communities under threat: Micro Dwellings, the Snail Shell System, and of course the magnificent Walking House.
NIA, in their investigations, have brought together material from planners meetings and local residents from Nottingham and compared it with notes from other cities. To these files, they added bits and pieces of Christiana and also some examples of MICRO architectures. They mixed everything together and made a long, horizontal collage that forms NIA's own new development board.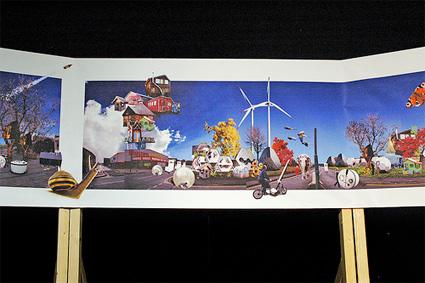 Photo: Copyright Karen Fraser 2009 – courtesy of Radiator Festival
For Radiator, Glenn Davidson from Artstation has researched the use and possible abuse of ON/OFF buttons. The ON/OFF button has become so ubiquitous in our lives we have ceased to think of or even notice them. Davidson explores how the use of the humble ON /OFF buttons and switches draws us to consume more energy. Today's electronic systems have for, the most part, divorced us from the ability to fully shut down a system pandering to the needs for instant operability. Manufacturers prefer to give us control of a 'pause' or standby state rather than a full shut down.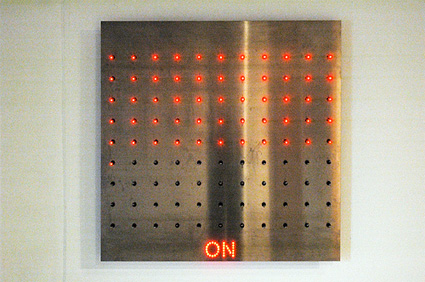 Photo: Copyright Karen Fraser 2009 – courtesy of Radiator Festival
Most people aren't aware that standby mode actually uses enough energy to release about 800,000 tons of carbon into the atmosphere every year in the UK alone. In fact, the U.S. Department of Energy has estimated that by 2010, the portion of each utility customer's bill consumed by appliances in standby mode will reach 20%.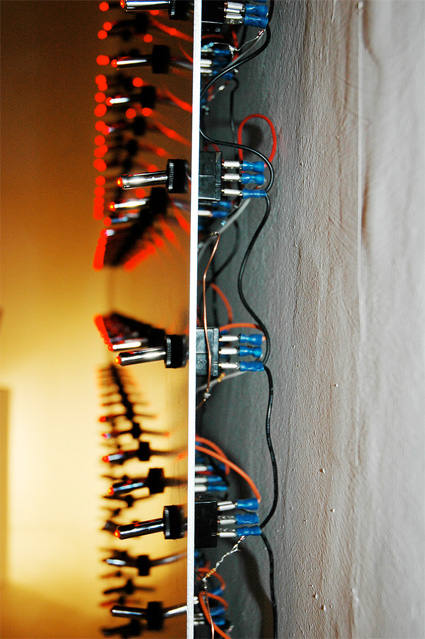 Photo: Copyright Karen Fraser 2009 – courtesy of Radiator Festival
For the exhibition at Surface Gallery, Davidson has created a series of switch boards (in the sense of boards covered with switches), one of them had some 100 switches that you had to put on OFF position one after the other to switch off the board, reflecting a phenomenon we have lost touch with: the slow process of electricity before the generalization of
ON/OFF (button research) will also be part of FACT's exhibition 'Climate for Change' at FACT Liverpool in March 2009.