Public recycling bins that use RFID to credit recyclers every time they toss in a bottle; pressure-sensitive floors in the homes of older people that can detect a fall and contact help; phones that store health records and can be used to pay for prescriptions.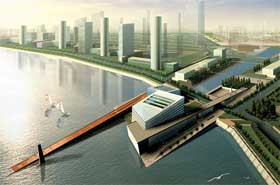 In New Songdo City, a "ubiquitous city" being built in South Korea, all major information systems (residential, medical, business, governmental, etc.) share data, and computers are to be built into the houses, streets and office buildings.
When completed in 2014, the city's infrastructure will be a test bed for new technologies, and the city itself will exemplify a digital way of life, the "U-life." It starts with a resident's smart-card house key. "The same key can be used to get on the subway, pay a parking meter, see a movie, borrow a free public bicycle and so on. It'll be anonymous, won't be linked to your identity, and if lost you can quickly cancel the card and reset your door locks," aid John Kim who leads the U-city planning.
"Much of this technology was developed in U.S. research labs, but there are fewer social and regulatory obstacles to implementing them in Korea," said Anthony Townsend, a research director Palo Alto. "There is an historical expectation of less privacy. Korea is willing to put off the hard questions to take the early lead and set standards."
"This is a competitive advantage for the Koreans," comments B. J. Fogg, of the Persuasive Technology Lab. "They will know before anyone else what flies."
"But I foresee that many services will fail," he added. "That's the nature of experimentation. They should be prepared for the frailties of human nature to emerge."
Via GHLee blog The NY Times. Read also World Changing.