Previously: Playlist – Playing Games, Music, Art.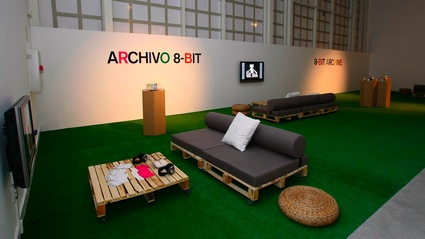 Playlist – Playing Games, Music, Art, an exhibition curated by Domenico Quaranta for Laboral's new Mediateca Expandida, explores the role played by music in the adoption and manipulation of obsolete technologies: vinyls, old computers, game platforms, etc.
Playlist follows a long long trails of game-related exhibitions at Laboral (see for example Homo Ludens Ludens) and just when i thought "oh nooo! Not another one!", they managed to bring an exciting new perspective on the world of game art.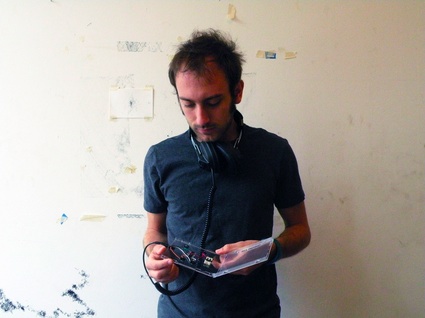 Tristan Perich,1 BIT Symphony (2009)
Despite its geeky, garage, masculine aura, Chiptune music is less anecdotal a theme as one might think. It didn't exactly become the new "folk music for the digital age" nor the "next step in the evolution of rock and roll" that Malcolm McLaren, the legendary ex-manager of the Sex Pistols, had forecast but that's probably part of its charm. If chiptune music had found its way towards mass culture after roughly two decades of existence, you'd see this exhibition at MOMA or the Fondation Cartier, not at a more adventurous space like Laboral. This doesn't mean that chip tune music 'failed' to reach the music charts. It's just that it would probably lose its soul if it were assimilated by corporations and turned into mainstream candy.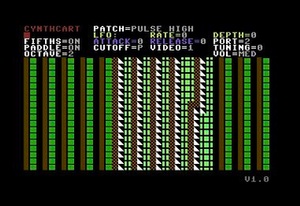 Paul Slocum, c=64 synth, 2003
Chip music is low-key. Its scene is relatively small, its sound is raw and lo-fi, but more importantly, its tools are outmoded goods of mass consumption. This obsolescence of the media was at the heart of curator Quaranta's reflections. The very essence of chip music is indeed at odds with the so-called 'planned obsolescence' model that has come to be part and parcel of the industrial stream of electronic goods since the early decades of the 20th century. By 'upcycling' vintage computer and video game systems, hacking, tweaking and bringing to light their untapped potential or turning their very shortcomings into musical or visual features, the artists and computer hobbyists not only defy any assumption that their passion is only driven by nostalgia, they also go against this almost universally endorsed model of planned obsolescence. In the florid essay he wrote for the Playlist catalog, Matteo Bittanti reminds us what a great purveyor of quotes McLuhan was. He believed that "obsolescence never meant the end of anything, it's just the beginning."
Here's the first part of my report about the exhibition.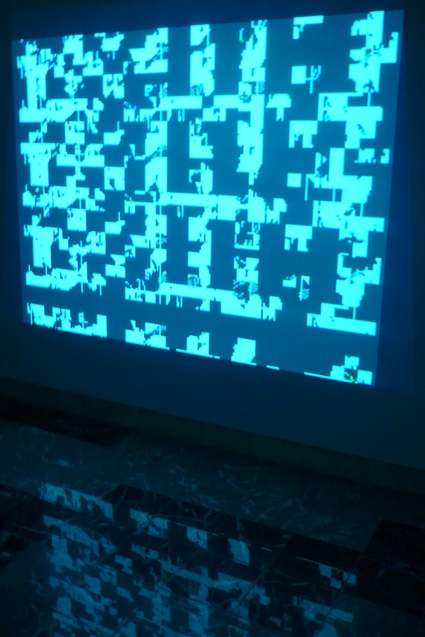 Jeff Donaldson/noteNdo, RESET v2.0 for 2 Prepared Nintendo Entertainment Consoles (2009)
Jeff Donaldson/noteNdo's RESET v2.0 embodies perfectly the way the 8-bit community makes the most of the defects and limitations that come with old game consoles. Each NES console has been prepared to instigate generative system crashes/malfunctions which are triggered by laser light. As the participant walks through the installation space/laser field, different audio-visual effects are produced when different beams are obstructed. The work is inspired by system glitches, or imperfections, which are unique to the 8-bit NES hardware. In provoking these errors, abstract and colourful effects, unintended by the commercial systems designers, are produced.
Eat Shit, by Jeremiah Johnson/Nullsleep and Don Miller/NO CARRIER, demonstrates again artists' interest for glitches and data corruption. The interactive installation explores controlled data corruption on the Nintendo Entertainment System, based around Johann Sebastian Bach's piano piece Minuet in G.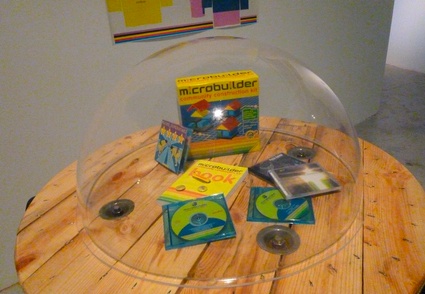 Gino Esposto/micromusic.net, microbuilder – community construction kit (Version 1.0: 2003; Version 2.0: 2009-2010)
They might be using outdated instruments but the close-knit chiptune community has its feet firmly planted in today's sharing culture. Gino Esposito wrapped all the knowledge and the years of work of micromusic.net – the first 8-bit and low-tech music Internet community platform – into microbuilder. The "community construction kit" package offers amateurs all they need to create a successful internet community. The software can be installed easily, you learn quickly how to operate the system and the package is simple to adapt and extend. In the book you can browse through the history of Internet communities, the process of building up micromusic.net and other online projects. Illustrations and graphic art work from micromusic.net artists will give you a lasting visual impression and the installation guide makes the software installation process as quick-and-easy as possible. And of course you can listen to the included audio CD.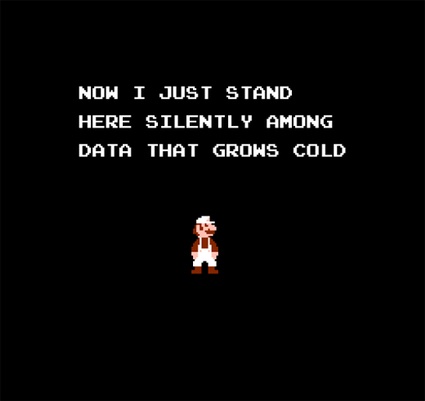 Paul B. Davis, Screen shot from Five in One, Fantasy Cutscenes, 2007 (Image Seventeen Gallery)
Homage to DIY/"pirate" multicarts often found in Hong Kong markets which take multiple games and illegally cram them all on one cartridge, Paul B. Davis's aptly called 5 in 1 crams multiple artworks from the Beige catalogue. There are stylistic nods to multicart culture in the somewhat awkward main selection screen, the misspelling of the component names (this is also a reference to bootleg hip-hop records), the lack of navigation instructions, and a slightly buggy feel. However, its authentic/illegal "pirate" nature is tempered by the fact that the source codes for most Beige artworks are freely available from their website. Anyone could download and make their own edition of the original pieces if they learned the technique and could be bothered. This is the paradox of "open source" software when manifested in an art object: the object is reduced to the application of a technical skill because the code/ concepts already exist in the public domain (except, of course, for Davis' code that runs this multicart).
My pictures of the shows are not as good as Domenico's but that's ok i got used to be such a lame photographer a while ago. Photo on the homepage: Don Miller/NO CARRIER, glitchNES, 2009.
Playlist – Playing Games, Music, Art, the second exhibition of Laboral's new Mediateca Expandida, is open until May 17, 2010 at LABoral Centro de Arte y Creación Industrial in Gijón, Spain.
To be continued….