The "streetka" dress is the product of a co-operation between Ford Cars and designer British Bruce Oldfield. The dress made of car parts will be auctioned to raise money for the Children's Charity Barnardo's.
85 different parts of a real pink Streetka were used: the corset was made out of the car's hardtop, the choker is the car's clock, and the hat was made from parcel shelf material and cable-ties.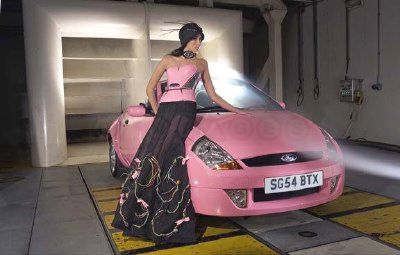 The see-through skirt was crafted from mesh used on the front grille and decorated with electrical cables usually found under a car dashboard.
More in Media Ford.