The Dutch design agency Buro Vormkrijgers sells a Katana Nomadic Lamp featuring a pressure sensitive spine that responds to touch to move the light up or down. There's no button to press, as soon as you hold your hand next to it, the light switches on. The leds follow the movement of your hand on the back of the object to light the corresponding place on the front.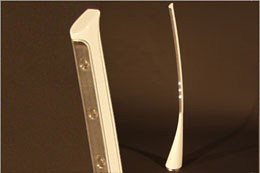 The image is not impressive, but the video certainly is.
Via Design Matcher, also spotted on ID Fuel.