Image by Storefront for Art and Architecture
Back to my posting about Postopolis, the amazing 5-day blogathon of discussions, interviews andpanel talks themed around landscape and the built environment and brought to us, lucky bloggers, by Storefront for Art and Architecture in collaboration with the adorable people of Foryourart.
I prayed the Twelve Olympians, i cursed and almost cried but i have irremediably lost all the notes i took during the second day of Postopolis. Dan Hill has however posted a series of thoughts he gathered on the second day of his visit of LA and he's going to blog the talks more extensively over the next few days. At least that's his plan. Let's flock to City of Sound this week then.
Below is a meager overview of Day 2 on planet Postopolis (with, i'm afraid heavy emphasis on the people i had invited):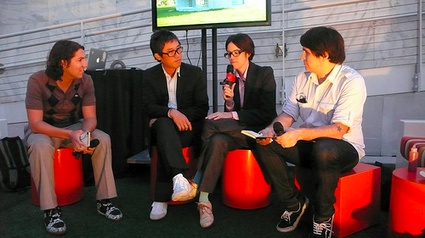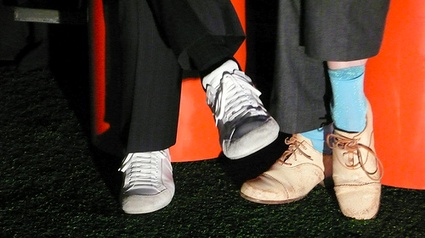 David Basulto and David Assael from Archdaily and plataforma architectura did a live interview of Sarah Johnston & Mark Lee. Basulto and Assael were only doing live interviews. They basically asked the same questions to each architect "What is architecture for you?" "What is the role of an architect?", etc. So at the end of the series we could compare and discuss the wide range of answers provided by the speakers (some came prepared, others seemed to be somewhat nonplussed by questions they didn't see coming.) Sarah Johnston had the most wonderful combination of shoes-socks i've seen in ages. Oh! and btw, the work of Johnston MarkLee studio is worth a few jaw drops.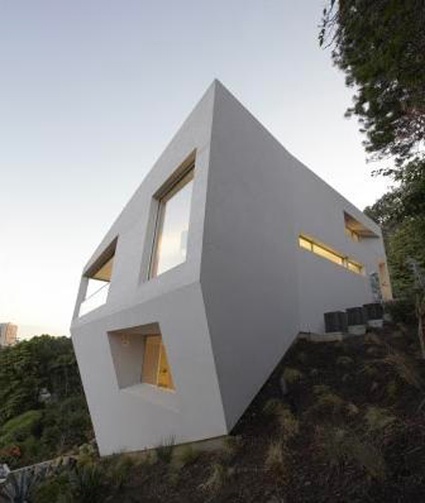 The Hill House, by Johnston MarkLee Architects
Robert Miles Kemp gave a compact and compelling talk about the way robotic technologies and interactive interfaces might impact architecture in the very near future. There will be more of that in his upcoming book about Interactive Architecture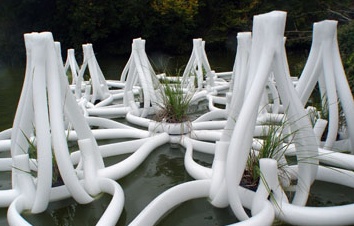 Freya Bardell & Brian Howe from Greenmeme described 5 of their projects. One of them is The River Liver that aims to raise awareness to water quality issues and water pollution. During an outdoor art festival, they launched on the river Liver(trans)Plant, a floating landscape module attached to paddle boats and moved through the lake on a quest to discover contaminates and break down some of the identified pollutants in the Stowe Lake, Golden Gate Park. For two days festival participants paddling the 'islands' around the Lake could get real-time data about the water quality through the central illuminated beacon which translated the water quality and other environmental data into colored light.

Hot Air, by Greenmeme
They didn't mention the cow-powered methane collector they developed in 2006 but i can't resist linking to it.
Bryan from the absolutely wonderful Subtopia had invited the editor of Polar Inertia, everyone's favourite website for anyone interested in seeing photos that reveal the networks and patterns that define the contemporary city. The talk was dense and as packed with idiosyncrasies as the website itself.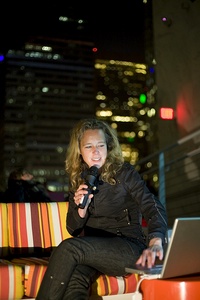 Portrait of Stephanie Smith, Storefront for Art and Architecture.
The evening ended with a lively debate about Stephanie Smith's project to turn America into a nation of commune members. The idea is obviously not new and comes with all sorts of hippi-esque connotations but Stephanie aims to infuse it with a new spirit: the individual as well as the common good will be kept in balance. People should this time adopt the balance because she will show them how much sense it makes: they will save money and time by entering or forming a commune. Besides the project Wanna Start a Commune starts with a business plan because Stephanie believes in doing well by doing good. Check out NPR's podcast about the project.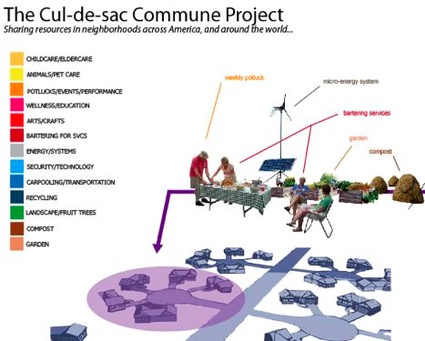 Sigh! That was a lame post, let's hope i'll do something better tomorrow.