The first day of Postopolis is over. It went way better than i expected (and expectations were high.) We are on the rooftop of The Standard hotel which means looking at each other with a smug smile on our face that says "we're so lucky to be here". Problem is that the smile literally freezes as soon as the sun goes down: it gets cold beyond my worst nightmare of a night sleeping rough in Tobolsk (only slightly kidding here.) Bring your blanket and moon boots tonight or follow us on the webcast! Don't expect full reports as days are pretty busy but here are a few highlights of Day One on Postopolis planet: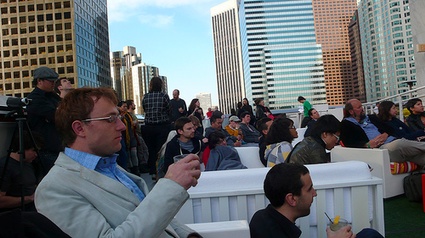 I had the immense pleasure of kicking off the series of talks by introducing Fritz Haeg (how can anyone be both laid-back and so stylish?) whom i had invited precisely for his dedication to engage with everything but architecture. You might remember that i had interviewed him briefly two years ago about Edible Estates, a project that challenges the lawn, this "carpet of conformity", by inviting families to replace their front lawn with food-producing vegetable gardens. Fritz discussed Edible Estates (look out for his next garden in New York in June), gave an overview of the performances and various education activities he organizes but he also explained us briefly another of his projects: Animal Estates.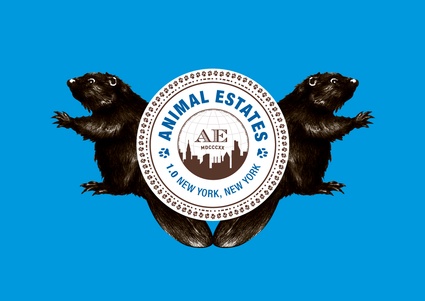 Launched at the 2008 Whitney Biennial, the project that attempts to integrate animals in our landscape, in particular indigenous species that have disappeared because of human habitats and settlements. The customized dwellings are designed to encourage the resettlement of wildlife in urban neighbourhoods.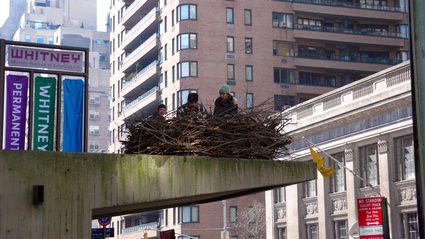 Next came a presentation of the work of experimental architecture group fabric by Patrick Keller who proved once again that Swiss architecture rocks (check out this other talk by his colleague Christophe Guignard) and a live interview of Yo-Ichiro Hakomori of wHY Architecture by the two David from ArchDaily & Plataforma Arquitectura. Been very impressed by the thought-provoking and quiet answers of the Americano-Japanese architect and blown away by the picture of one of the most striking building he designed: Royal/T, LA's first Japanese-style cosplay café.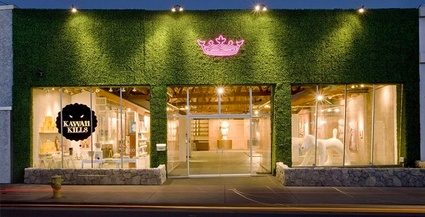 Bryan from Subtopia had had the great idea to invite Michael Dear Professor of Geography, USC and author of the book Postborder City (must get my hands on that one asap). A few noteworthy observation Dear made: the future of the city is already at work in L.A., there is no urban center, just a big sprawl and several urban centers here and there, the population is in majority latino; even if the U.S. managed to close their borders, the latininization of the country would still be unstoppable because of natural birth; diversity is the strongest feature of this society and we should embrace it instead of looking for questionable ways to avoid it; the border is everywhere we go, that's the frontera portatil, the border to go, etc.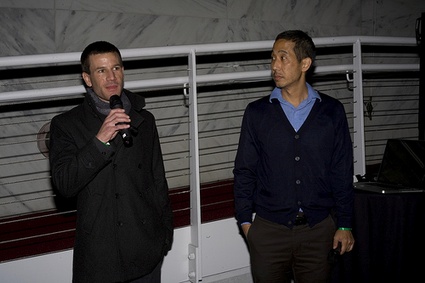 Geoff presenting Jeffrey Inaba (photo Storefront)
Geoff Manaugh invited Jeffrey Inaba who commented the shift architects must face because of the current crisis: going from private commissions to public ones, accepting a part of blame for the ambitions of their previous clients and reassessing the actions and strategies to undertake in this new climate. Sounds heavy? The talk was actually very witty, not particularly on the optimistic side but still energizing and sprinkled with ironic observations that went from gums on the pavement to extreme temperatures in Kazakhstan.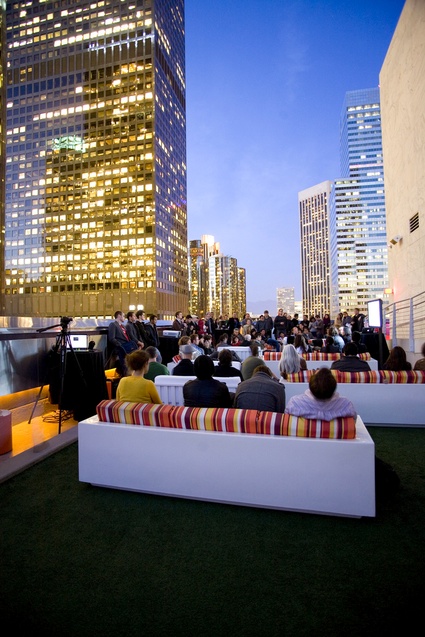 Image Storefront
Image on homepage: Postopolis flickr set by Storefront for art and architecture.