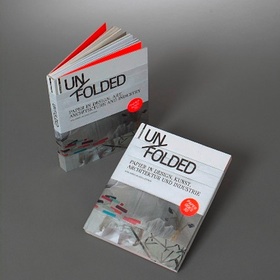 Unfolded – Paper in Design, Art, Architecture and Industry, by Petra Schmidt and Nicola Stattmann (Amazon USA and UK.)
Publisher Birkhäuser says: In "Unfolded–Paper in Design, Art, Architecture and Industry" paper conquers the third dimension and demonstrates the undreamed-of possibilities it holds today for lightweight construction, product design, fashion and art. From "Paper", the collection of bags by Stefan Diez, to Konstantin Grcic's paper models and the scented paper garments of Issey Miyake, this book presents paper as a high-quality contemporary and ecological material. An enormous selection of projects, the lavish design and numerous illustrations provide designers with invaluable inspiration for their work. The content core of the book is a comprehensive list of state-of-the-art paper products and innovative paper technologies, supporting designers in their everyday work with detailed information on the "high-tech" material paper. From Japanese washi paper and paper foam, to ceramic paper and carbon fiber paper, "Unfolded" presents the latest in research and development, as well as the most important methods and technologies in handcrafts and industry.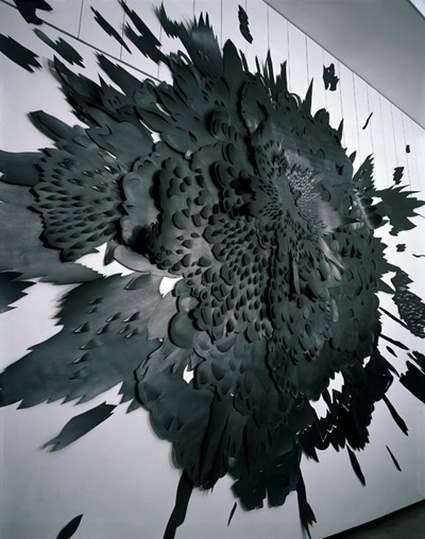 Andreas Kocks, Paperwork #935G (Momentary Suspension), 2009. Installation at MAD, Museum of Arts and Design, New York
Over the past few years, designers, engineers, artists and even architects have been hard at work proving that paper is much more than wrapping for Flemish potato chips.
The first part of the book shows the many wonders of contemporary paper. The humble material can turned into a dramatic temporary installation in an art gallery but it can also be used to build a school, delicately cut it evokes a fairy-tale world, combined with electronics it's a breathing shirt. Give paper to Japanese engineers and they'll plan an origami paper plane that can return to Earth from space. Paper can be as rough or as aerial as artists and engineers need it.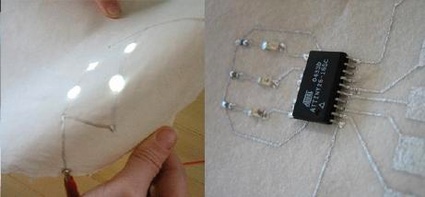 Image: Marcelo Coelho/XS Labs
The second part of the book gets far more techy and rigorous. It reveals the materials, manufacturing processes and technologies that allow for so many 3D applications. Paper can be tear-proof, transparent, breathable, weatherproof or even fire-resistant. Antibacterial paper integrate silver ions to defeat bacteria, funghi, salmonella and microbes. In Japan, air-purifying (or photo-catalyst) paper is used in sliding doors, lamps and wallpapers to purify the air in rooms that contain toxic substances. Ceramic paper does indeed break but it can also be folded and processed like paper.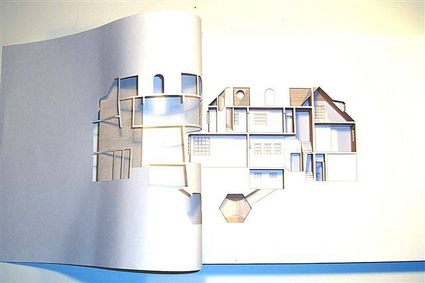 Your House, by Olafur Eliasson, is book containing a laser-cut negative space rendering of his house in 85:1 scale
In the future paper will become electrically conductive, it will be printed with chips and then folded. Pulp-based computing, for example, combines craft and computer technology and embeds electronic materials in paper. Paper might even be made of algae, helping thus preserve forest resources.
What they do with paper:
In 2001, studio Cottrell & Vermeulen, with Buro Happold, designed Europe's first permanent cardboard structure at Westborough Primary School in Westcliff-on-Sea, in Britain. Tubes of recycled cardboard form structural columns. Walls and roof are made from load bearing and insulating timber edged cardboard panels (via.)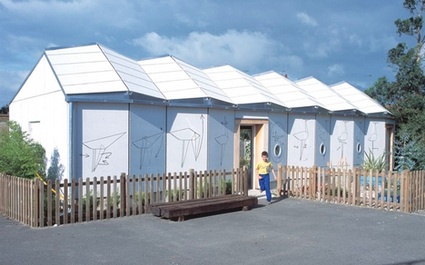 Cottrell & Vermeulen's cardboard classroom for Westborough Primary School. Credit: Peter Grant
55 hours were requited to create a fox stole made of 2500 paper balls that can be thrown like confetti at parties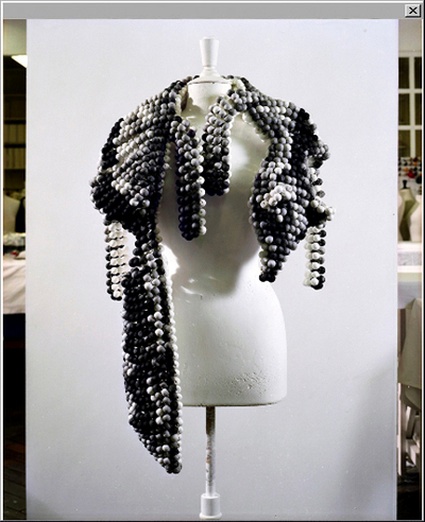 (image)
Thomas Demand consumes a lot of paper. He is one of my favourite artists. He cuts and folds stacks of paper in order to create replicas of places which he turns into photographs.
I saw his most intriguing work a year or two ago at Fundacion Telefonica in Madrid. Yellowcake exposed the inside of the the Ambassy of Niger in Rome. An burglary which took place there in 2001 saw the disappearance of some out-of-date letterhead and official seals. The unassuming event turned out to be instrumental to US intervention in Iraq. In his 2003 State of the Union Address, President Bush explained that the British government had learned that Saddam Hussein had been looking for significant quantities of Uranium (a chemical which, when enriched, may be used to make nuclear weapons) in Africa. The evidence for this accusation was a paper trail purportedly stolen from the Embassy of the Republic of Niger, in Rome. The documents were an apparent contract of sale for hundreds of tons of a concentrated form of uranium by Niger to the Iraqi authorities. As the events unraveled, it became clear that the evidence was little more than forgery.
Because no one had gained access to Niger's Embassy in Rome, no photographic documentation has ever illustrated these events as they came to light. For his photo series, Demand managed to the embassy and conversed with its staff. He then built on his own memory to re-create the space.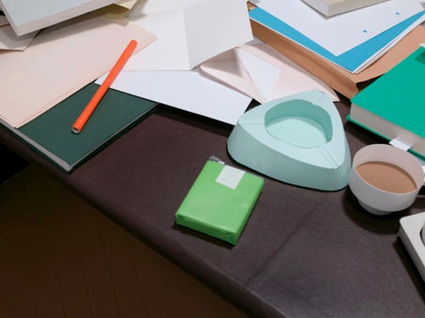 Thomas Demand, Embassy VII.a, 2007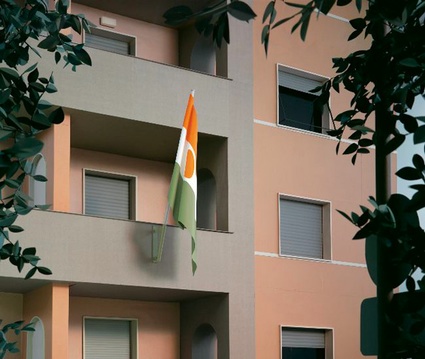 Thomas Demand, Embassy I, 2007
The radio designed by Marine Rouit is called OTO. It is made of a moulded paper membrane whose surface acts as both a resonator and an interface to control the volume and the tuner.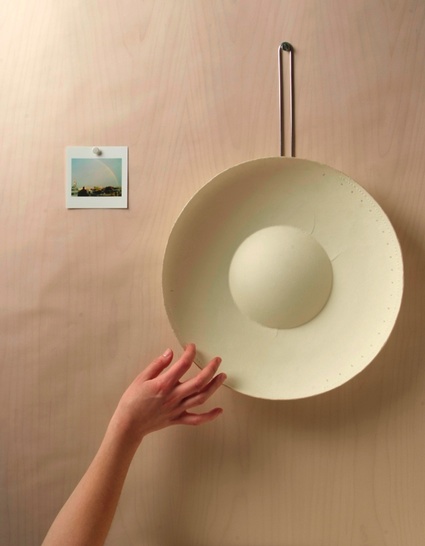 OTO, A paper radio
From Here to Then and Back Again by Tommy Stockel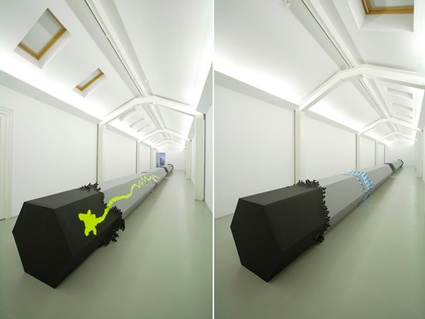 From Here to Then and Back Again, 2008, Kunstverein Langenhagen, Langenhagen
Zoe Bradley's spectacular window installations: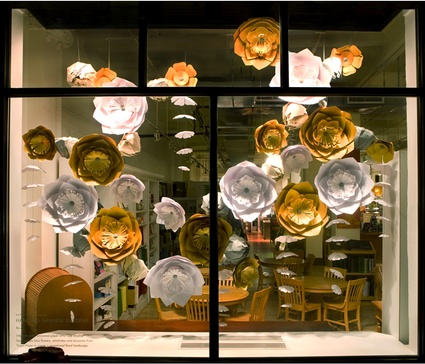 Zoe Bradley, Kate's Paperie
Bonus! Once unfolded, the paper cover of the book becomes a poster that celebrates paper creativity. Demonstration in the video below, with a peak inside the volume. Courtesy of the designers at Pixelgarten:
Related book reviews: Three D: Graphic Spaces and Tactile – High Touch Visuals.
Related stories: Mudam (part 2): RRRIPP!! Paper Fashion, Collapsible Cardboard Shelters Using Radio Devices for Homeless Persons, Trash this city, COCOSOCOASOCO, From our living room to yours, Origami bus pattern, etc.