4000 of 60,000 death in Mexico City are due to the smog.
This summer, thirty-two elderly Mexico City residents will wear pollution-detecting vests to study the effects of the capital's air on people over 65.
The blue jackets weigh about 5 pounds (2 kilos) and are fitted with filters measuring six kinds of air pollution and a holster device monitoring their heart rate.
The volunteers, all of whom have been certified as nonsmokers in good health, will keep a journal of their daily activities while wearing the vests, letting authorities know if they rode city buses — many of which use rooftop exhaust systems that belch black soot — or walked along busy avenues choked with car exhaust.
During this 3-month experience, volunteers will wear their vests for 24 hours straight, then take a break while authorities spend a day analyzing the previous period's findings.
In the future, officials hope to conduct similar human smog-detecter studies in other Mexican cities and on children aged between 12 and 13.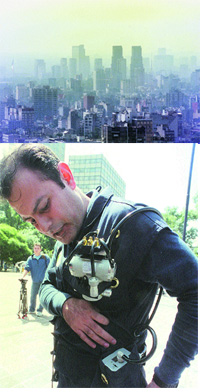 Associated Press and Cronica, via Personal Debris.