HEHE, Helen Evans and Heiko Hansen, won the Golden Nica of the Prix Ars Electronica in the category Hybrid Art for Pollstream, a series of projects attempting to visualize various forms of smoke emissions.
Nuage vert and Smoking lamp have already been described here. The third project in the series is called Toy emissions (My friends all drive Porsches). For this piece HEHE navigated a remote controlled toy car through the streets of New York. The toy car was manipulated to emit colored smoke clouds. First they performed Toy emissions in Brooklyn, because they were a little nervous about getting arrested. When it seemed to go well, they moved to Manhattan.
(Unfortunately i did not find a video online of this very impressive action)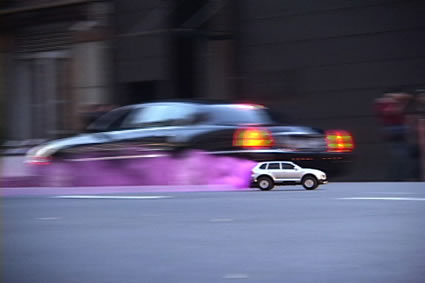 HEHE have been developing Nuage vert since 2002. After several failed attempts to perform it in France, the project has been actualized in Helsinki for a week long performance in February 2008. There the green laser cloud were projected onto the emissions of a power plant and used to visualize local energy consumption. The residents of the city's neighborhood of Ruoholahti were asked to participate by lowering their energy consumption within a certain time frame, the less energy was consumed the bigger the size of the projection. The project shows very successfully how art can be used to increase ecological awareness in an urban context.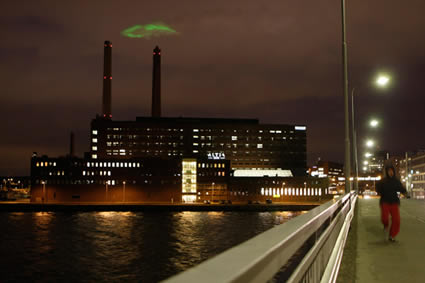 Read more about Nuage vert in the project concept.
The project was also documented on the blog nuagevert.org
[Photos mine and from artist website]