I arrived in Warsaw yesterday to participate to a panel mysteriously titled Culture as a space of freedom and anarchy. After which i braved the cold and visited a couple of art spaces. If ever you're in town in the coming weeks, don't miss Where Is the Green Rabbit? which explores the relations between art and science in a remarkably sensitive and humourous way.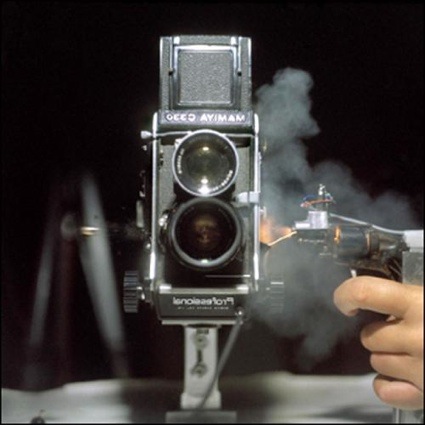 Steven Pippin, Mamiya 330 twin lens reflex shot with.25 calibre (self portrait), 2010
One of the most stunning work is Steven Pippin's Point Blank, a series of photos made by cameras recording the precise moment of their own destruction by a gun. I couldn't find many pictures online of the final shots. There are two below but i can't say that they represent the series adequately since the images of the 'death' of a camera looked surprisingly different from one another.
The action takes place in total darkness with the flash being triggered just as the bullet breaks open the analogue camera and hits the negative inside it.
Steven Pippin began the series Point Blank, comprising twenty photographs to date, in Wisconsin, USA, in 2010, and continued the series with several experiments in London. Despite the great technical precision that the project requires for its realization, it is ultimately the uncontrollability in the moment of the apparatus's destruction that gives it its special charge. The color prints show abstract shard forms, broken structures, that are somewhat reminiscent of organic ramifications, yet through their artificial chromaticity they also refer to the chemical process used for their creation. In some of the pictures, it is possible to make out the bullet piercing the camera; sometimes in blurred motion, or, as in Deep Field, as an isolated planet in a universe of shattering particles. (via)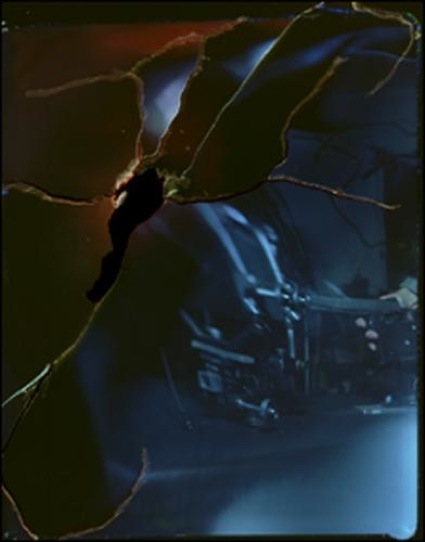 Steven Pippins, Point Blank, 2010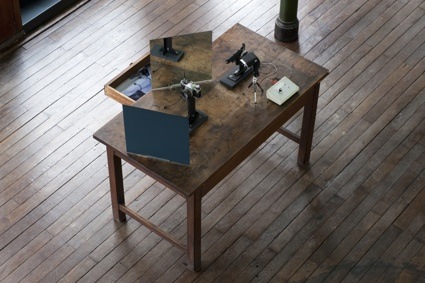 Setting to realize the Poink Bank series: photo camera, flash, gun and colour photography mounted on aludibond. Photo by Klaus Stöber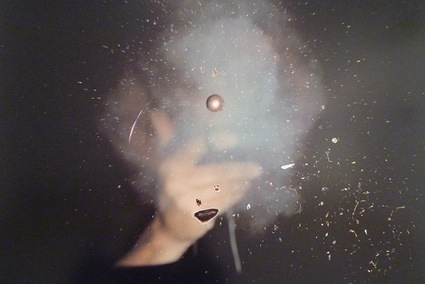 Steven Pippins, Point Blank (detail), 2010
Looking through articles about his work, i realized that Pippin's relentless investigation of the medium of photography is quite brilliant. He spent years turning mundane objects (a refrigerator, bath tub, wardrobe, etc.) into pinhole cameras. He even spent a 55 minute train journey transforming the train lavatory into a photographic studio.
Back in 1997, he converted a row of 12 front-loading washing machines in a New Jersey laundromat into as many cameras. Activated via trip wires, Pippin photographed himself moving through the launderette. In suit, without trousers, with a horse, running, walking backwards, etc. The photos are an homage to Muybridge's explorations of motion through photography. This wasn't Pippin's first use of the domestic device. He had previously developed photographs in the wash and rinse cycles of the machines.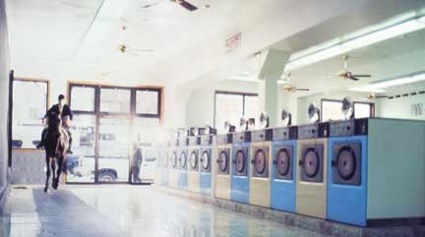 Steven Pippin, detail, Laundromat-Locomotion, 1998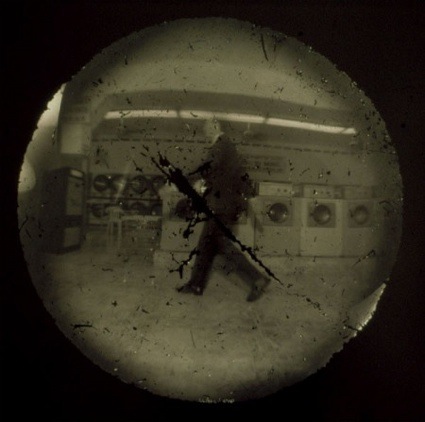 Steven Pippin, Laundromat/locomotion (walking backwards LL04), 1997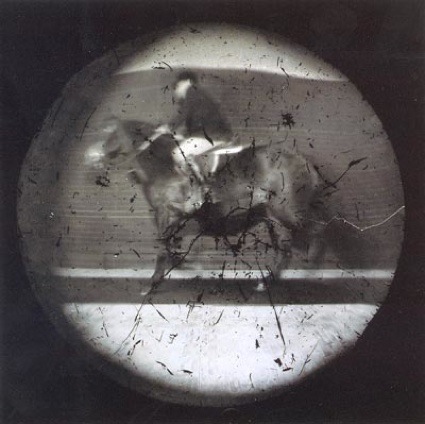 Steven Pippin, Laundromat-Locomotion (Horse & Rider) 1997
An article in The Guardian explains that Pippin first looked for a suitable laundrette in San Francisco: He discovered that most of the establishments big enough for what he had in mind were run by the Mafia, who used them to (literally) launder money, and they were not interested in this persistent, soft-spoken Englishman bringing them publicity. Eventually, though, after two years of looking, he got permission to use a 4,000sq ft laundromat, as long as he did not get in the way of the customers.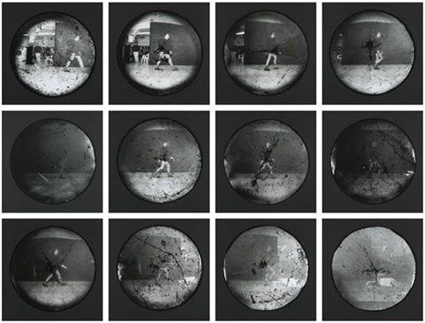 Where Is the Green Rabbit? remains open at the Centre for Contemporary Art Ujazdowski Castle in Warsaw through 15 January 2012.