Spaces showing and/or supporting contemporary art which engages with digital and electronic media have started to pop up all over Europe. Very. Slowly.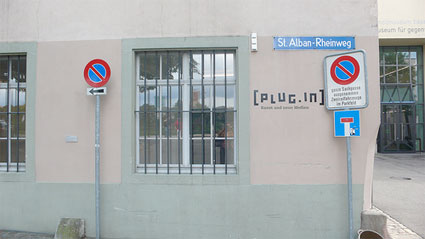 [plug.in] is one of them but i see at least two reasons that makes [plug.in] stand out from the thin crowd of media art spaces.
First, the Basel gallery exists for much longer than most (it opened in 2000). Second, and more interestingly, its programme is one of the most appealing i've ever seen in the field. [plug.in] exhibits and often commissions new internet, sound, interactive and software art; organizes events on media art and digital culture; offers visitor a library and a bar.
So far i had been following their programme through the newsletter, but when i read that [plug.in] was hosting the first solo exhibition in Europe of Tokyo-based artists Exonemo, i decided it was high time to go up North and visit the gallery.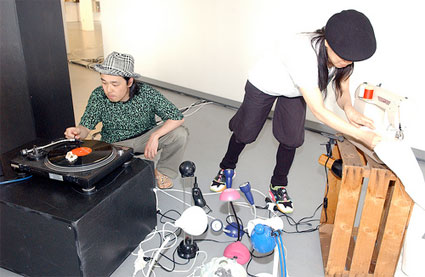 2008, [plug.in] Basel, Foto: Stefan Holenstein
The main piece is an installation which unfolds over two floors:
UN-DEAD-LINK explores questions of digitized and symbolized death between the physical and virtual world. The audience can see, feel and hear the effects that a symbolic death in a computer game can have in the physical exhibition space.
You're welcome in the gallery by a bunch of objects the artists found on flea markets in Basel. An old sewing machine, a piano, reading lamps, a paper shredder on top of a mountain of paper ribbons, a turntable with a plastic dog sleeping on a spinning disk, an old recorder playing crap music, etc. Each of them is animated by an invisible actor.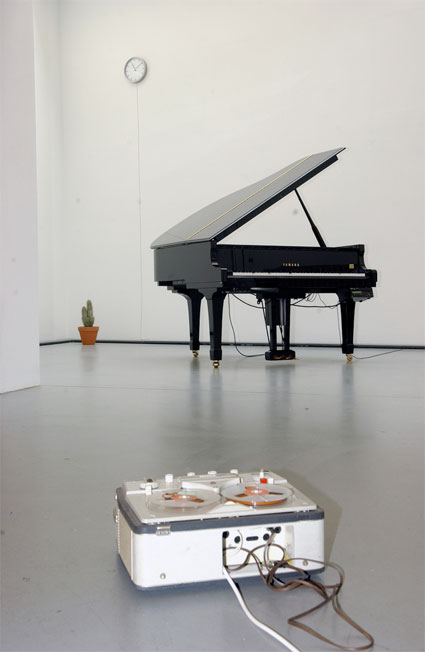 2008, [plug.in] Basel, Foto: Stefan Holenstein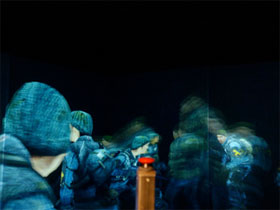 The explanation lurks downstairs in a dark room. There, soldiers on a screen do what they are supposed to do: they run after each other, they shoot and sometimes they kill. Each time one of them is killed, its death is given an almost tangible echo upstairs by one of the devices: more paper is shred, a light goes on, the sewing machine makes a few stitches. When visitors push the red button in front of the screen, all the avatars die and upstairs every single device seem to 'scream.'
Sembo Kensuke and Yae Akaiwa from Exonemo modified the game Half-Life2 and connected the mod to the piano upstairs. The electrical objects are connected by midi/dmx (protocol) with custom devices.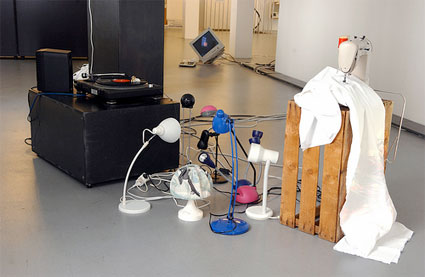 2008, [plug.in] Basel, Foto: Stefan Holenstein
The work is extremely uncanny: Seeing and hearing the 'consequences' of a virtual death in the real world gives them a sinister weight. It's more disturbing then seeing a real war massacre on television, probably because today tv death seems almost as virtual as the death of an avatar.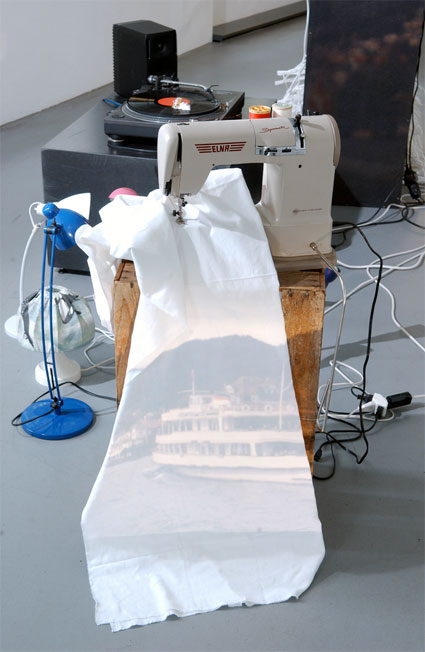 2008, [plug.in] Basel, Foto: Stefan Holenstein
[plug.in] is also showing DanmatsuMouse, a sort of geeky snuff movie in which computer mouses (or should i write 'computer mice'?) are happily destroyed using all sorts of tools on hand: the mouse gets fried in a pan, another one is swirled and crushed in a blender, etc. But something subsists beyond the death of the plastic mouse: its cadaver (a couple of tortured mice were exhibited in the gallery) and the cursor, or rather the data. The motions of the mouse and the cursor were recorded simultaneously by a video camera and a computer programme.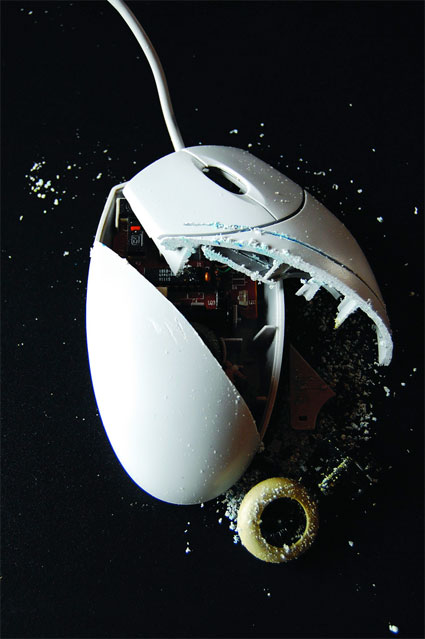 A DVD, available in the gallery space (did i mention that they also have a shop selling artists' editions and electronic gadgets), allows you to play back the sinister event: the movie of the mouse murder unfolds in parallel with the movements of its cursor that takes over the ones of the cursor on your own desktop.
exonemo – UN-DEAD-LINK is on view until September 14 at [plug.in] in Basel, Switzerland.
Previously on exonemo channel: Interview with Exonemo, MobLab presentation – Transmediale, Origami bus pattern, their installation at Synthetic Times, Ryota Kuwakubo, exonemo and ressentiment in Liverpool, etc.