This year, BIP2014, the 9th International Biennial of Photography and Visual Arts in Liège, looks at the ambiguous relationship between images and belief. Image seduce, persuade, deceive and lie. And even if we are used to seeing images (and their meaning) being modified and manipulated, we still want to believe that what is under our eyes is The Truth, The Whole Truth, and Nothing But The Truth.
On the basis of this near irresistible attraction, power, whether it is clearly identified or ambiguous, relies on visual persuasion in its attempts to gain our conscious or unconscious consent. The fanaticism of the image and its attendant effects of belief have, in fact, today taken on a dimension that has never before been reached, perhaps in contrast to a society that claims to be rational. Included within the scope of the image are media and communication industries, spiritual and religious proselytizing of any kind, and marketing and economics, all crudely convened to force us to follow them.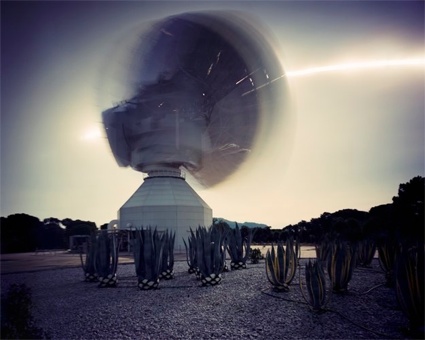 Edouard Decam, Le Quatrieme Continent
BIP2014 was a passionate, curious, ambitious edition. I wish i could have written about it when the biennial was still on but i only managed to get to Liège as the event was closing.
The theme was great and i salute a biennial that refrained from dictating the audience what they ought to think about the power of deception that images hold. However, as i walked from one venue to another, i felt increasingly overwhelmed. The theme was explored in all its many facets, interpretations and directions. It wasn't just about 'believing' in a strictly religious sense but also about believing in the paranormal, in authority, in illusion, in technological dreams, in cultural icons, etc.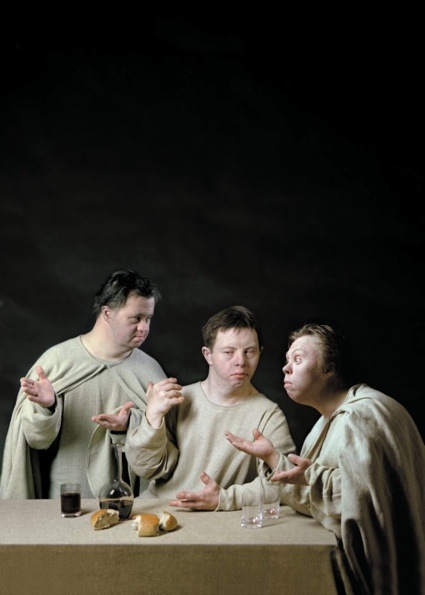 Raoef Mamedov, The Last Supper, 1998

Raoef Mamedov, The Last Supper
I also felt that the theme was stretched to its most lose ends. For example, i was glad to discover Raoef Mamedov's version of the Last Supper reenacted by people with Down's syndrome but it wasn't clear to me how the series fits with the idea of our ambiguous relationship with images. Still, the series is striking. Mostly because we are not used to seeing religious scenes inhabited by people who do not conform with what society regards as a 'desirable' or even 'normal' appearance. That goes not just for religious images but also for anything we see on TV and in magazine. However, you only need to go back in time to realize that society might have been more open-minded than we give it credit for. In the 16th century, Andrea Mantegna painted a Virgin and Child which, appears to have Down Syndrome.
End of the parenthesis. Start of a quick walk through the biennial: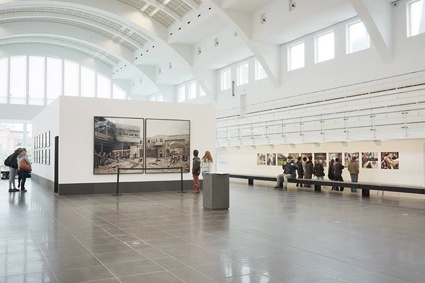 Image BIP
Let's start with IDOLES, the exhibition that explores the image of power and authority. The show is hosted by the Cité Miroir. The building used to be a swimming pool. It used to be MY swimming pool. Why? What have they done with my swimming pool? I might not have set foot there for ages but that doesn't give them the right to transform it into a bland container of culture, right? Please give me back the swimming pool. Please!
Sorry, let's get back to business… Images are allies of dictators and democratic leaders alike. They command attention, speak to the masses, convey messages often clearer than long speeches. The show efficiently demonstrated that power of the image is so vast, it can propel an individual to the status of an idol.
Photo series taken around the world demonstrate the various forms of contemporary idolatry. Rows of uniforms facing a speech by Barack Obama, Syria's cult of personality, dehumanising May 1st celebrations in North Korea,
These powerful images, which reveal disturbing similarities, regardless of the "camp" to which they belong, express the fascination caused by the aestheticization of power, its staging and its decadence better than words ever could.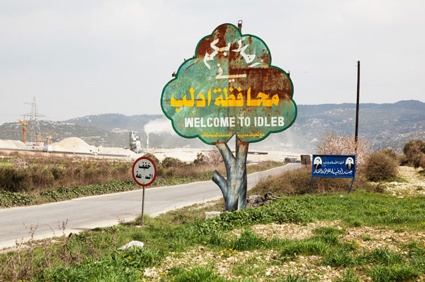 Oliver Hartung, "Welcome to the Governorate of Idlib. With regards from the Directorate of Technical Services." From the series Syria al-Assad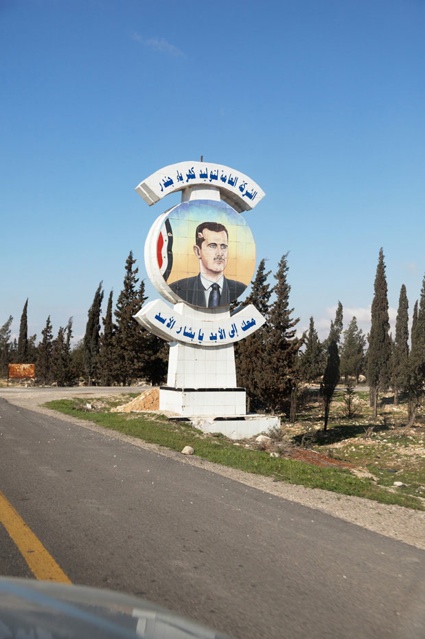 Oliver Hartung, "Electric Company of Jandar. Forever with you, Bashar al-Assad."
Jandar, south of Homs, 2009. From the series Syria al-Assad
From 2007 to 2009, Oliver Hartung documented the monuments and billboards erected by the side of the road to honor the Assad family who ruled Syria since 1971. The homages were built by local citizens and business people to declare loyalty to the government. The photos were taken from moving vehicles as Hartung was concerned about drawing attention to himself in such a heavily controlled police state.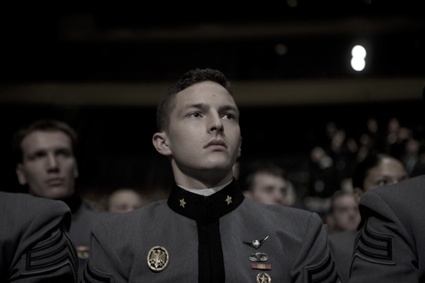 Christopher Morris, Obama's War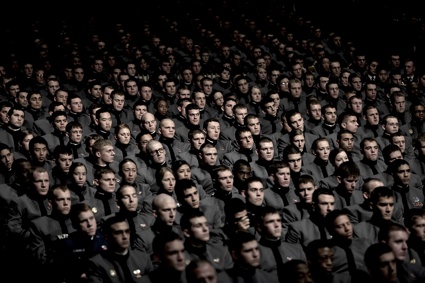 Christopher Morris, Cadets listen as President Obama addresses the nation on Afghanistan. West Point, New York, 2009 (from the series Obama's War)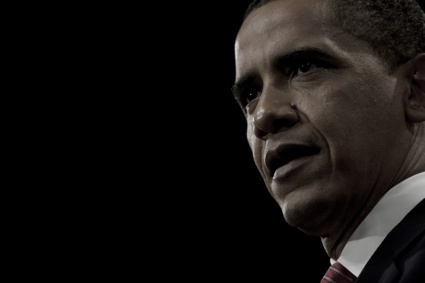 Christopher Morris, Obama's War
Obama's words and images are always sublimely engineered (If only his actions could follow suit.) Morris's photo series show the leader standing out in his dark suit, alone in front of identically attired young men.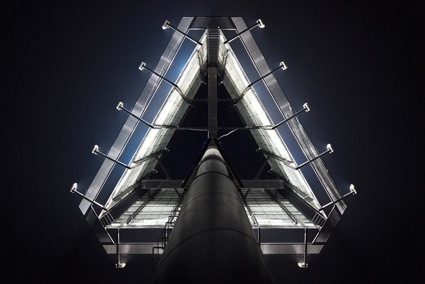 Branislav Kropilak, billboard #15, 2008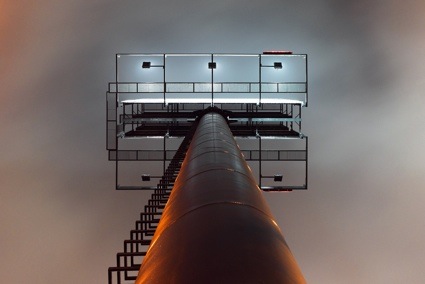 Branislav Kropilak, billboard #10, 2008
Branislav Kropilak gives mundane "Billboards" a symmetrical nobility. They look like authoritative totems, not supports for marketing slogans and images.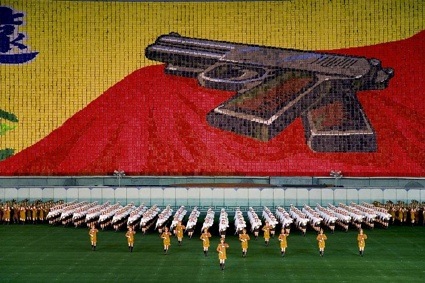 Philippe Chancel, Arirang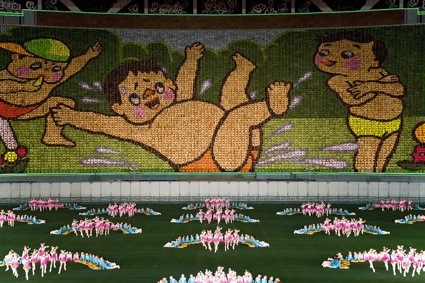 Philippe Chancel, Arirang
In Arirang, Philippe Chancel document North Korea's flawlessly orchestrated annual mass games in Pyongyang where each move, each collectively sketched pattern reflects the tight control that the "Great Leader" Kim Il-sung holds over the country. The festival might be absurd in its antiquated extravagance and unsubtle propaganda but, strangely enough, it never fails to captivate "Western" audiences when images of the events are broadcast on tv.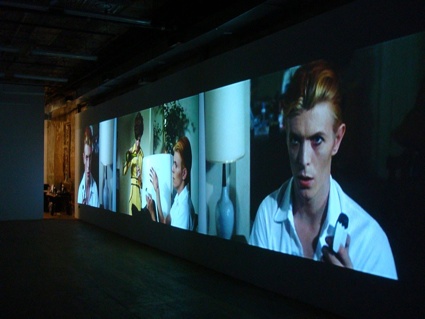 Robert Boyd, The Man Who Fell To Earth, 2014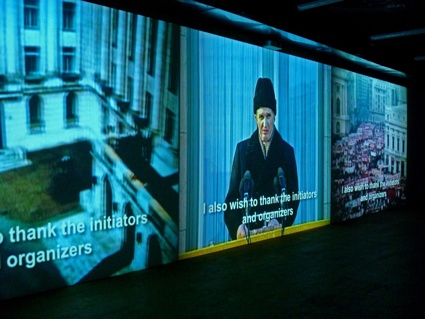 Robert Boyd, The Man Who Fell To Earth, 2014
The biennial presented the world premiere of Robert Boyd's The Man Who Fell To Earth. The triptych video installation uses archive images in a fast and furious montage to chart the fall of regimes and men. Former Romanian dictator Nicolae Caeusescu's deadly fall from power in December of 1989 is followed by images of Saddam Hussein's demise, George W. Bush's decline in political influence, the cracks forming in Kim Yong Ill's reign in North Korea and the political tumult resulting from Mahmoud Ahmadinejad 2009 re-election in Iran. The historical moments are mixed with images of mass spectacles, military defiles and clips from Nicholas Roeg's sci-fi classic staring David Bowie in the role of a humanoid alien who lands on Earth in search of a way to save his dying home planet but ends up alcoholic and disenchanted. By comparing the end games of contemporary heads of state to the dejected alien of Roeg's film, Boyd's video reflects on the transient nature of power and its ability to corrupt, while serving as a harbinger to the politically ostentatious.
This is going to sound lame and lazy but i don't think anything i could write could reflect the mark that video left on me. It is by far the most stunning and moving video i've seen this year.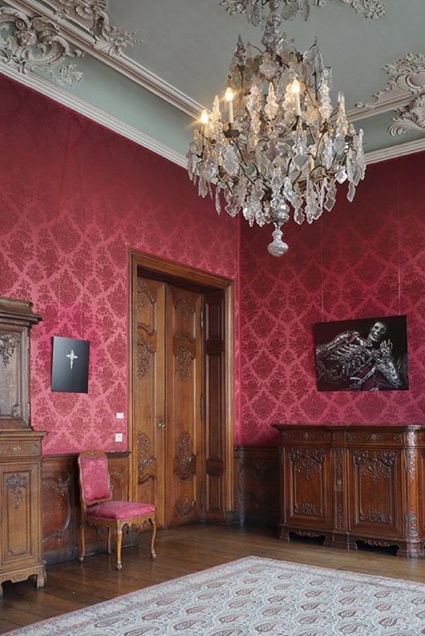 Ansembourg Museum. Image BIP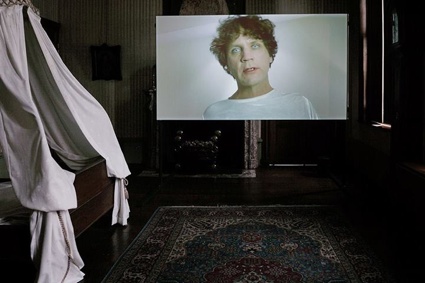 Ansembourg Museum. Image BIP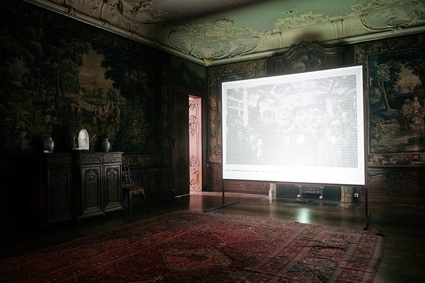 Ansembourg Museum. Image BIP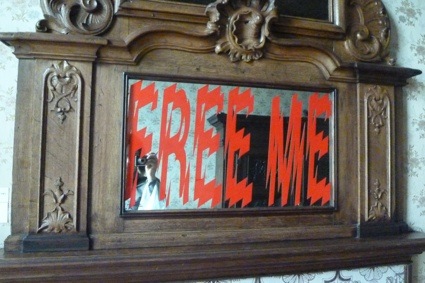 The sleepy and bourgeois atmosphere of the Ansembourg Museum, an eighteenth century mansion, is the backdrop of MIRAGE. This chapter of the biennial reflects on virtual reality, illusion and emptiness.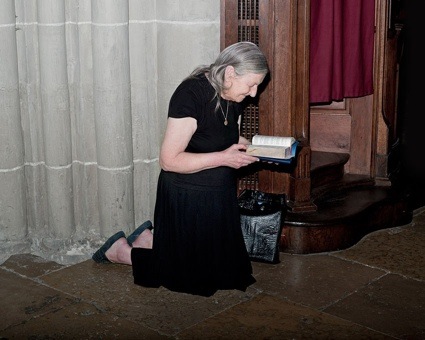 Matthieu Gafsou, Sacré, 2011-2012
Matthieu Gafsou, Sacré, 2011-2012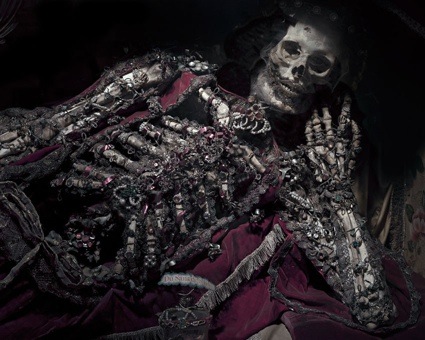 Matthieu Gafsou, Sacré, 2011-2012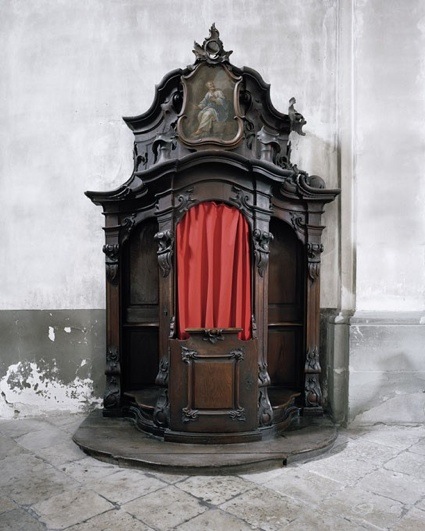 Matthieu Gafsou, Sacré, 2011-2012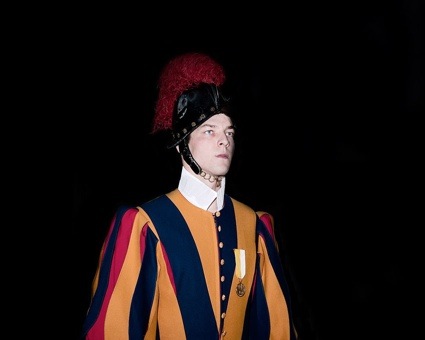 Matthieu Gafsou, Sacré, 2011-2012
I was fascinated by Matthieu Gafsou's Sacré photographic series, a disturbing portrait of the Roman Catholic church in Fribourg (Switzerland.) Gafsou explores figures, spaces and moments that have a key place in catholic faith. the opulence of the rituals and relics appear to be disconnected from our contemporary life. In fact, there is in all these images an air of past grandeur that will never come back.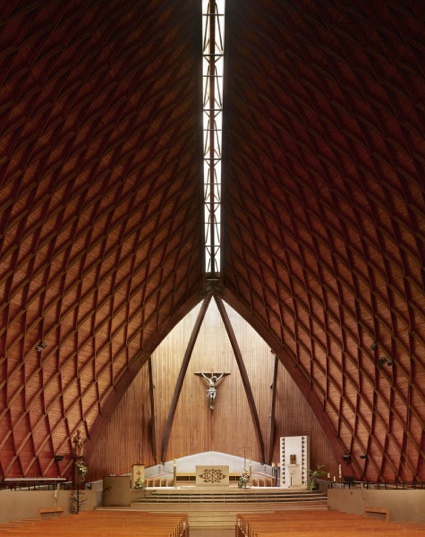 Fabrice Fouillet, Notre Dame du Chene, Viroflay, France, completed 1966. Architect: Frères Sainsaulieu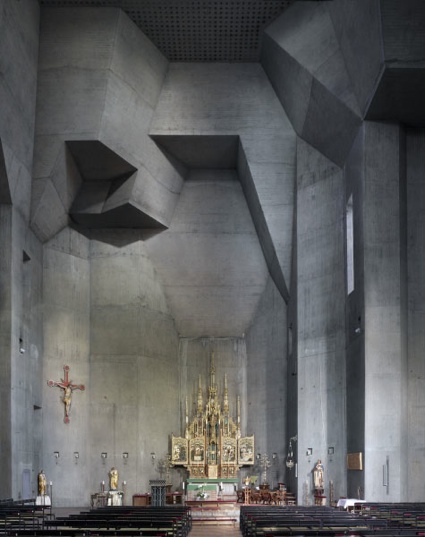 Fabrice Fouillet, St Ludwig, Saarelouis, Germany, completed 1970. Architect: Gottfried Böhn
Fabrice Fouillet's series 'Corpus Christi' brings the church slightly closer to us by focusing on architecture of places of worship built in the 20th Century. Many of the cathedrals and churches caused an outcry when they were first built, such was their deviation from traditional notions of religious architecture, upsetting the more conservative members of the clergy. That series was part of another exhibition at the Musée des Beaux-Arts de Liège (note that none of these art institutions has thought relevant to invest in decent online representation.)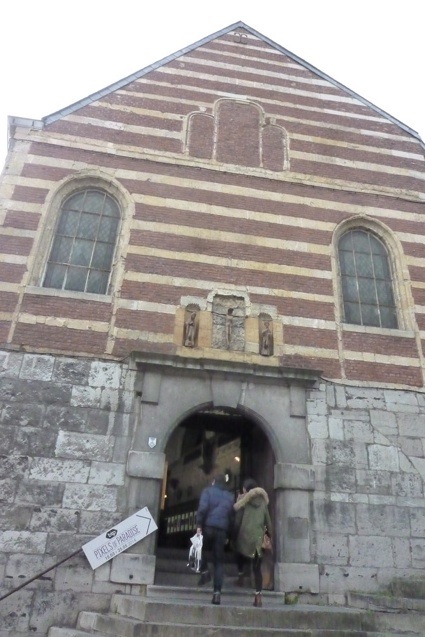 Chapelle St-Roch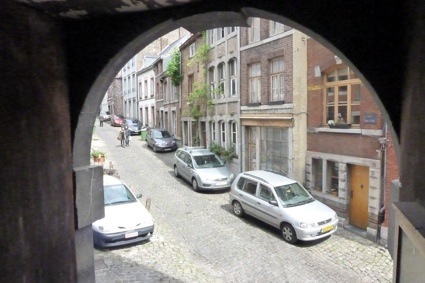 Chapelle St-Roch
OMG* was a very charming show set in the Chapelle St-Roch, a sixteenth century church decrepit and covered in pigeon shit. The MADmusée (Liège's museum for outsider art) chose it as a setting to exhibit photographic accounts of outsider artist environments built through the sheer force of conviction and commitment of an individual. I couldn't find many images online so i;ll have to limit myself to two pitiful photos: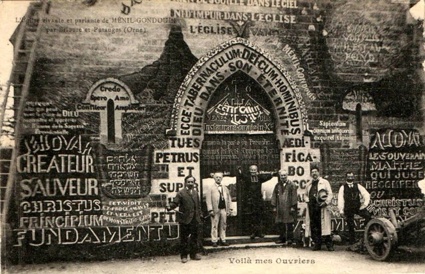 From Jean-Michel Chesne's postcard collection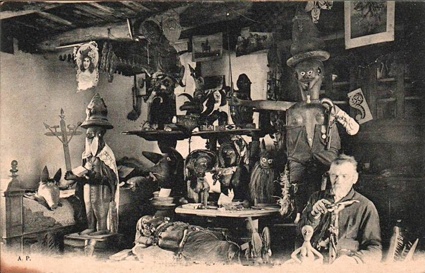 From Jean-Michel Chesne's postcard collection
Jean-Michel Chesne's collection of postcards that show locations and constructions that emerged out of personal faith and mysticism. These places are so eccentric-looking that have become touristic attractions.
The exhibition also included images that photographer Mario Del Curto had taken while visiting outsider artists in their working environment or homes. The photos selected show 'outsider environments' born of an epiphany, an unshakable spiritual will.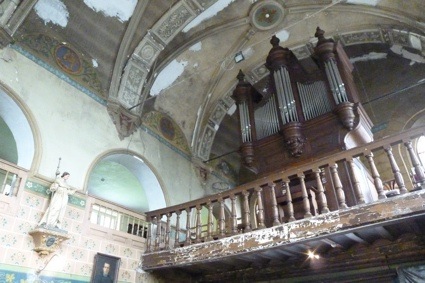 Related story: Manipulating Reality – How Images Redefine the World.