Just a quick post to explain this long-ish silence. I miss you readers but right now i'm wrapped up inside a Book Sprint, a one week-long collective authoring of a book. The first Book Sprint edition was launched in Berlin during Transmediale. Titled Collaborative Futures, it was written by some of the smartest people i know. Following in their footsteps is a humbling experience. The Book Sprint i'm participating to is directed by the lovely Andrea Grover, as part of her research fellowship at the STUDIO for Creative Inquiry at Carnegie Mellon University in Pittsburgh. Our A/S/T Book Sprint explores the work of contemporary artists who are working at the intersection of art/science/technology, with a focus on the recent shift from artist/inventor dependent on industry or academy (as embodied by pioneering programs from the 1960s such as Art and Technology at LACMA and Experiments in Art & Technology), to independent agent (artists conducting scientific research or technological experiments outside the framework and discourse of an institution).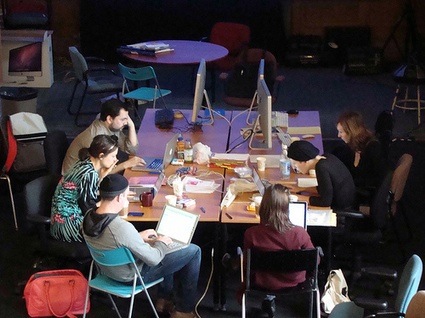 Image Studio for Creative Inquiry
I'm in delightful and talented company: Claire L. Evans is an art and science writer who actually makes a living as a pop star. Pablo Garcia explores the spatial arts–architecture, design, and the visual and performing arts, in a variety of scales. His portfolio is as impressive as his knowledge of the history of the A/S/T field. Andrea also had the bright idea of involving graphic designers Jessica Young, and Luke Bulman from Thumb in the whole production process. It's a blessing to be able to spy so closely on the working activity of these two.
It's mostly been work and food so far but on Tuesday we got the chance to meet Golan Levin for a tour of his solo exhibition, "Looking at Looking at Looking" at Pittsburgh Center for the Arts.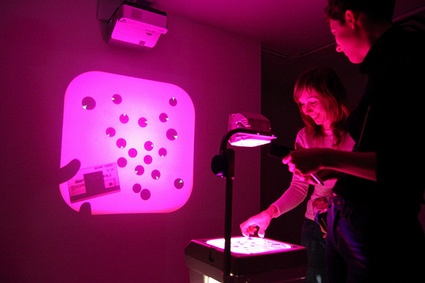 The Manual Input Workstation. Image by Jonathan Minard for Studio for Creative Inquiry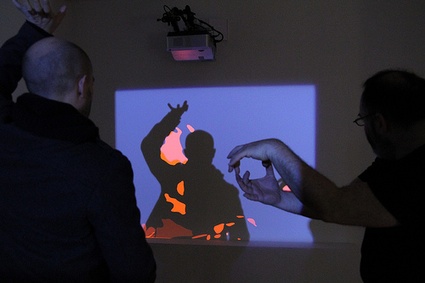 Interstitial Fragment Processor. Image by Jonathan Minard for Studio for Creative Inquiry
And yes, the show is every bit as fun as it looks.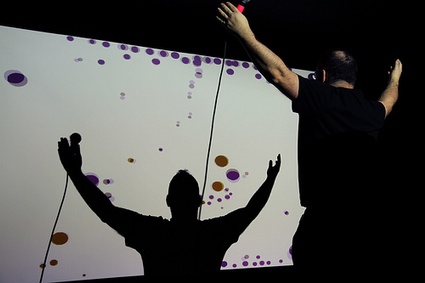 Messa di Voce. Image by Jonathan Minard for Studio for Creative Inquiry
More updates soon.
Maybe.