The Helga de Alvear gallery in Madrid is currently running a (very timely) exhibition on the controversial topic of Extraordinary Rendition. The expression was coined by the Bush administration to define new legal measures designed to sidestep the existing Human Rights system and deprive some individuals from its protection in the name of the fight against terrorism.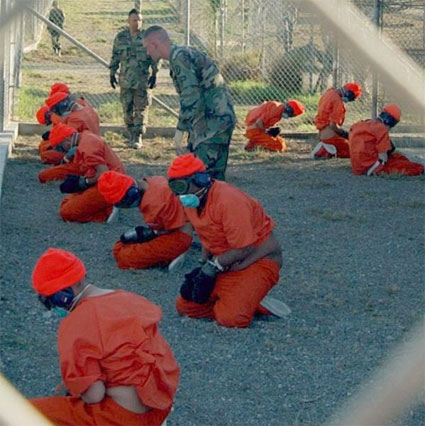 Detainees at Camp X-Ray, at Naval Base Guantanamo Bay, Cuba
The Patriot Act, for example, expands the authority of US law enforcement agencies for "terrorism investigation." It limits -when it does not completely abolish it- citizens' right to privacy or freedom of expression, allows for kidnapping and confinement of persons without charges, without trial or a detention period as has been happening in Guantanamo since 2002.
The gallery invited four renowned artists to reflect on the issue.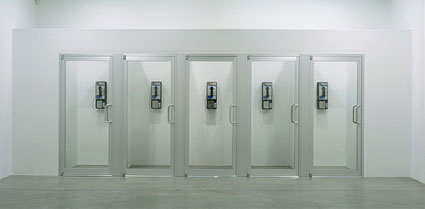 Elmgreen and Dragset, Phone Home, 2008
Phone Home (2003), by Elmgreen & Dragset, is the only work on exhibit that has not been created specifically for the show. The installation looks at the loss of the right to privacy in communications. Five telephone cabins are lined up in the gallery. A note informs visitors that they can call anyone they want in the world for free. Of course there's a trick: the conversation you are planning to have will be broadcast in the gallery, recorded and a table with audio players and headphones will enable future visitors to listen to what you said.
Under the new rules of extraordinary rendition, physical and psychological torture is justified. Spanish Inquisition-like methods of torture get toned down but that's because some of them are given new names, like waterboarding, in an attempt to disguise their true meaning.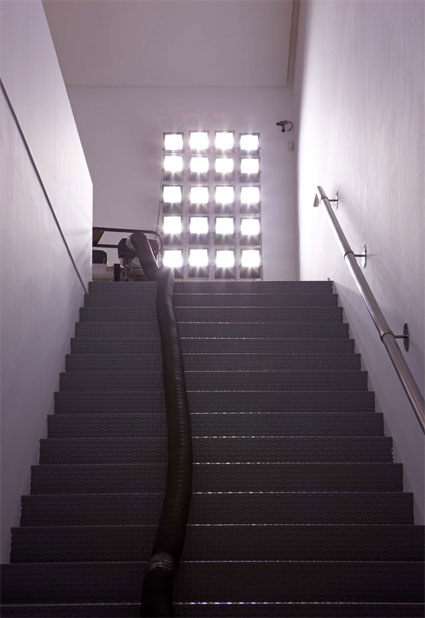 Santiago Sierra, Público iluminado con generador de gasolina, 2008
True to his wam bam approach, Santiago Sierra chose to address torture and one of its most commonly applied methods: the sleep deprivation of detainees for days and months. A huge spotlight operated by a generator are the only elements in Público iluminado con generador de gasolina [Public illuminated by oil generator]. Unfortunately the gallery had run out of oil (another very timely issue) when i went there and the installation was turned off.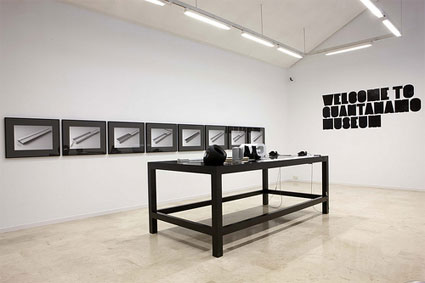 Alicia Framis, Welcome to Guantanamo, 2008. Image courtesy of Galería Helga de Alvear, Madrid
Alicia Framis is presenting the first part of a wider project called Welcome to Guantánamo Museum. The installation documents the key elements that would form this hypothetical museum on the US detention centre in Cuba. Scale models, drawings, prototypes, floor plans and structures are exhibited together with an audio piece created with Enrique Vila Matas and Blixa Bargeld. The project echoes our society's need to museify everything, think of Auschwitz and Alcatraz. Should we recoil at the idea of turning horror into a tourist attraction or should we decide that such museums are not a necessary evil, a way of ensuring that atrocities are not forgotten?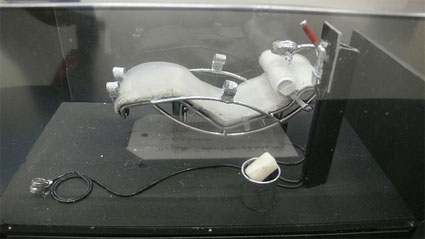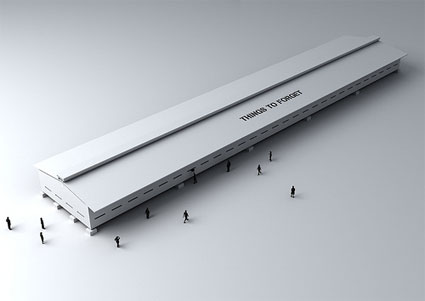 Alicia Framis, Welcome to Guantanamo, 2008. Image courtesy of Galería Helga de Alvear, Madrid
The proposal for a Guantanamo Museum will include a selection of exhibition objects and merchandising that reflect the museum's theme and motto — Things to forget. There will be a Le Corbusier chaise longue turned into an electric chair, a non-existent mailbox, shoes which contain inside their heels a system to allow prisoners to commit suicide, a series of orange clothing and objects designed by Framis together with students during workshops, furniture for the museum will be designed and built using the material of inmates' cells, etc. At the same time a sound room will recall the names of all the caged prisoners in Guantanamo.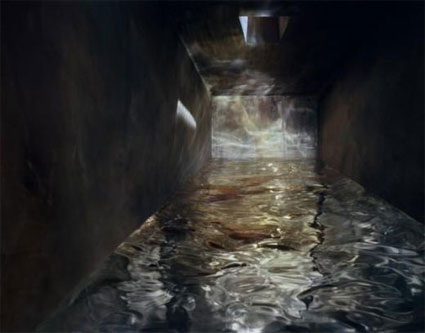 James Casebere, Flooded cell #2, 2008
James Casebere made photos of what he calls Flooded Cells. These images conjure up allusions to prisons, claustrophobic and oppressive spaces somehow reminiscent of Piranesi's fictitious and distressing prisons (carceri) yet also referencing the method of torture by simulated drowning.
Extraordinary is part of the Off programme of PhotoEspana. You can see the show until July 19 at the Helga de Alvear gallery in Madrid. My images.
Related stories: Trevor Paglen's talk at Transmediale, Interview with the Institute for Applied Autonomy, They make art not bioterrorism, Tracking the Torture Taxis.