Philips Design has prototyped two garments that demonstrate how electronics can be incorporated into fabrics and clothes to express the emotions and personality of the wearer.
Bubelle, the "blushing dress" comprises two layers, the inner one is equipped with sensors that respond to changes in the wearer's emotions and projects them onto the outer textile. It behaves differently depending on who is wearing it. The other prototype is Frison, a body suit that reacts to being blown on by igniting a private constellation of tiny LEDs. Both measure skin signals and change light emission through biometric sensing technology.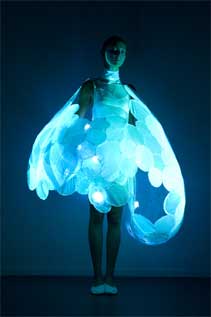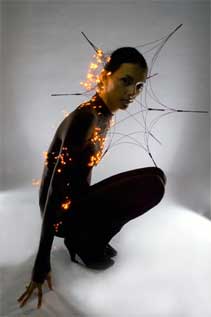 These garments were developed as part of the SKIN research project, which challenges the notion that our lives are automatically better because they are more digital. It looks at more 'analog' phenomena like emotional sensing and explores technologies that are 'sensitive' rather than 'intelligent'.
According to Clive van Heerden, at Philips Design, the SKIN probe has a much wider context than just garments. "As our media becomes progressively more virtual, it is quite possible in long term future that we will no longer have objects like DVD players, or music contained on disks, or books that are actually printed. An opportunity is therefore emerging for us to completely rethink our interaction with products and content."
Via Philips news. Images.
Via artificialeye.tv.
Philips wasn't the first to explore emotion and fashion. Lisa Stead' s Emotional Wardrobe is a collection of garments that change their aesthetic display in response to the emotions of the wearer or the presence of a viewer; Scentient Beings by Jenny Tillotson created a fabric that interacts with human emotions and emits a selection of scents depending on your mood; Closer: Wearables for a distant society, by Alison Lewis aims at creating wearable interactive art which reinforces values of kindness, fun and play through touch, etc.