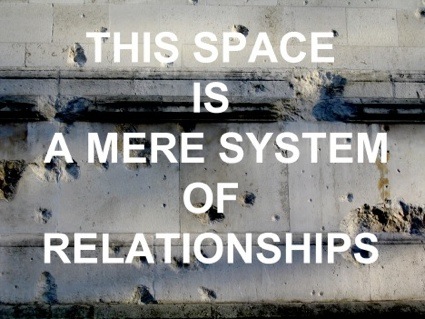 Kreider + O'Leary, Light Vessel Automatic (This Space), 2013
A couple of weeks ago, i attended the Performing Architecture evening at Tate Britain. The event attempted to answer the questions 'What does performance have to do with architecture?' and 'How can a building perform, and how can we perform a building?' Call me an ignorant but i had never heard about Performance Architecture so i'm gathering here a few notes i wrote down during the Late at Tate night. I hope to get a chance to explore performance architecture with more details in the near future.
Lamis Bayar and Alex Schweder discussing with Marianne Mulvey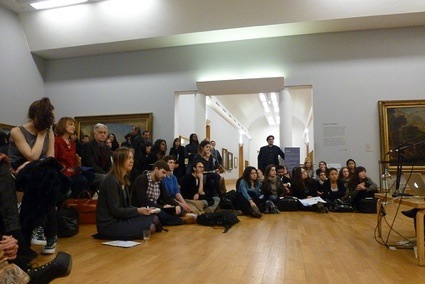 The most enlightening introduction to the practice was probably the discussion that Tate Curator Marianne Mulvey had with performance architect Alex Schweder and Lamis Bayar , Associate Editor of Le Journal Spéciale'Z.
Performance architecture is an emerging term but it comes from a long history of performance art. Emblematic examples would be Yves Klein's Air Architecture and his iconic Leap into the Void in 1960. Performance architecture also builds upon the works of avant garde architecture studios such as Haus-Rucker-Co, Archigram and Superstudio.
While architecture is usually prescriptive, performance architecture has to do with permission. It gives more agency to the people who occupy or pass through a building, urging them to explore and open up a building.
For the Late at Tate event, Schweder and Bayar scattered instructions inviting visitors to 'perform' Tate's Duveen Galleries. The examples of performance architecture taken from Schweder's portfolio might explain the concept with more clarity:
For 5 days, Schweder and Ward Shelley lived in Counterweight Roommate, a twiglike building made for two occupants of the same weight. Movement in the house depends on using the body mass of one's roommate as a counter weight to aid ascent or slow descent. When one occupant wishes to go up to the kitchen at the top level, the other must go down to the bathroom at the bottom. Between these two rooms are two private sleep / work rooms on levels two and four, and a common room at level three where the ends of the rope meet.
Counterweight Roommate, 2011. Photography by Georgios Kefalas
The same pair spent a whole week living inside Stability, a wooden seesaw with two beds, a kitchen and a bathroom. The structure moved up and down whenever either of the occupants decided to move from one room to another. The work was about the negotiations and moments of cooperation that take place when several people share a living space as the position of one of the dweller immediately affects the comfort of the other occupant.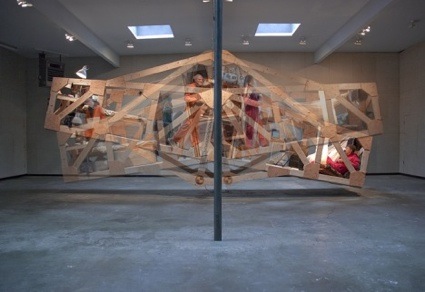 Alex Schweder and Ward Shelly, Stability, Seattle, 2009. Photos © Scott Lawrimore, edited by Ward Shelly & author
Other projects that the architect mentioned in his talk included giving instructions to people to 'paint this floor until it touches the ceiling' and asking people to breathe warm air as soon as they entered an adjacent room where the temperature is always lower (the room was used to store meat in the past.) Imperceptibly and over time, the breath of the visitors raised the temperature of the second room.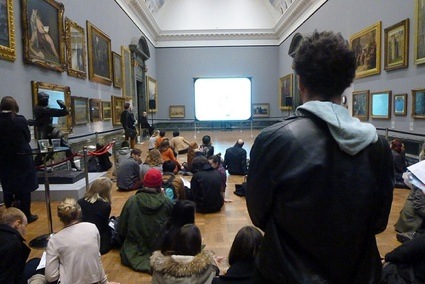 The rest of the evening included more talks, a couple of performances, a workshop, and a series of famous and less famous short films such as Gordon Matta-Clark's spiralling 'cut' that breathed light and air into two derelict 17th century buildings in Paris.
Gordon Matta-Clark, Conical Intersect, 1975
Two films that document Absalon living within his experimental Cellules, 1:1 architectural propositions for idealised living-pods scaled to, and designed to condition, the sculptor's body and mind.
Absalon, Proposals for a Habitat, 1990
A film by Thomas Lock that deconstructs northern France's abandoned WW2 bunkers and Atlantic Wall into a time-based collage of fractured imagery and sound.
Thomas Lock, Breaking points, 2010
As well as Sean Snyder's Dallas Southfork in Hermes Land that follows a Romanian oligarch's re-creation of the ranch from the TV show Dallas – one of the few American TV programmes broadcast under Ceausescu's Cold War rule.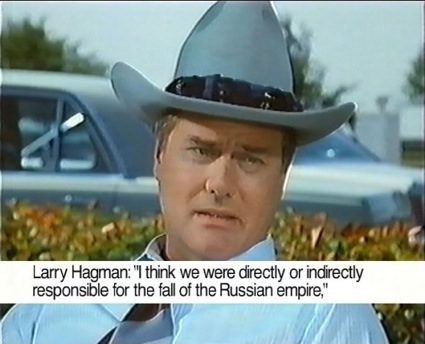 Sean Snyder, Still from "Dallas Southfork in Hermes Land" Slobozia, Romania, 2001