Finally! The report about Pasajes. Viajes por el híper-espacio [Passages. Travels in Hyperspace] i promised last week. Laboral Art and Industrial Creation Centre's impressively vast space was begging for the kind of large-scale sculptural and installation works that Francesca von Habsburg is giving on loan until mid-February to the Gijón art center.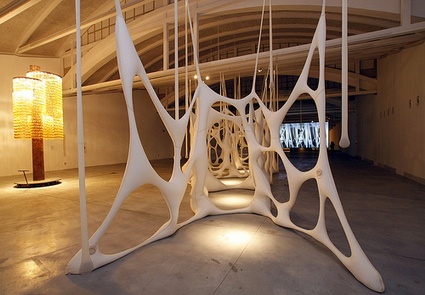 Ernesto Neto, Esqueleto Glóbulos, 2001. Photo: Enrique Cárdenas
The cast is certainly a glamourous one: Ai Weiwei, Doug Aitken, Maurizio Cattelan, Olafur Eliasson, Elmgreen & Dragset, Jeppe Hein, Carsten Höller, Pipilotti Rist, Cerith Wyn Evans, etc. Each and every one of their work was selected from the collection Thyssen-Bornemisza Art Contemporary.
Francesca von Habsburg represents the fourth generation of a family dedicated to collecting art. The Thyssen-Bornemisza began amassing works in the 1920s. Nowadays, they own hundreds of pieces, from the thirteenth century through the late twentieth. Francesca got the bug from her father and 8 years ago founded Thyssen-Bornemisza Art Contemporary or T-B A21 in Vienna.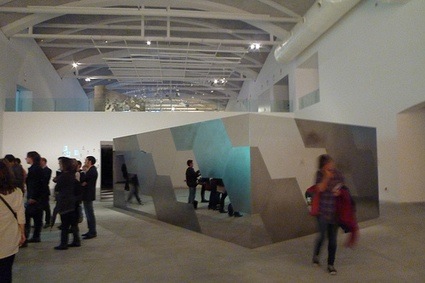 Doug Aitken, No History, 2005
The press viewing at Laboral gave me the opportunity to get a glimpse into the glittering life of a collector. Francesca von Habsburg, however, doesn't define herself as a collector. She is a producer. She not only buys and exhibits contemporary art works, she also made it her mission to commission new ones.
But it was Daniela Zyman and Benjamin Weil – whose voice i (and i'm sure many other) would have loved to hear more during the press tour of the exhibition- who co-curated the show at Laboral. They designed the exhibition without any break, any additional partition between the works so that visitors can wander from one 'experience' to another. Pasajes. Viajes por el híper-espacio was conceived as a journey from reality to hyper-reality. The works might be very physical but they also invite visitors to think, slow down their pace, challenge their senses, let their mind drift and enter the dimension of art.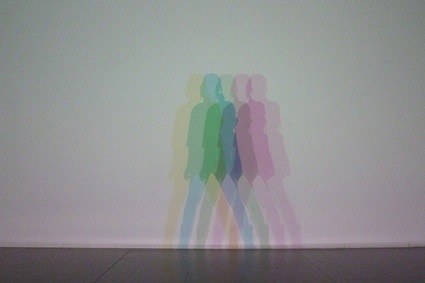 Olafur Eliasson, Your uncertain shadow (colour), 2010
Pasajes. Viajes por el híper-espacio breaks with Laboral's tradition of showing edgy, unconventional and mostly technology-based art. Its audacious programme had turned Laboral in little more than 3 years into a unique and invaluable beacon in the world of new media art.
Pasajes will, i'm sure and i hope, attract a new public to Gijón. It is spectacular, catchy and comes with all the glitter that the contemporary art world can sprinkle. I don't know whether the exhibition reflects a new direction for the art center or whether it is only an attempt to bring variety and new challenges to its programme. I like surprises so let's wait and see…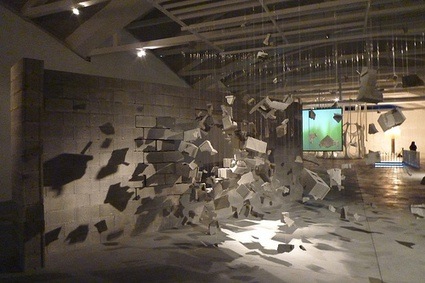 One of the first works your eyes encounter as you enter the main exhibition room is Frío Estudio del Desastre, by the flamboyant Castillo brothers aka Los Carpinteros [the carpenters].
Frío estudio del desastre [Frozen Study of a Disaster] plays on the uncanny relationship to space as a disembodied picture of reality by presenting what appears to be a three-dimensional reconstruction of a photographic image depicting an exploding wall.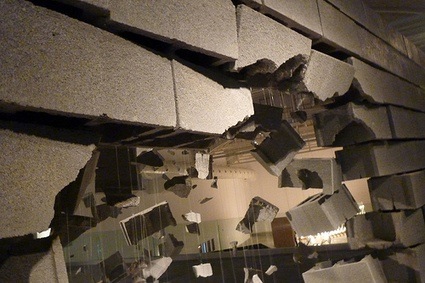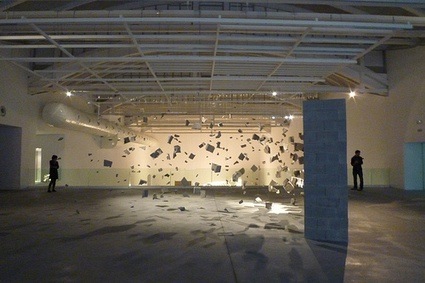 Los Carpinteros, Frío Estudio del Desastre, 2005
Just when i thought i had seen most of Maurizio Cattelan's tricks and pranks, here comes Super-Noi (Torino) [Super-Us (Torino)], a series of portraits of Cattelan, allegedly drawn by a forensic sketch artist. The artist asked some of his friends and acquaintances to report an assault to the police. The physical description of their aggressor had to match the face of Cattelan as closely as possible. The result is a kaleidoscopic representation of an individual, which reflects upon the subjectivity of perception.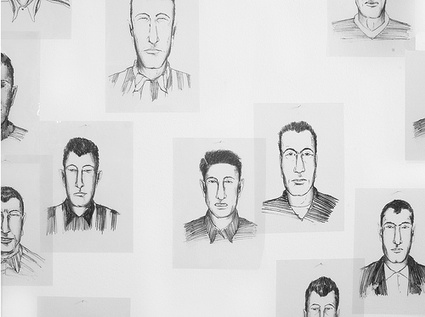 Maurizio Cattelan, Super-Noi (Torino), 1996
Carsten Nicolai's four-channel installation work makes visitors aware of synesthesia between their visual and aural senses. When sound produced by waves is captured materially as particles, it is transformed into something visible and tangible, an "audible plastic." Because it is connected to the video input of a TV monitor, the audio signal of a CD player is translated into abstract images, interpreting the impulse frequencies as horizontal stripes on the screen.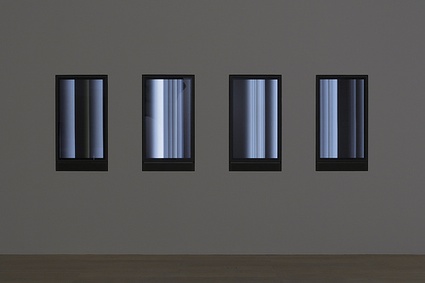 Carsten Nicolai, Telefunken (wtc), 2000
His brother Olaf Nicolai has a very different work nearby. Samani. Some Proposals to Answer Important Questions (formerly Lonesome Spot) is a robotic spotlight dancing up and down a pole.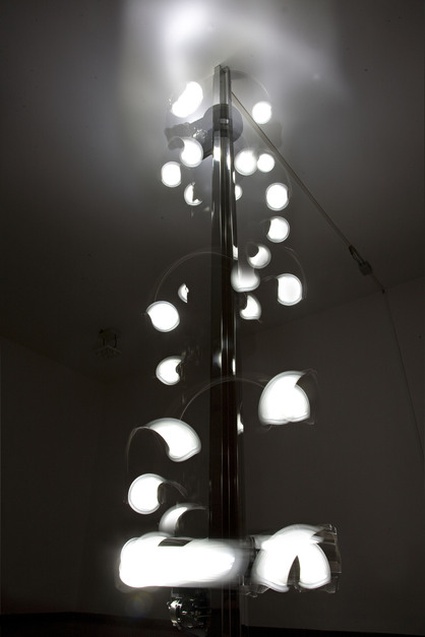 Olaf Nicolai, Samani. Some Proposals to Answer Important Questions, 2008
Carsten Höller used to be a scientist. Until one day he decided to become one of the most entertaining and charming figure of the contemporary art scene. Visitors are invited to walk inside his Y-shaped installation until they find themselves at the center of a small enclosure of lights and mirrors. The lights are circling around the aluminium rings at different speeds, intensity and intervals.
According to Francesca von Habsburg, if you stay long enough inside the installation, the movement and light of the bulbs will slowly start to play tricks with your brain and you will start hallucinating.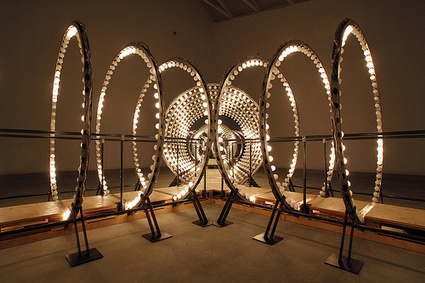 Carsten Höller, Y, 2003. Photo: Enrique Cárdenas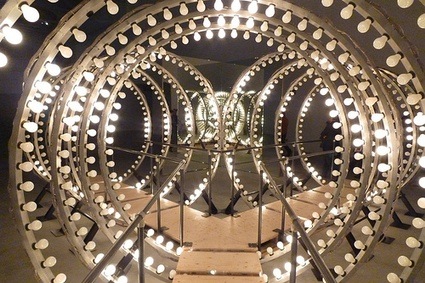 Carsten Höller, Y, 2003
You can get more information about the exhibition in the handbook which is available as a PDF online.
Previously: M10.
Images from the show. Photo on the homepage by Enrique Cárdenas.
Pasajes. Viajes por el híper-espacio [Passages. Travels in Hyperspace] is open at Laboral Art and Industrial Creation Centre until February 21, 2011.
Related: A Guest + A Host = A Ghost – Works from the Dakis Joannou Collection at DESTE Foundation in Athens.