South Korean startup Plasma and Ion Beamhas plans to commercialize its paper-thin plastic film speaker technology developed back in 2001.
The plastic film speaker appears like a transparent micro film. It can be cut and molded into any shape. Besides, there is no degradation of sound quality even when it gets folded or torn as long as the electrodes are connected to the amplifier of the audiovisual device.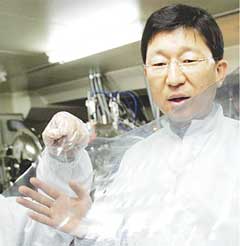 Koh hopes that the speakers will one day be placed on computer monitors and television sets. The sound will emanate from the screen itself and as a result the size of electronic products will decrease.
Plastic film speakers can also be produced as banners, flags and even kites as manufacturers can print paintings or photos on the surface of the speaker. The scope of application is infinite.
Audio device, computer and consumer electronics makers are forecast to release products with plastic film speakers this summer.
Via The Korea Times.