I liked 'The Rest of Now', the Bolzano section of the Manifesta biennale so much that i fear that i'll end up forgetting about the other exhibitions i saw at the Biennale this week. Two of the participating artists/architects took very literally the questions put forward by The Raqs Media Collective who curated the exhibition: What gets left behind when everything is taken away? What can be retrieved, and what can be remembered? How can the residual become the engine of meaning?
Over time, parasitic micro-organisms such as cyanobacterias and the Cladosporium genus of fungi, have occupied and taken over the walls of the abandoned Alumix factory. The restoration of the ex-factory means that the building is loosing its value as habitat for the organisms.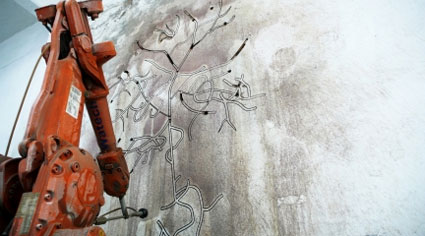 Architects Stangeland and Kropf decided to engage with this transitional state. The Naked Garden is generated by the mediation of different modes: biological propagation, mathematical abstraction and technological execution. A robot, programmed with the rules by which the fungi grow, engraves and perforates the wall already inhabited by fungi, thereby allowing light, water and wind to enter and to facilitate the basic conditions of life.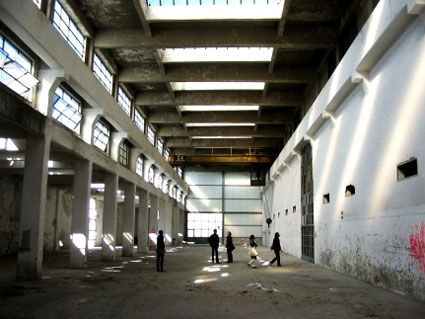 Jorge Otero-Pailos is an architect and theorist specialized in experimental forms of preservation. His contribution to Manifesta is The Ethics of Dust, an installation intended to preserve pollution and the dust that has to be swept away from the building during the renovation process. Pollution has negative connotation. Yet, it can tell fascinating stories about our social, cultural and industrial past.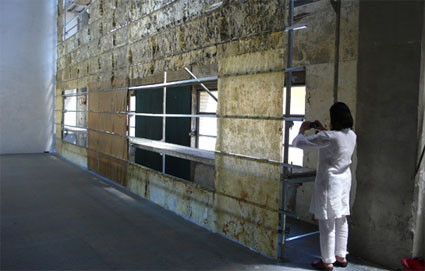 During two weeks, Otero-Pailos and his team of architectural conservators coated in latex an entire wall of the a wall inside the ex-Alumix factory in order to trap the dust and any trace of air pollution that have accumulated over decades. The architect then peeled the latex off, displaying it like a semi-transparent and precious shroud.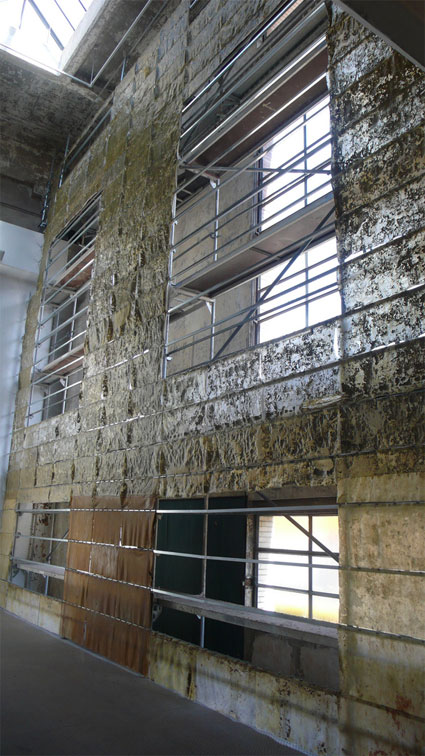 Installation view of Jorge Otero-Pailos's The Ethics of Dust
Following the tradition of nineteenth-century archeologists, who made plaster casts of the world's monuments so that European academics could study the architecture of distant cultures, Otero-Pailos suggests a new way of looking at architecture and our history.
Manifesta 7 – the European Biennial of Contemporary Art runs until November 2, 2008 in Trento, Fortezza, Rovereto and Bolzano.