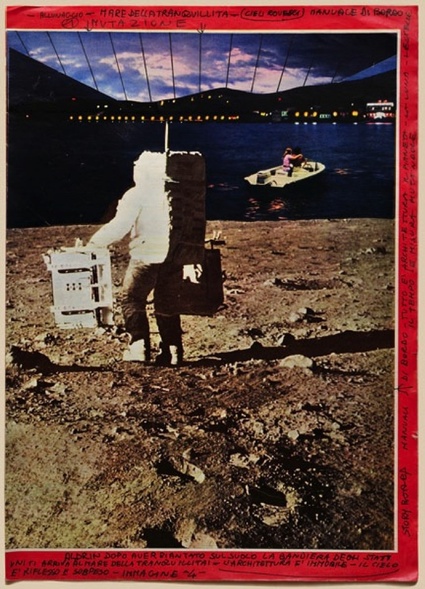 Photomontages, sketches, and literary narrative by Alessandro Poli for Architettura interplanetaria, (Interplanetary architecture),1970 -71. © Archivio Alessandro Poli. Photo: Antonio Quattrone
40 years after the first human left his foot print on the moon, space exploration is still the subject of enthusiasm, but also of debate about its justification. Scientific expeditions, satellite launches, and the emergence of space tourism are pushing us to reconsider our relationship with the planet.
While in Montreal for the Elektra festival, i went to the Canadian Center for Architecture to discover architects Greg Lynn, Michael Maltzan, and Alessandro Pol's views on space exploration and its impact on terrestrial realities. I'm still not sure why the 3 architects were brought together under the same roof but the diversity of their vision certainly made for an exciting ride.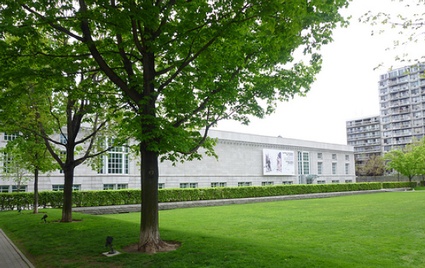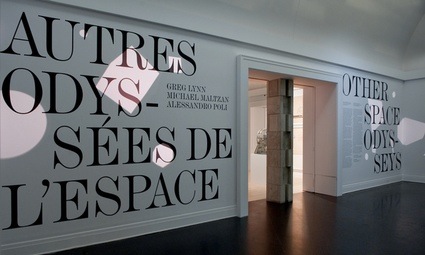 Installation view. © CCA, Montréal
In the exhibition Other Space Odysseys, Lynn, Maltzan, and Poli takes us on a journey, real and virtual, that will ultimately make us see life on our little blue planet under a different light. As CCA Director Mirko Zardini explained, "Other Space Odysseys has nothing to do with Space Architecture or architecture in outer space. It is not a celebration of high-tech architecture and imagery or extreme physical and mental conditions. Instead, this exhibition proposes a letting go of architecture understood as the production of material goods in favour of architecture as the production of ideas."
Alessandro Poli's vision of the Earth was changed radically by the 1969 moon landing. Suddenly the environment that man knew had to be described and reflected upon in broader terms. The earth was not the sole reference anymore. The most impressive, solid, the largest architecture man had ever conceived almost vanished compared to the scale of the universe
His projects in the exhibition explore different proposals for connecting the earth to the new reality of outer space. The film Architettura interplanetaria (1972) as well as the related collages and sketches, which he created as a member of the radical Italian architecture group Superstudio, imagine architecture at an interplanetary scale, with a highway that links the earth to the moon, family holidays in lunar landscapes and hybrid scenery featuring moon rocks and soccer fields.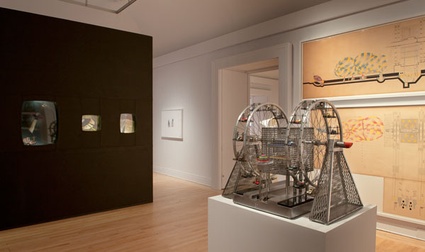 Exhibition view. © CCA, Montréal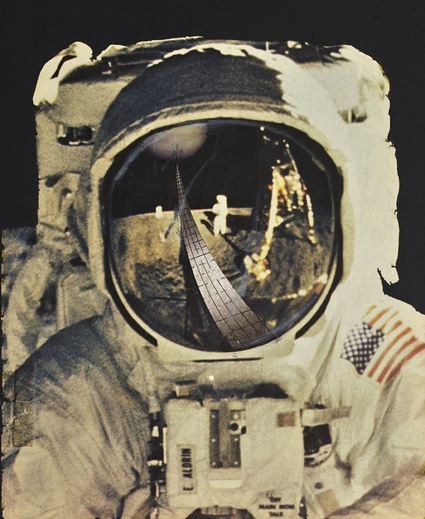 Alessandro Poli, Autoritratto con riflessa autostrada Terra-Luna (Self-portrait with reflection of Earth-moon highway), 1973, photomontage. © Archivio Alessandro Poli. Photo: Antonio Quattrone
Alessandro Poli, Paesaggio lunare – Luna Park (Lunar landscape — Luna Park ), 1973, photomontage. © Archivio Alessandro Poli. Photo : Antonio Quattrone
Another of Poli and Superstudio's research projects challenged the optimism and technological dependence of space exploration through the personality of a Tuscan peasant called Zeno. Unlike the astronauts of the Apollo missions, who required sophisticated capsules and suits to survive in their new environments, Zeno used and reused the same objects to become completely self-sufficient. I didn't understand whether Zeno was a fictitious character or not but i doubt he ever met Apollo 11 astronaut Buzz Aldrin in Riparbella as Poli's 2008 collage would have it.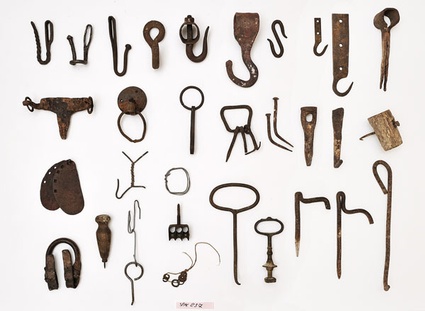 Alessandro Poli, Zeno-research of a self-sufficient culture, Pieces to be reused, 1979 – 80. © Archivio Alessandro Poli. Photo : Antonio Quattrone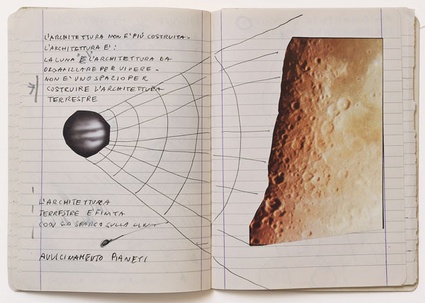 Notes by Alessandro Poli for the movie Architettura interplanetaria, (Interplanetary architecture), 1970 -71. © Archivio Alessandro Poli. Photo: Antonio Quattrone
Greg Lynn's projects present a very different approach to architectural prospects offered by space exploration.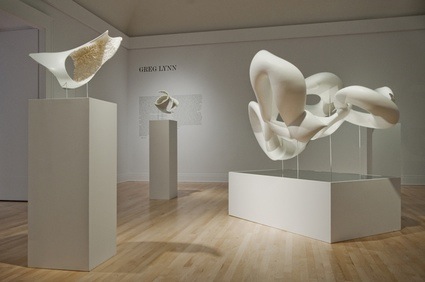 Greg Lynn's work. Installation view. © CCA, Montréal
Animated movies and digitally fabricated models present New City, a parallel virtual reality in which all of the earth's inhabitants reside in a single, interconnected and manifolds city.
Also on view are models and documentation of N.O.A.H. (New Outer Atmospheric Habitat), four planets developed for the science fiction film Divide, as well as drawings and animation of space colonies that explore the notion of 'ground' in the absence of gravity.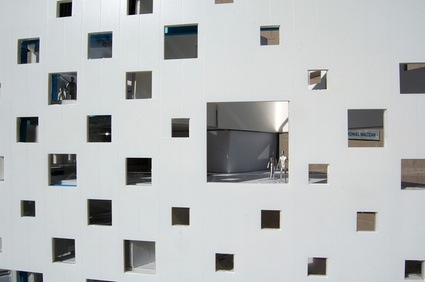 Michael Maltzan, New building for the Jet Propulsion Laboratory, Pasadena, California, 2006-, model, detail. © CCA, Montréal
Michael Maltzan's proposed new building for NASA's Jet Propulsion Laboratory (JPL), in Pasadena, California. His designs attempt to reflect the dichotomy between earthbound scientists and their work at the scale of outer space.
Other Space Odysseys is curated by CCA Curator of Contemporary Architecture Giovanna Borasi and CCA Director Mirko Zardini, in active collaboration with the architects.
I'll finish with one of my favourite images from the catalogue that accompanies the exhibition: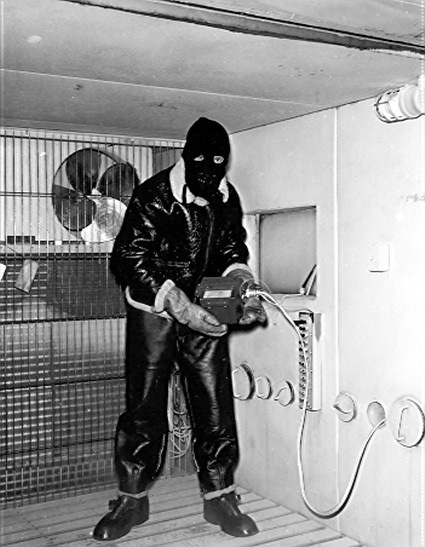 JPL Employee Leonard Marsh wore an "arctic suit" while working in the Environmental Testing Laboratory temperature chamber in June 1955. Photograph Number P-506
More images at Arkinet, Dwell and V2.com. Photo on the homepage: New City, concept model for a virtual world. © Greg Lynn, Peter Frankfurt & Alex McDowell.
Other Space Odysseys: Greg Lynn, Michael Maltzan, Alessandro Poli, on view at the Canadian Center for Architecture through September 19, 2010.