A few weeks ago, the Science Museum in London opened a small but fascinating exhibition about a revolutionary music synthesiser and the extraordinary woman who created it in the 1960s. It's on the second floor, right behind the Energy Wing.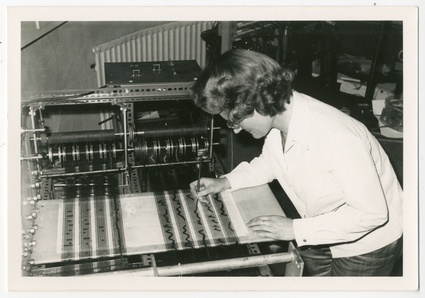 Daphne Oram using her Oramics Machine (image DaphneOram.org)
Daphne Oram was the first woman to direct an electronic music studio, the first woman to set up a personal studio and the first woman to design and construct an electronic musical instrument.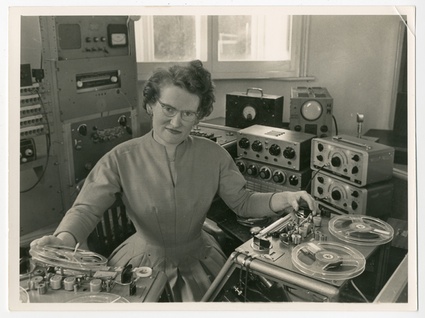 Daphne Oram in 1962
The British composer and electronic musician started her career in the BBC's music department, founded the BBC Radiophonic Workshop, got tired of the broadcaster's lack of vision for electronic sound and musique concrète (the ancestor of today's electronic music) and set up her Oramics Studios for Electronic Composition in Kent. She provided background music and sounds for radio, television, theatre, short commercial films but also for installations and exhibitions.
In February 1962, she was awarded a grant to work on her "Oramics" drawn sound technique. This method of music composition and performance allowed the composer to draw an "alphabet of symbols" on paper and feed it through a machine that would, in turn, produce the relevant sounds on magnetic tape. The first drawn sound composition using the machine, entitled "Contrasts Essonic", was recorded in 1968.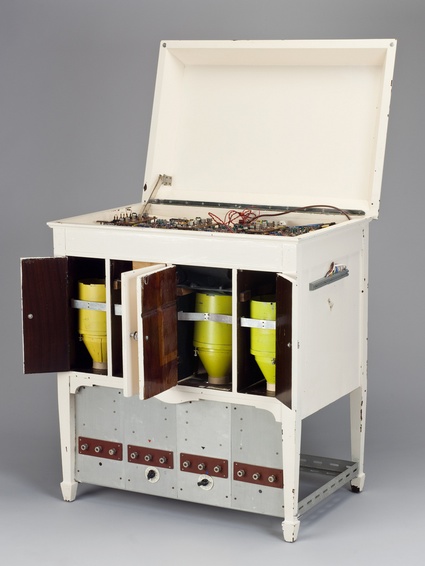 Sound generator unit of Oramics Machine, 1960s (credit: Science Museum / Science & Society)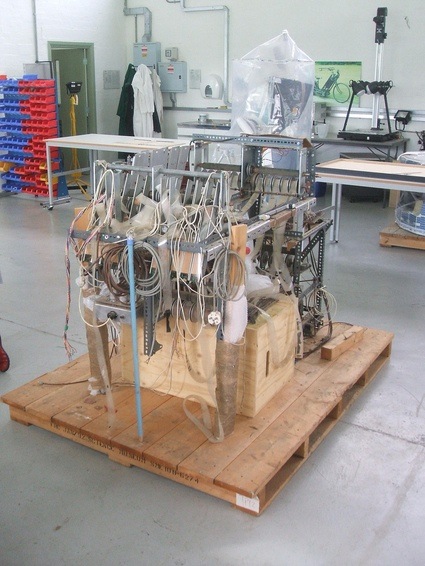 Oramics synthesizer, 1960s, awaiting conservation (Credit: Tim Boon)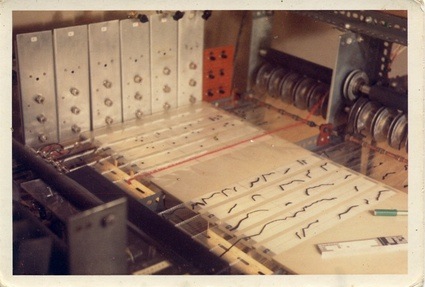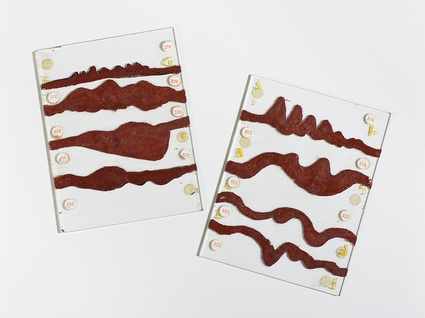 Two waveform slides hand-painted by Daphne Oram, from her Oramics Machine (Credit: Science Museum / Science & Society)
The Guardian described how it worked: Electric motors pulled eight parallel tracks of clear 35mm film stock across scanners that operated like TV sets in reverse. On the film she drew curving black lines, squiggles and dots, all converted into sound. It looked and sounded strikingly modern.
Long thought lost, the revolutionary music synthesiser was recently recovered and added to the Science Museum's collections in co-operation with Goldsmiths, University of London.
The Oramics Machine will never work again. To make it operational nowadays would mean replacing so many of its working parts that it would only be a replica. The Science Museum is showing the original machine along with an 'emulator' that reproduces the elements of the Oramics Machine's operation on a touch screen. Visitors can draw waveforms, input a tune, modify the sound according to various parameters.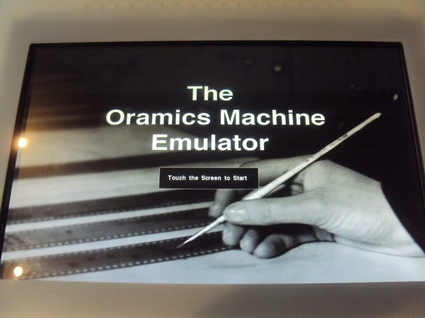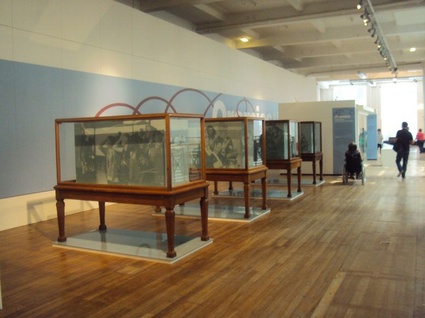 View of the exhibition space
The museum also presents rare archive footage and will add more exhibits in the coming days. The new pieces will be co-created by people who are working with electronic music today as well as a group of Daphne's contemporaries.
More images on The Oramics Machine fb page and DaphneOram.org. Sound on Sound has a more detailed article about the Oramics machine.
Oramics to Electronica: Revealing Histories of Electronic Music remains open at the Science Museum in London through 01 Dec 2012.