Previously: Winners of the VIDA awards announced.
Here is a list of the Honorary Mentions of VIDA, the international competition on art & artificial life.
Human beings, animals and even machines are affected by overlooked aspects of machines: sound, movements, vibration, heat, electromagnetic waves, etc. While similar to "carebots" and companion robots, Omo draws on Kelly Dobson's ongoing Machine Therapy work revealing the psychological, social, and political dynamics between people and machines.
In their scenario, most of the time these robots are predominantly focuses on conscious behaviour. Omo is an alternative relational object which interacts with the subconscious.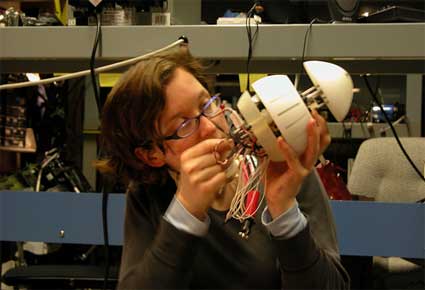 OMO, Kelly Dobson
Omo's role is empathic and sometimes unexpected rather than normative. It is not a perfectly behaving companion, it does not always privilege soothing but it is neurothic and surprising. Omo isn't cute, it just looks like a big green egg, it breathes and senses the breathing of anyone interacting closely with it, matching–or seeking to lead–patterns of breathing.
Sensors can pick up tiny vibrations when placed against the torso and over time the robot can develop an informed interaction.
Placed on a machine which vibrates and works in cycles (such as a washing machines), Omo will pick up the vibration and attempt to communicate with the washing machine. There is no market for machines that counsel other machines. Not yet…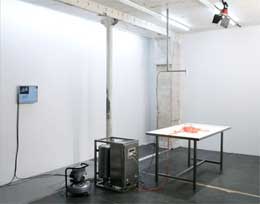 Julius Popp's bit.flow. Red and transparent liquids travel through a long flexible tube. The aim of the machine is trying to understand what it is doing, developing an understanding or some sort of consciousness. By releasing the red liquid and following the flow of the information, it somehow builds up a code which is injected in the tubes and sometimes builds a pattern which it will recognize.
Once the machine is able to reproduce patterns then it has gained some kind of consciousness. It knows what will happen if it takes this or this action, which action will follow a particular decision. Once it has recognized a pattern, it sends it to a "twin machine" and asks "Can you reproduce this pattern?" However to do so the machines, though identical, have to agree on a similar language, so a back and forth negotiation has to take place to build up a common vocabulary.
Here's a video of a previous prototype:
Hibernator: Prince of the Petrified Forrest by London Fieldworks. Jo Joelson and Bruce Gilchrist created a working animation studio in Beaconsfield's upper gallery to explore and link themes of natural animal hibernation, the cryonics movement and the myth surrounding the death of Walt Disney. The project utilised a range of video animation techniques, soundtrack, narrative, prosthetics and solar activated animatronics. The artists worked in the upper gallery to produce an animated film – Prince Of The Petrified Forest – part inspired by the seminal eco novel, Bambi by Felix Salten and Robert Ettinger's Prospect of Immortality. The 30 minute long animation was presented as a series of weekly episodes in Beaconsfield's arch space as it developed over a 7 week period. While the Disney industry was about manipulating our perception of the world, with their project, the artists invited people to come to the studio and see the making of an alternate reality.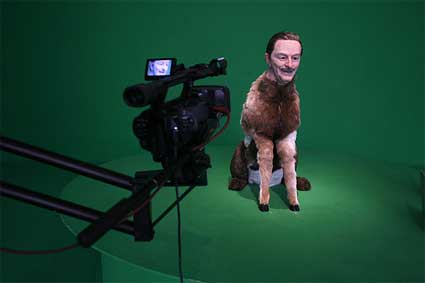 Hibernator, London Fieldworks
Jed Berk's ALAVs are Autonomous Light Air Vessels which communicate the concept of connectivity among people, objects, and the environment. People can use their phones to influence the behavior of the ALAVs by starting conversations and building closer relationships with them.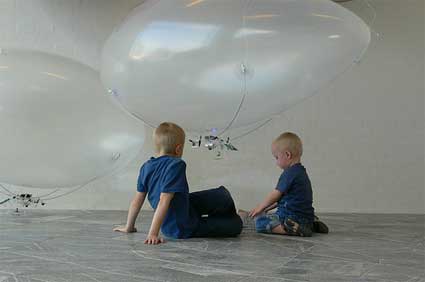 ALAVS, Jed Berk
The Interactive Voice Recognition system allows mobile phone users to engage in a conversation with the blimps -either the entire group or an individual, affecting both their own and the blimps' behavior.
The ALAVs have the following predefined behaviors: flocking, feeding, bread crumbs, sour milk, hide, scatter, courtship, guardian, bump, call back and the "happiness factor."

Evelina Domnitch and Dmitry Gelfand's installation Camera Lucida (Light Chamber). The "sonic observatory" converts sound waves into light by means of a phenomenon called sonoluminescence.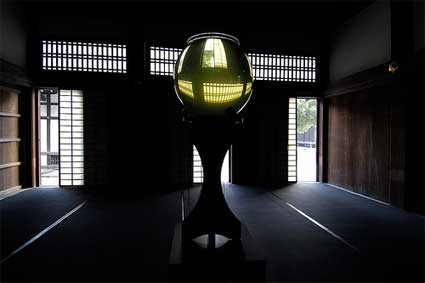 Camera Lucida, E.Domnitch and D.Gelfand
The continually evolving light sculpture allows one to see sound moving through space – at the meeting point of acoustics and optics. Using sonoluminescence, sound waves are directly converted into light inside a glass chamber filled with gas-infused liquid. After adapting to the darkness surrounding the installation, one can gradually perceive the highly detailed shapes and movements of multiple sound sources.
Delicate Boundaries, by Christine Sugrue, is an interactive installation where human touch can dissolve the barrier of the computer screen.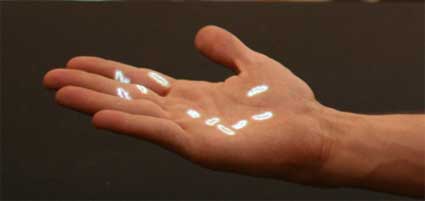 David Rokeby, Cloud. The kinetic installation is suspended in the Great Hall at the Ontario Science Centre. 100 elements, arranged in ten by ten grid, are rotated at slightly differing speeds by computer-controlled motors. The elements slowly shift in and out of synchronization. When the motors are just out of sync, huge waves ripple across the space. When completely in sync, the work appears almost solid then suddenly almost invisible. When far out of sync, the sculptural elements float in apparent chaos.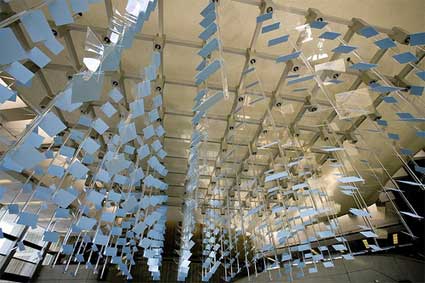 Cloud, David Rokeby
All images courtesy of Fundación Telefónica.