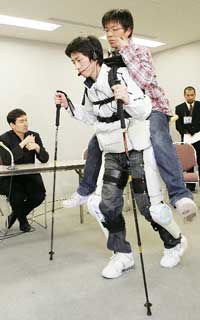 Seiji Uchida, an architect who was left unable to use his arms or legs after a car crash 22 years ago, plans to reach the top of Switzerland's 13,740ft Breithorn mountain, testing an a pair of robotic limbs.
Accompanied by alpinist Ken Noguchi, Mr Uchida will take a cable car to within 950ft of the summit before being strapped to Mr Noguchi's back for the final push.
The hybrid assistive limb (HAL), which increases the average weight a person can carry from 100kg to 180kg, will be attached as an outer framework to the able-bodied climber's legs, allowing him to bear his companion to the top.
"We started research work on the initial HAL project in 1992 but we have come a long way in that time and we are hoping to release a version of the robot limb on the open market in the near future," said inventor Professor Yoshiyuki Sankai, of Tsukuba University, north of Tokyo.
Sensors attached to the surface of the skin detect faint electric signals transmitted by the brain to the limbs. The artificial limb helps the weakened human limb complete that order.