What started like the thesis project of Dario Buzzini is being turned into a real commercial product.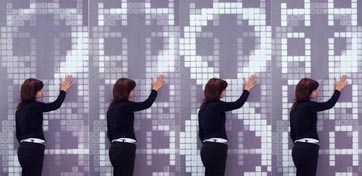 The surface and patterns of what appears to be ordinary wallpaper are actually interfaces that act as switches or displays. The back of it is covered with a grid of sensors, conductive materials and resistors. The physical interaction allows you to dim lights, turn on home appliances, read email on the wall, or view pictures taken with a camphone.
Another version of the wallpaper acts as a barometer, changing colour according to the level of humidity detected in the atmosphere.
A new re-engineered version of the wallpaper –along with the revamped Fiat 500— will be shown at the Science Festival in Genoa (Italy), till 8 November 2004. If you're around, drop me a line (reg at we-make-money-not-art dot com), I'll go to the exhibit on Sunday, and I'd be happy to meet Italian readers.
Cross-posted on textually.
Speaking about wallpapers…
Loop.ph flocked wallpaper , by Rachel Wingfield, glows as it reacts to ambient noise levels.