Docupen, manufactured and distributed since January in the US by Planon System Solutions, is the first hand-held device with a self-contained power source capable of scanning an entire page. Moving it by hand, you can scan graphics, signatures, drawings as well as texts and download them to a computer later. The quality is not perfect but a user comments: "I scan pictures of ancestors, and you can recognize the person."
According to the company, the device can store up to 100 pages, depending on the quantity of graphics and the scanning resolution. Price is $200.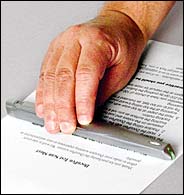 From The New York Times.